Between the early 1990s and late 2000s, English quartet Porcupine Tree released some of the most revered music in modern progressive rock. Led by guitarist/vocalist Steven Wilson (whose subsequent solo career, as well as involvement the Blackfield and no-man duos, is equally notable), the band's ability to balance eminent songwriting, idiosyncratic instrumentation, and constant reinvention both yielded several masterful albums and influenced countless contemporaries/successors. In fact, fans are still clamoring for a reunion nearly a decade later, and while that's still just a pipe dream—Wilson has continuously dismissed the idea over the years—devotees will find plenty of consolatory insight in Time Flies: The Story of Porcupine Tree by Rich Wilson. As earnest and comprehensive as it is accessible and alluring, the book is a nearly flawless retrospective on how and why Porcupine Tree became so iconic.
The narrative begins in mid-1993, with an endearing anecdote about the time S.W. sent a mysterious tape (containing "a roughly produced selection of tracks written under the moniker of Porcupine Tree and with the quirky title Tarquin's Seaweed Farm") to Richard Allen, "a contributor to the respected psychedelic journal Freakbeat." It came with a letter that described it as an "enclosed indulgence," and, as Allen reflects, ultimately revealed itself as "brilliant because it filled that Pink Floyd, prog sort of gap" that "could be huge in America." Although a brief and seemingly unremarkable note on which to start, this opening excerpt fruitfully sets the stage for the kind of charmingly unassuming but richly ambitious and talented drive that would steer S.W. and company towards such outstanding heights.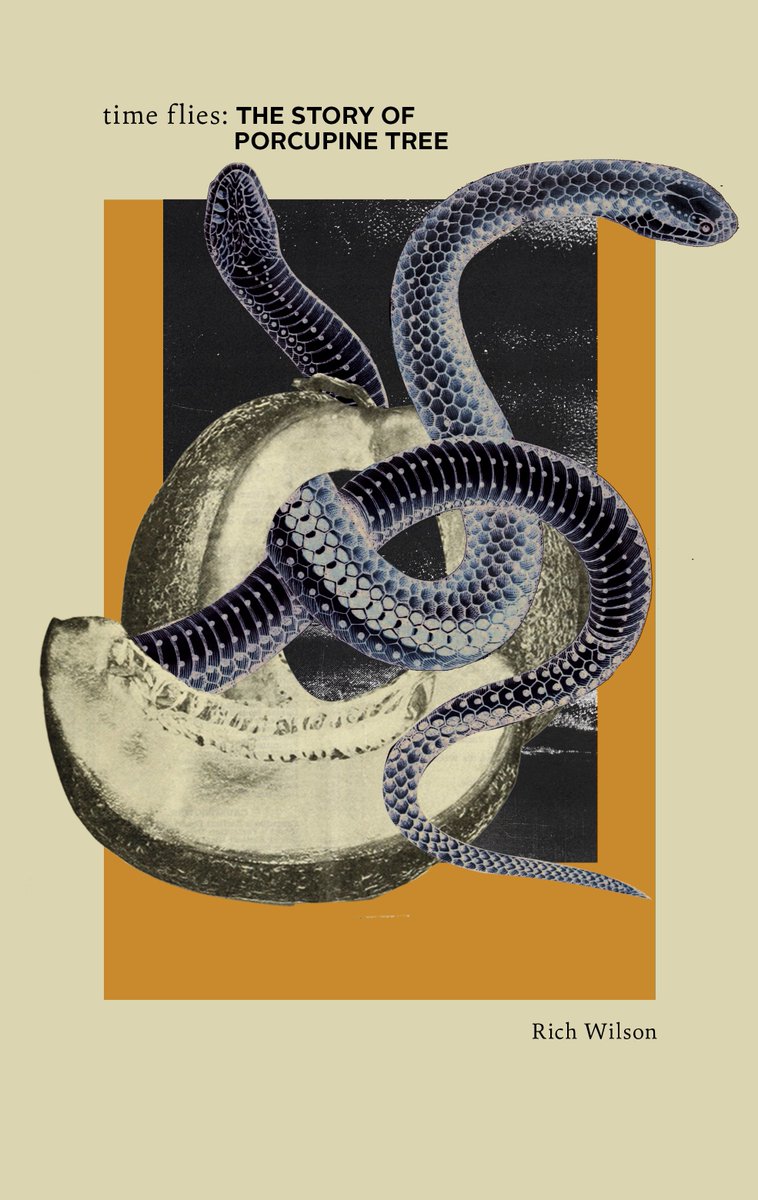 From there, Wilson moves through the group's career chronologically, wisely organizing each chapter by album and its surrounding circumstances. By mixing his own critical evaluations with a blend of statistics, interviews (from all members of Porcupine Tree, plus professional contacts and even some outside musicians), and music press appraisals, Wilson maintains a consistently engaging pace and an abundance of colorful yet academic discernments. For instance, "Strange Orchestrations" reveals that Porcupine Tree's debut double album, 1992's On the Sunday of Life, saw S.W. managing his "lack of confidence" as a singer by "routinely speeding up, slowing down or simply disguising his voice with effects"; in addition, Wilson delves into the inspiration for its cover art and the reception it received in magazines like NME and Melody Maker before concluding:
It was a promising debut, and, for all its faults, it had at least created interest in the decidedly avant-garde Porcupine Tree project. Appreciating that this 'band' possessed potential to reach a more extensive audience, Wilson's next task was to try and record a follow-up that retained the same level of innovation but, critically, possessed far more cohesion.
It's such learned considerations that make Time Flies so concise, informative, and ultimately enthralling.

Easily one of the most important and fascinating sections in the book is "Band Goodbyes & Business Ties" because it touches upon several benchmarks in their history, including 2002's In Absentia (arguably the finest album S.W. has ever made), the replacement of drummer Chris Maitland, their signing to Lava Records, and the arrival of integral people like percussionist Gavin Harrison, guitarist John Wesley, and visual artist Lasse Hoile. As the members explain, Maitland mixed sufficient skill with a highly extroverted attitude—arguably to a fault—whereas Harrison was a more reserved and dynamic player. Drummer Mike Portnoy (Sons of Apollo, Neal Morse) elaborates:

Gavin brought a certain level of technicality . . . and they started to embrace more progressive ideas, like King Crimson. . . . Steven then started to embrace the prog tag . . . [and] end up becoming one of the voices of this generation's prog musicians." Wilson also explores how the quartet's increased interest in metal outfits like Meshuggah and Opeth led to In Absentia having "a harder, darker sound. . . . [That] possessed all of the textual beauty that had become a staple of their previous albums, but was interspersed with these bouts of metallic fury, too.

Fortunately, every other chapter of is filled with comparably inviting depth and delivery.
Of course, nothing is perfect, and while Time Flies does an outstanding job of showing readers every major stop on the Porcupine Tree voyage, there are a couple aspects—however nitpicky—that could be improved. For one thing, Wilson tends to rely on the same handful of publications and writers throughout the collection. Sure, it's beneficial to see how the feedback of a select few outlets changed alongside the evolution of the band, yet it would've been more impactful to hear from a wider assortment of voices overall. Also, while there is a fair amount of insight into many key moments (such as how the guest appearances from guitarists Alex Lifeson and Robert Fripp on 2007's Fear of a Blank Planet acted as "an appreciated nod of recognition from artists that they have long admired"), devotees may wish for even more meticulous accounts of additional gems. Granted, Wilson needed to forgo some of that to paint a more expansive picture, but it's still a minor criticism.

Those grievances aside, Time Flies soars due to its affectionate and all-encompassing look at the trajectory and legacy of a truly special act. Wilson manages to cover all of the essential details of the group's story (including a bit about where the members are now) with succinct yet engrossing language and an abundance of priceless anecdotes and behind-the-scenes revelations. As a result, it's a must-read for any fan of Porcupine Tree, as well as a testament to why Wilson remains a premiere biographer in the industry.