I had the pleasure of chatting with Jim Sturgess about his new BBC/Acorn TV series, Close to the Enemy a few days ago. Now, I got to double the Close to the Enemy joy by talking to one of my favorite actors, Sturgess' co-star on the show, Alfred Molina.
Alfred Molina has more than 170 acting credits under his belt. He has done film, television, theater and even voice acting (Monsters University, Rango, Robot Chicken, Penn Zero: Part-Time Hero). Molina is most known for his role of Doc Ock / Dr. Otto Octavius in Spider-Man 2 and, of course, for his Bafta-nominated performance of Diego Rivera, Frida Kahlo's volatile husband, in Frida.
Molina's claim to fame came 35 years ago when he played Satipo on Raiders of the Lost Ark, proving that the old adage of "there are no small roles" is most definitely accurate. I, particularly, have enjoyed many of Alfred Molina's performances; some of my favorites are from Boogie Nights, Magnolia, Chocolat, An Education, and his more recent portrayal of Ned Weeks' brother, Ben, in Ryan Murphy's The Normal Heart, a performance which earned him an Emmy nomination.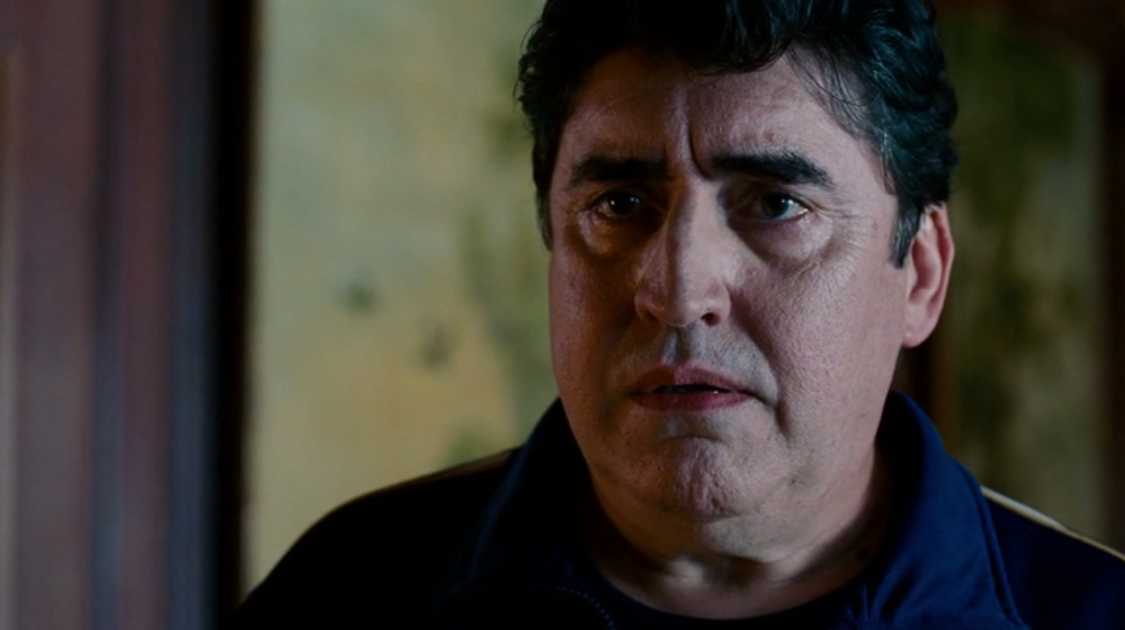 Courtesy of HBO
In that sense, talking to him about his role on Close to the Enemy was quite an honor. The mini-series boasts a powerful ensemble, including Sturgess, Molina, Alfie Allen (Game of Thrones), Angela Bassett (What's Love Got to Do with It, American Horror Story), August Diehl (Inglourious Basterds), Lindsay Duncan (The Honourable Woman), and Freddie Highmore (Bates Motel), among others. It's pretty hard to stand out in a cast comprised of so many talented people, but Alfred Molina is larger than life, and you can't take your eyes off of him when he's on screen.
On Close to the Enemy, Alfred Molina plays Harold Lindsay-Jones, a mysterious Foreign Office official who roams the hotel in which the story is set and rattles Callum's (Sturgess) world. There is an ulterior motive for all of this, which the audience will learn about eventually, so keep watching the show to find out what's behind it.
I talked to Molina about the series, his mysterious character, how non-traditional television is changing the game, and about his new Ryan Murphy project, Feud, in which he'll play Robert Aldrich and star alongside another wonderful cast of actors, including Susan Sarandon, Jessica Lange, Sarah Paulson, Stanley Tucci, Catherine Zeta-Jones, Judy Davis, Kathy Bates, and more.
PopWrapped: How would you describe the show, Close to the Enemy?
Alfred Molina: It's a sort of suspense thriller slash spy story, set in the immediate aftermath of World War II in London.
PW: What drew you in to the project and made you think, "this is something I want to do"?
AM: It was just fantastic writing and a wonderful director and a fantastic cast of actors, and I wanted to be part of it.
PW: The show is directed by Stephen Poliakoff, who also wrote the show; is it any different, as an actor, to be directed by the person who also wrote the script?
AM: Well I think it creates ... he can understand the script more intimately, and it just makes it more personal somehow.
PW: If there is one word I think would describe your character, Harold, when he's first introduced is 'enigmatic'. We learn a little bit more of his backstory in the second episode, but he's still pretty mysterious.
AM: Yes, you find out quite a bit more about Harold as the story goes on. Stephen's work tends to kind of unfold at a slow pace, but, as you kind of go through the episodes, you realize that there's a lot more to Harold than originally meets the eye.
PW: What can you tell us about him as a character? Do you relate to him in any way?
AM: Not personally. He's upper class; I'm not. He's a diplomat; I'm not. I think you relate in terms of how you imagine a man like this to be, and that's basically what we get paid to do -- to use our imagination. I relate to him as much as ... you know, I really like the character, so I was very happy to play him.
PW: All the characters have, obviously, been deeply affected by the events of World War II. How is Harold coming to terms with this shift in his life post-World War II England?
AM: Well he has a very hard time coming to terms with what happened in the war, which is part of the storyline. As we discover through the story, he went through a couple of very, very specific things that completely affected his way of viewing the war and viewing what happens after it. But I can't tell you what they are because that'll be a spoiler. But there's really some couple of new, kind of shocking turns.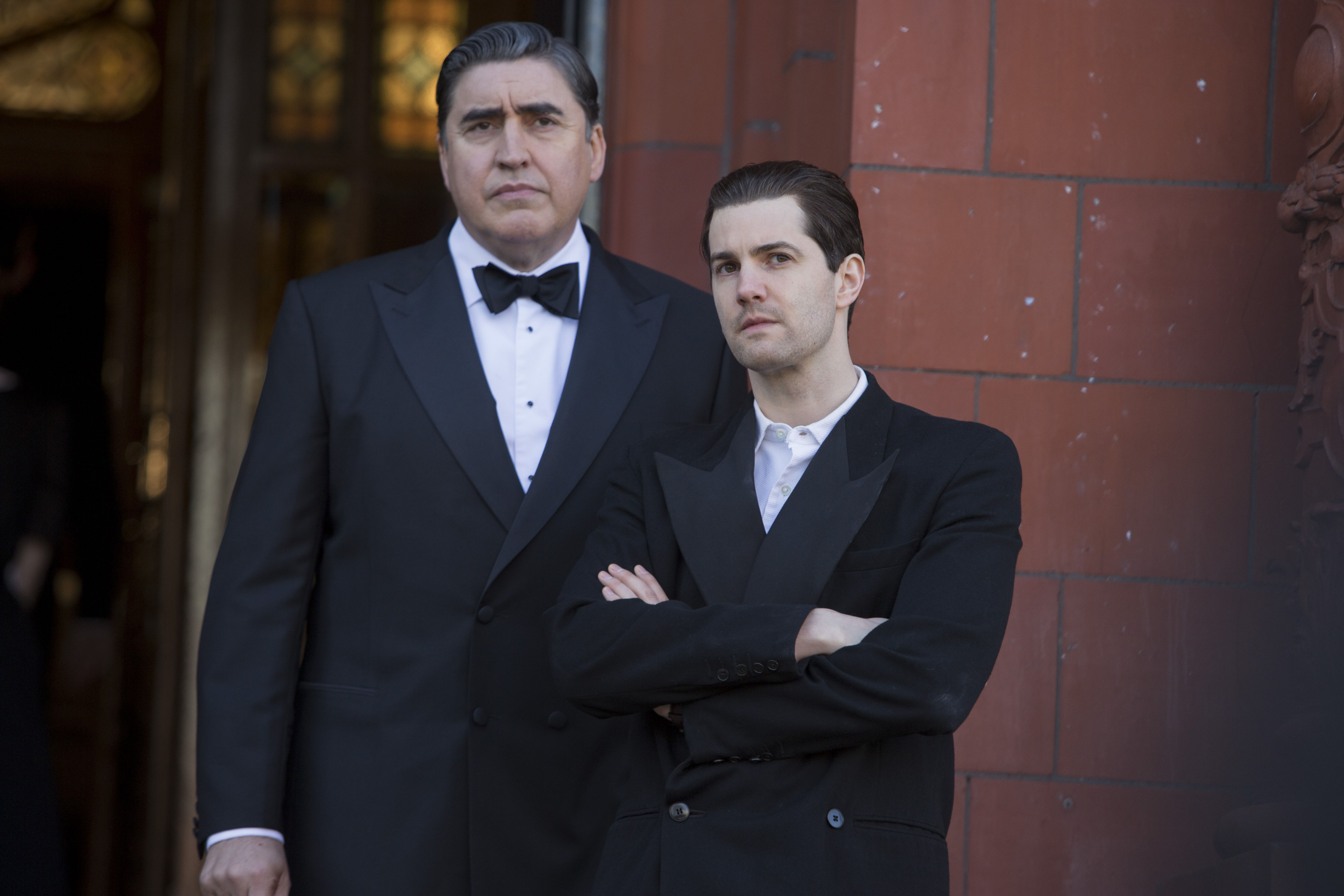 Courtesy of Acorn TV
PW: Throughout your long career, you've played characters of many different ethnicities; you are now playing an upper class Englishman. Do you find it easier to prepare for a character if he's got a similar background as yourself?
AM: No, I think it all depends on what's required in the script. Very often, there are characters who can kind of jump out at you because of a past shared experience, but, ultimately, it's all about just being imaginative and trying to bring these characters to life in a way that's authentic and believable for the audience.
PW: You have also done the whole acting spectrum: television, film, voice, theater; is there anything left that you would still want to explore?
AM: There's lots of things left. Yeah, I'm always looking forward to the next job.
PW: Television viewing has changed a lot lately with streaming, with shows almost becoming like long movies instead of weekly installments; do you think that changes the game for writers, directors and actors, too?
AM: Yeah. I think it changes the game completely. I mean, cable was the big revolution. It really changed everything in terms of what was regarded as shootable content. The terrestrial networks are answerable to their advertisers; they rely on their advertisers for money. And so the advertisers have a huge say on what gets made, in terms of language and content, the story content, and so on and so forth. Whereas an audience who subscribes to cable, it creates a situation for the cable company, HBO, Showtime, Cinemax, and now, of course, Netflix and Amazon and all new players in the streaming world. They make their money from subscriptions, and they have an ability to really explore whole new areas of storytelling. It would be impossible for a studio, a terrestrial network say like CBS or NBC, to make something like Game of Thrones or indeed, something like Close to the Enemy. It requires a great deal of money, but also it requires sensibility. A willingness to take on storylines that are challenging and interesting and complex. And I think now the other thing that's changed is that you have binge watching. The fact that you can stream a whole season of programs, like 12 episodes or 10 episodes, and you can watch them when you want as you want, you can watch them all at one if you choose to, you can watch them one to go. It frees the audience into really getting involved in a story. I always say that binge watching is a little bit like reading a book, it's like reading a novel; you can read a chapter, and you don't have to wait until next week to read Chapter 2 -- you can read Chapter 2 straight away or whenever you want to. So I think the relationship between the audience and the product changes. So TV is no longer this thing that sets the rules as to when you watch something and how often you watch it. TV is now very much our servant, rather than our master.
You don't have to watch stuff necessarily on television, they can watch it on their computers or on their iPads, they can watch at work or they can watch it on the train. The other day ... it was actually a few weeks ago now, I was on the train and a gentleman sitting in front of me had his iPad, and he's obviously downloading something, he was watching and he was laughing. At one point he apologized for laughing so loudly. (Laughs) And he told me he just downloaded a show from the BBC, a comedy show, and he was watching one episode after another. So the freedom we've got now, that's completely changed the game now, and, of course, it has a huge effect on writers and producers and directors.
PW: And, as an actor, do you feel that way, too? I spoke with Jim Sturgess before, and I found it very interesting when he told me you shot Close to the Enemy as a seven-hour movie, since the episodes were not shot chronologically.
AM: Yes. That's exactly right. We would shoot a scene from Episode 1, then shoot from Episode 3, depending on the location. And it got logistics involved, certain actors not available for certain amounts of time and so on and so forth. It creates a whole new paradigm in terms of how we work. And I think we all adapted. But the wonderful thing is that it creates a lot more work. I mean, I don't know how many hundreds of channels are now available to us. That's a lot of product that people have to buy, and the standard is very high. And also I was reading about this new series on Netflix, The Crown, which cost something like 10 million dollars per episode. There's no way a regular TV network could afford that, but Netflix can because they got all these subscribers. It's a total game changer. Completely.
PW: Before you go, I need to ask about Feud, which seems like such an incredible project, and you've worked with Ryan Murphy before. What can you tell us about Feud?
AM: Well I'm having a wonderful time working with Ryan. We're right in the middle of Feud, and it's going really well. I think we've completed something like four episodes out of the possible eight. It's fantastic. He's a powerhouse, Ryan. He's created an extraordinary body of work at FOX. They obviously adore him, and he loves working there. It's a fantastic setup. I first worked with Ryan in the movie The Normal Heart, and, when he asked me to get involved, I was delighted to.
PW: Any other new projects besides Feud that you want to tell us about?
AM: Well, that's what I'm involved in now. I'm going back to the theater in the New Year, a production of Long Day's Journey Into Night, the Eugene O'Neill play, and that's going to be at the Geffen Playhouse here in Los Angeles. And that's the only thing I've got in the future. I've had an amazing couple of years, I've been actually very busy, and I'm very grateful for it. But I'm always looking forward to the next job, and that's my next one, the play.
Where are you speaking from, by the way?
PW: I'm in Peru at the moment.
AM: You're in Peru, how fantastic! I don't know South America at all well. I'd love to. One of these days.
PW: Let me know when you come, and I'll give you a tour.
AM: (Laughs) Ok! Fantastic, thank you!
You can catch the delightful and talented Alfred Molina in Stephen Poliakoff's miniseries Close To The Enemy, Thursdays on BBC Two (UK) and Mondays on Acorn TV (USA).