Hold up, what is The Great Comet?
If you don't keep up with Broadway news then you maybe don't know what's been going on with the Broadway musical Natasha, Pierre & The Great Comet Of 1812. In fact, you may not even know what Natasha, Pierre & The Great Comet Of 1812 is. It's a musical that opened in October last year based on a small portion of the book War And Peace by Leo Tolstoy. It's a funky show with a really cool stage design, fun costumes, and a soundtrack filled with songs of many genres including pop, electronic, rock, folk, and more. Denee Benton plays Natasha, and when the show opened on Broadway, the wonderful Josh Groban played Pierre.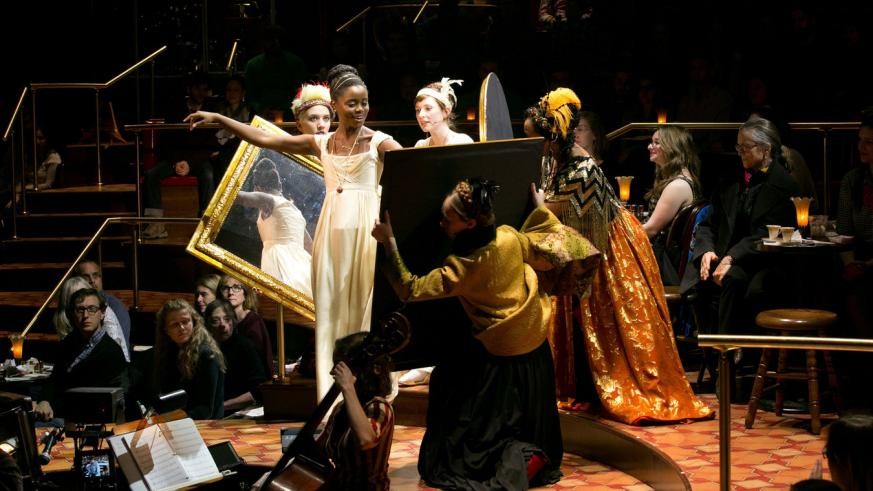 Here's the Great Comet drama:
Here's where things get rocky. Josh Groban was set to leave the show on July 2nd, and it was announced in February that Hamilton's Okieriete "Oak" Onaodowan would be taking over the role, making the two leads of the show (Onaodowan and Benton) black. Then, just before this change happened, it was announced that Oak's run would be pushed back a week and Great Comet's writer and composer Dave Malloy (who had filled in for Groban a few times and held the role during the show's off-Broadway runs) would fill in. In a tweet, Oak said the show needed more time to prepare for his arrival, but that could just be a nice way of announcing it.
So now Onaodowan has been in the show for about two weeks, to good reviews and good ticket sales, and then it's announced that Mandy Patinkin (of The Princess Bride and Homeland) would be taking over the role, cutting into Oak's run. Onaodowan was apparently asked to step aside, though he likely had no choice to do so, so that Patinkin can headline the show for three weeks while not filming Homeland.
And fans got mad. They took to the internet to express their disappointment in Great Comet's decision to push Onaodowan out so soon, and for a white man no less, after getting so much respect for having two black leads. Whether it was intentional move or not, it was not handled well, and it does reflect a bigger issue that people of colour face in the entertainment industry. Broadway isn't as diverse as it seems.
Luckily, as a lot of movements and angry posts on social media do, things changed. Today, on the 28th, it was announced that Mandy Patinkin would not be taking over the role. He was unaware of the issues at hand and it's been decided that he will not take the stage. But earlier in the day, Onaodowan took to his Instagram to say that August 13th would be his last performance and that he would not be returning. Is it too late for him to go back to a longer run? Or does he feel that he was treated so poorly that he wouldn't want to continue? Only time will tell.
But wait, there's more!
In a series of Tweets, writer and composer Dave Malloy gave some further details on the changes. He said that the show's sales after Ingrid Michaelson's (who recently took over the role of Sonya) date of departure also on August 13th were so low that the show would have likely had to close. He said that the show needs big names to sell (hence why Onaodowan, with his new Hamilton fame, was brought in after Groban) and the producers were desperate to keep it alive, so they brought in Patinkin, never really meaning to shove out Oak so abruptly. He ends by saying that he doesn't know if the show has a future now.
All in all, this show doesn't deserve to close, as I'm sure the rest of the cast and crew has worked hard and the show's style of music is really quite original and fun, but this is really a prime example of how unfairly actors, specifically actors of colour, can be treated in the name of making money. Perhaps if the producers had been more open about the show's financial struggles and announced the show's changes in a more respectful, professional way, then things would be different. Instead, they're left floundering, with no big names for Pierre, an uncertain future, and public apologies. This should be a lesson to all Broadway shows, and the entertainment industry as a whole.
But we're looking forward to seeing whatever new projects Oak takes on, as despite all the drama, he is a wonderful performer.