Amber Heard has filed for divorce from her husband of 15 months Johnny Depp, and t
his story is a can full of worms that started out with a very simple headline...
Actor Johnny Depp met his current, soon to be ex, wife Amber Heard in 2011 on the set of The Rum Diary. Their marriage lasted a total of 15 months before this week when Heard announced that she was filing for divorce, citing irreconcilable differences as the reason for parting.
Just three days before Heard filed for divorce, Depp's mother died at the age of 81.  He is having a rough week, which is only getting worse. According to reports, there was no prenup in the marriage, which means that Heard could walk away with a large portion of Depp's $400 million dollar net worth.  
News regarding the impending divorce has only gotten more interesting as we learned that Heard filed for a restraining order against Depp citing domestic abuse. She submitted photographic proof that he laid hands on her face, but this story is very much developing.  Her restraining order was granted pending further investigation.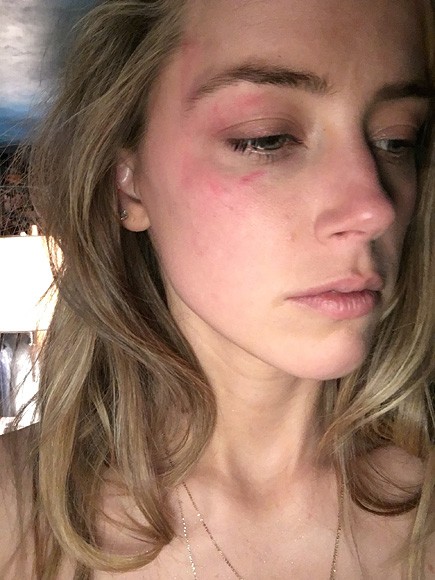 people.com
This does not look like the beginnings of an amicable separation and things will either resolve quickly or get hotter and hotter.  We are having a hard time believing that Depp would be verbally or physically abusive but only time can reveal the truth.  Keep up with us for this developing story.  We will be watching this story very closely because the results will mean huge things for the rest of Depp's career.  We have seen many actors brought down recently that we once held in very high standards.
What do y'all think of these allegations and the divorce in general?  Did you think Heard and Depp had what it took to last forever or did you see it fizzling out?  Did you ever think it would be developing into what it has in the last twenty four hours?  We did not!  Sound off in the comments with your thoughts!