Long live the cake! Pastry chef Claire Ptak is set to make the royal wedding cake of Prince Harry and Markle's dreams!
The proud owner of Violet Cakes, Ptak is now based in London. According to NBC, she will make "a lemon elferflower cake" that she says will "incorporate the bright flavours of spring."
According to the Kensington Palace Twitter, the cake will be "covered with buttercream and decorated with fresh flowers."
"Knowing that they really share the same values as I do about food provenance, sustainability, seasonality and most importantly flavour, makes this the most exciting event to be a part of," Ptak said of the newest royal couple.
Ptak is absolutely thrilled to be making the wedding cake, and even announced it on her company's Instagram.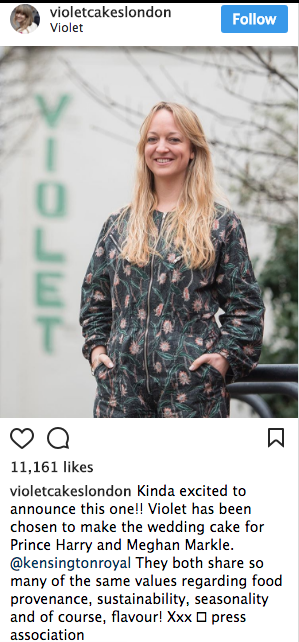 Ptak is a proud San Francisco native and was previously employed by Alice Waters at Chez Panisse in Berkeley, California, according to Inside Edition. Before opening Violet Cakes, Ptak sold homemade foods out of her first London food stand.
Prince Harry and Megan Markle are breaking with royal tradition by not serving a fruit cake, choosing Ptak's organic cake "that will reflect the springtime season."
According to Good Housekeeping and Telegraph, fruit cake is traditionally served because it lasts so long, and the "top tier [of the cake] is often reserved for the christining of the bride and groom's first child."
Rumor has it that before they settled on the organic springtime cake, Prince Harry and Megan talked about having a banana cake made.
Either way, their guests are in for a real treat!