Button Shy Games is a small board game publisher, both in the number of employees and the size of the board games. They specialize in pocket sized games that are highly portable for gaming on the go. They have dozens of games and operate the Board Game of the Month Club, which sends out wallet and micro games, promos, and print and play games. To give you an idea of the type of board games Button Shy publishes, I tried out three of their games. If you like playing games at the bar or on your lunch break, check out these reviews and find the perfect pocket game for you.
Ahead in the Clouds
Designed by Daniel Newman, Ahead in the Clouds is a route building game about collecting resources in the sky to improve air quality and fulfill contracts to provide for your family. On your turn you can disconnect a building, cloudburst (a.k.a. separate all buildings), or activate a building. The buildings provide resources such as water or dust particles, or convert resources you've already gathered. Any building with a route connected to your habitat card can be activated to earn resources, however if the route passes through your opponent's habitat card they gain a bonus resource on their card. Use your resources more efficiently than your opponent to fulfill contracts faster than your opponent. Once all the rounds are over, the player with the most contracts fulfilled wins.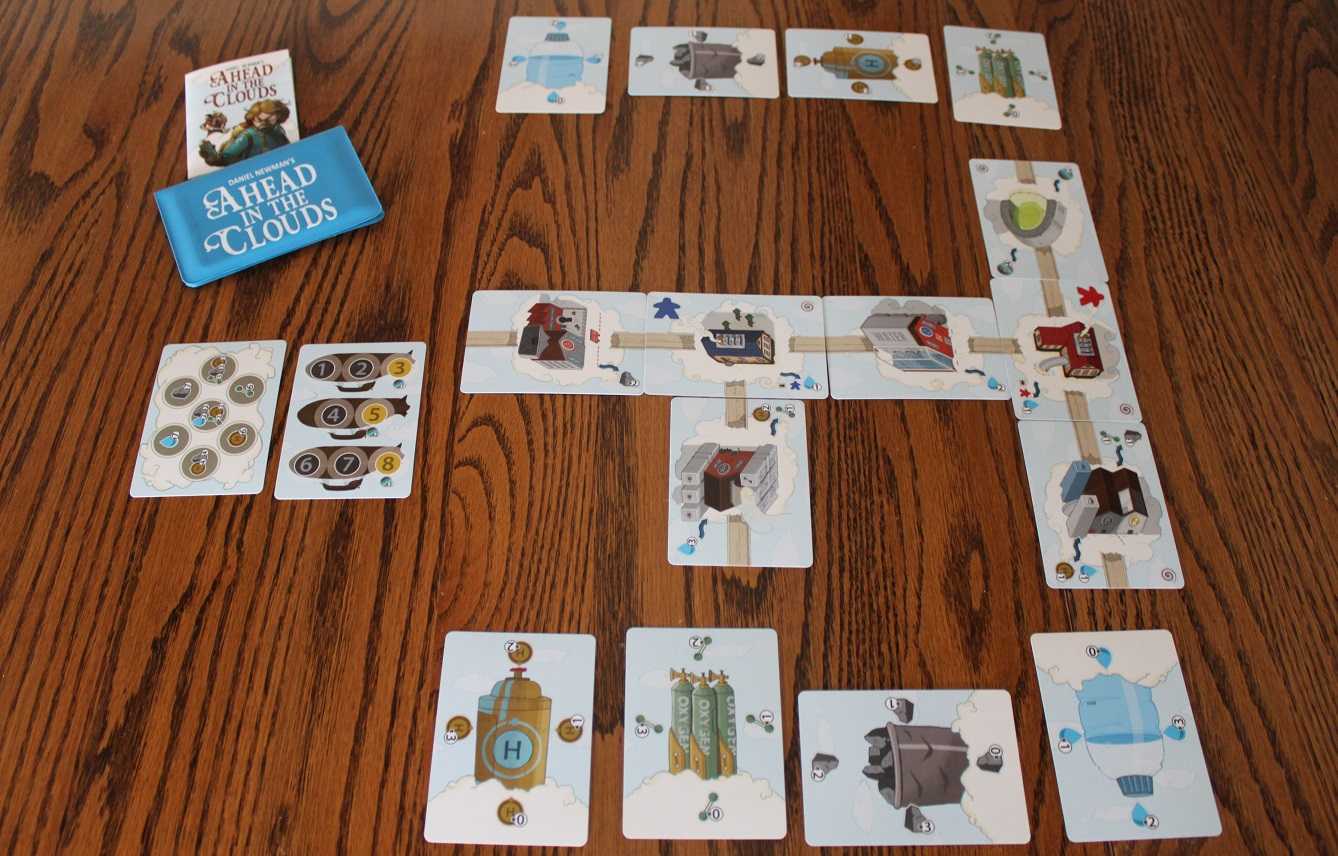 Determining the optimal connections to make and activation order was an excellent challenge, particularly when trying to do it faster than your opponent. Since the resource containers have limited capacity and must be filled exactly, you must do some spending or conversion to max out resources for certain contracts. For example, the water contract requires 7 water droplets (a full container) but the Vapor Condenser only gives 2 water droplets. The game makes you face some interesting choices, do you use actions to disconnect buildings or just activate the building you want even if it gives your opponent a bonus resource? One small downside was having to provide coins to mark filled contracts and track rounds. Not a huge deal, but if you don't carry change or have some other substitute it limits where you can play it. My main complaint was that the game gets quite repetitive. Gaining resources and converting them in the same way to get contracts. The additional bonus cards helped with this adding new contract and round tracker cards. Instead of taking any contract you could complete, you had to take a basic contract and upgrade it. Since the high value contracts are only connected to two basic contracts, there is a little more strategy added to the game. You can block your opponent from accessing a contract that you want to go for. All in all, Ahead in the Clouds is a light, portable game excellent for playing as a warm-up while you wait for other players to arrive.
Circle the Wagons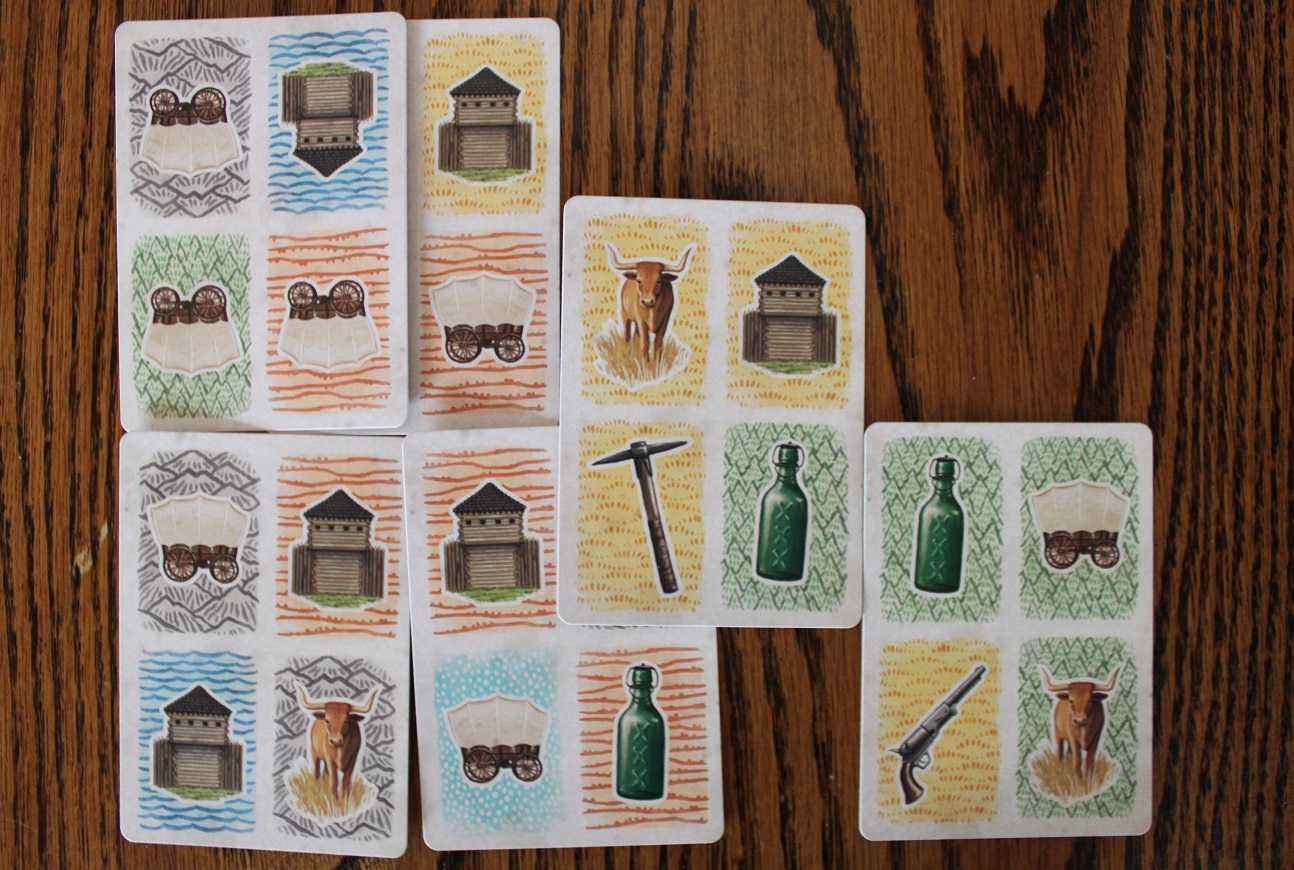 Circle the Wagons is a two player game about settling a boomtown in the wild west that won the 2016 Button Shy Wallet Game Design Contest. The game looks great and is super fun to play. The video below gives an overview of how the game is played.
Of the three games played, all are short filler games but Circle the Wagons is by far the most replayable. With the diversity in scoring and addictive puzzle gameplay, I was never able to play this game just once. Gameplay is so simple, yet there are so many placement possibilities. Aside from trying to outscore your opponent, it is a great challenge to set personal highscores. The only downside was some overpowered scoring bonuses, a problem limited to the prototype as they have been balanced for the final version.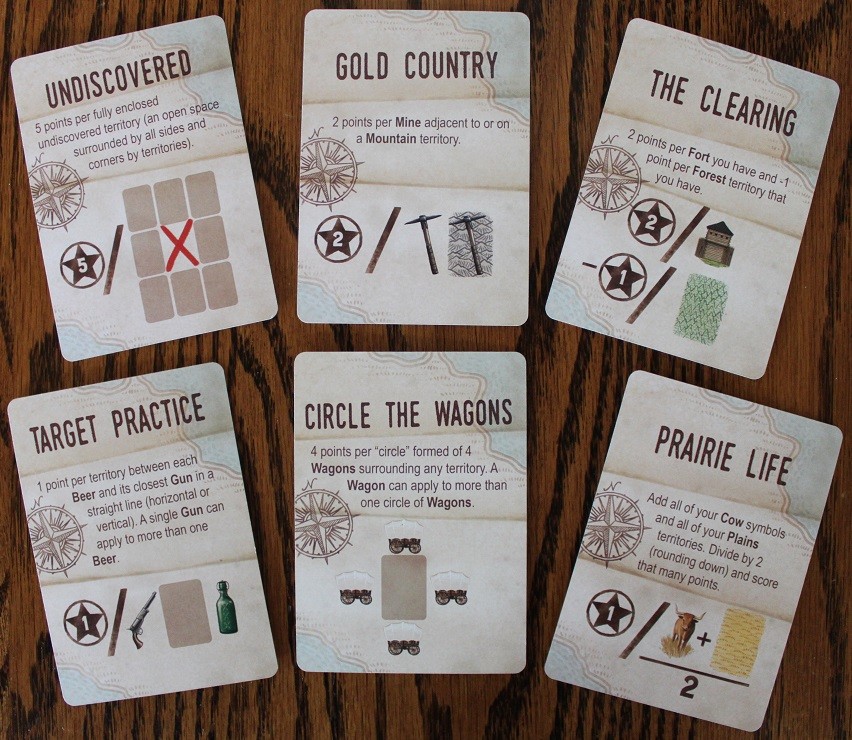 Super Pocket League Extreme Wrestling
Having never played a wrestling themed game, I was curious how well it would translate as a tabletop game. The game is a simple two-player combat game with the aim of taking down your opponent. Each player has a wrestler card in the ring, which is a horizontal position track. Player hands consist of gold, silver, and bronze move cards, which can be drafted or distributed equally when learning the game. Using the move cards, players attempt to get a four move combo with each progressive hit doing more damage or knocking the opponent back until they are on the ropes. A rock-paper-scissors mechanism determines who is on offense and makes the first hit. For the second, third, and fourth move, the player on defense rotates their cards to use the colored rope symbol on the bottom. Instead of rock-paper-scissors, it is now about matching the color move your opponent selects. If the defensive player matches colors, they block, counterattack, and are now the player on offense. Reduce your opponent to zero health and you win.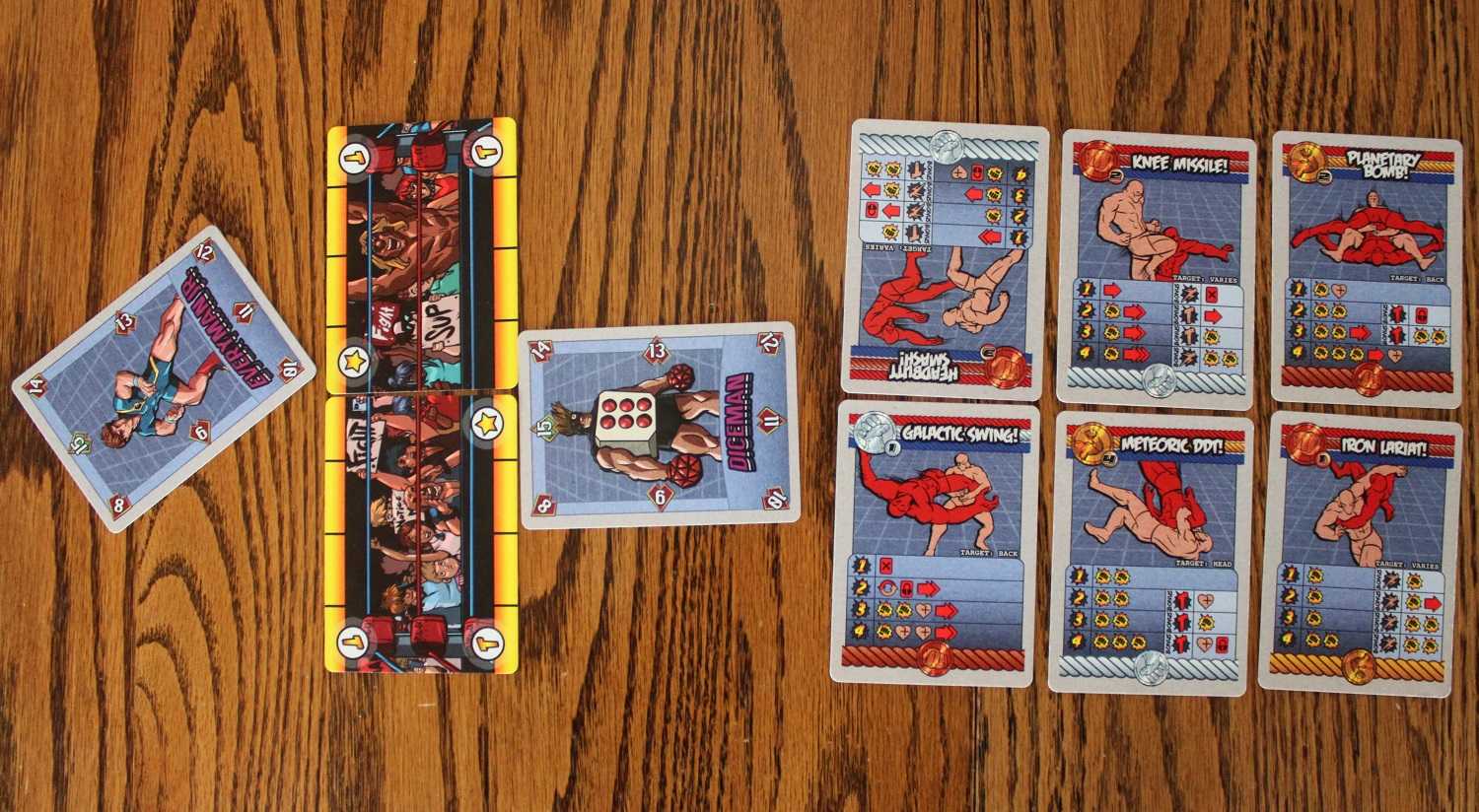 I enjoyed determining what cards my opponent had left and deducing what move they would make next. If I noticed they had used two silver blocks, I knew I was free to attack with my remaining silver moves. Once you've learnt the game, drafting the cards takes it to a new level. Cards are no longer evenly distributed and you need to try to pick moves cards in every color, but also be ready to block in every move type. Not being a fan of wrestling, I just enjoyed this game for the combat and brain puzzle but not the theme. However, I did play with some who couldn't get into the game because they were completely uninterested in the theme. For this reason, I'd only recommend this to wrestling fans. If SuperP.L.E.X. Wrestling appeals to you, the bonus cards for the Tag Team Mode are nice to have. They provide additional wrestlers to play with and can prolong games since you have two wrestling to take damage with. The Tag Team Mode cards also enable you to play with four people, however this is not recommended. Each player controls one wrestler, so two players essential sit and wait until the other player decides they want to switch out. Overall, Super Pocket League Extreme Wrestling is a neat little combat game with funny characters, but isn't well suited for everyone.