Disney's California Adventure park is getting a major overhaul before the Summer of 2018, giving guests all-new experiences, attractions, merchandise, and foods! Pixar Pier will replace what is now Paradise Pier, and will introduce four brand-new neighborhoods, representing some of your favorite Disney/Pixar characters. The highly-anticipated Incredicoaster will be opening in the summer of 2018, a complete transformation of what is now known as California Screamin'. Mid-Century modern styles abound in this homage to The Incredibles, one of the most beloved of the Disney/Pixar films. The Incredibles 2 opens in theatres, June 14, 2018, and Incredicoaster is a direct tie-in, with Disney executives promising "...special effects, new scenes, and an exciting musical score," for this new attraction. California Screamin' will permanently close on January 8th, 2018, to make way for the new ride.
Mickey's Fun Wheel is also getting a brand-new look, with each of its 24 gondolas to feature different Pixar characters. Don't fret, however, Mickey's iconic face will still grace the central area of the wheel. All of the midway games at Games of the Boardwalk will also be transformed, inspired by beloved Pixar characters, including characters from La Luna, WALL-E and A Bug's Life. Of course, the current Bullseye Stallion Stampede game will remain the same, with hints that it might get a coat of "fresh paint." Games of the Boardwalk, Sideshow Shirts and Mickey's Fun Wheel will be closed, beginning on January 8th to begin this massive transformation.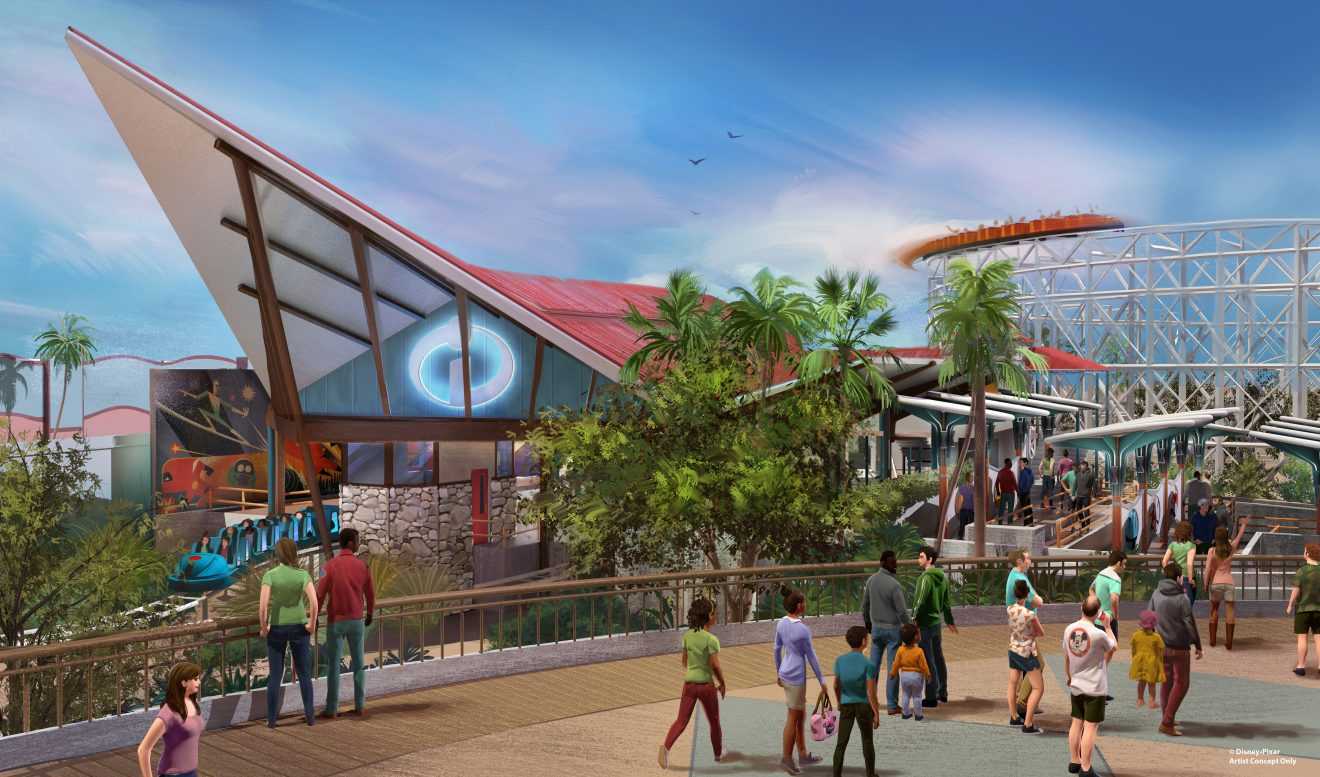 Toy Story Mania will be the featured attracted at the Toy Story-inspired neighborhood in the park. On the western side of the boardwalk, an all-new neighborhood, inspired by Disney/Pixar's Inside Out will welcome family-friendly attractions, which are scheduled to open at a date that is yet-to-be-announced.
Silly Symphony Swings, Goofy's Sky School, The Little Mermaid - Ariel's Undersea Adventure, Paradise Gardens, Jumpin' Jellyfish, and Golden Zephyr will all be incorporated into a brand-new land, called Paradise Park.
Offering dazzling views of Paradise Bay, and the new Pixar Pier, Ariel's Grotto restaurant and the Cove Bar will be transformed into a brand-new and much updated lounge and grill. Both locations will close for renovations on January 8th, with Cove Bar briefly reopening in April before closing again for its permanent transformation. Disney guests wishing to reserve World of Color dining packages after January 7th will need consider Carthay Circle Restaurant or Wine Country Trattoria instead.
Pixar Pier will have it's grand-opening during the very limited time celebration, Pixar Fest, which begins April 13th, 2018.