It looks like Chris Colfer can add director to his already lengthy resume.
Chris Colfer, best known for his Golden Globe winning role of Kurt Hummel on Glee, will be teaming up with Twentieth Century Fox and Shawn Levy at 21 Laps to adapt his best-selling fantasy adventure novel series The Land of Stories. In 2012, the first book The Land of Stories: The Wishing Spell was released and it follows the story of twins Alex and Conner Bailey who have been transported into a magic book where classic fairy tale characters come to life. The twins must endure forces that they have only read about in books. There have been rumors of movie deals for a while, but only now is anything confirmed.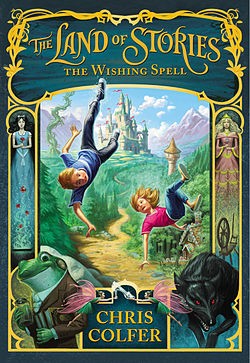 That's right, The Land of Stories: The Wishing Spell will be the first of the series to receive a movie adaptation. Along with writing the script, Colfer will be making his directorial debut. Since the first book's release, the series has become a worldwide phenomenon and has brought us multiple picture books, audiobooks, and an upcoming graphic novel. Later this summer, on July 11, Colfer will be releasing his sixth and final book of the series, The Land of Stories: Worlds Collide. To celebrate, he will be going on a 20-city book tour celebrating all things The Land of Stories.
Colfer, alongside Rob Weisbach, will executive produce the project, while Kira Goldberg from Fox will be overseeing development at the studio. The Land of Stories: The Wishing Spell. This isn't the first of Colfer's books to get the big-screen treatment. In 2012, his book Struck By Lightning also became a movie which he starred in.
I am certainly excited to see how they adapt the story to screen. Colfer's words put a vision in reader's minds that create a certain picture. I am looking forward to see how the book comes to life on screen.