After a couple of successful runs on Starz, it's time for Da Vinci's Demons to come to an end after its third season. With both the network and the series insiders considering this an ending and not a cancellation, since the whole season became instantly available for binge-watching, it's time for us to look into the spectacular show's final season and see what we got this time around, in a review as spoiler-free as possible.
Picking up straight where season 2 left us, Da Vinci's Demons strikes back with everyone's beloved genius artista having to face an army of Turks attacking Florence. To his surprise, the enemy somehow got hold of his very own designs, which brings him to a place where he needs to outsmart and defeat his own self. With his mother in cahoots with the enemy and forced to spiritually help them, he's brought into a difficult position, especially since she will soon meet with the love of his life, the stunning yet troubled Lucrezia Donati.
On this new mission, Leonardo starts off with some known allies and hopes to save the day in order to leave in peace with his pals and love. However, bodies will fall on his quest to save the city, especially when a serial killer makes his appearance. He will even be chased by men who want him recruited to serve their own purposes and will eventually be found on his way back to Vinci, with allies no one saw coming.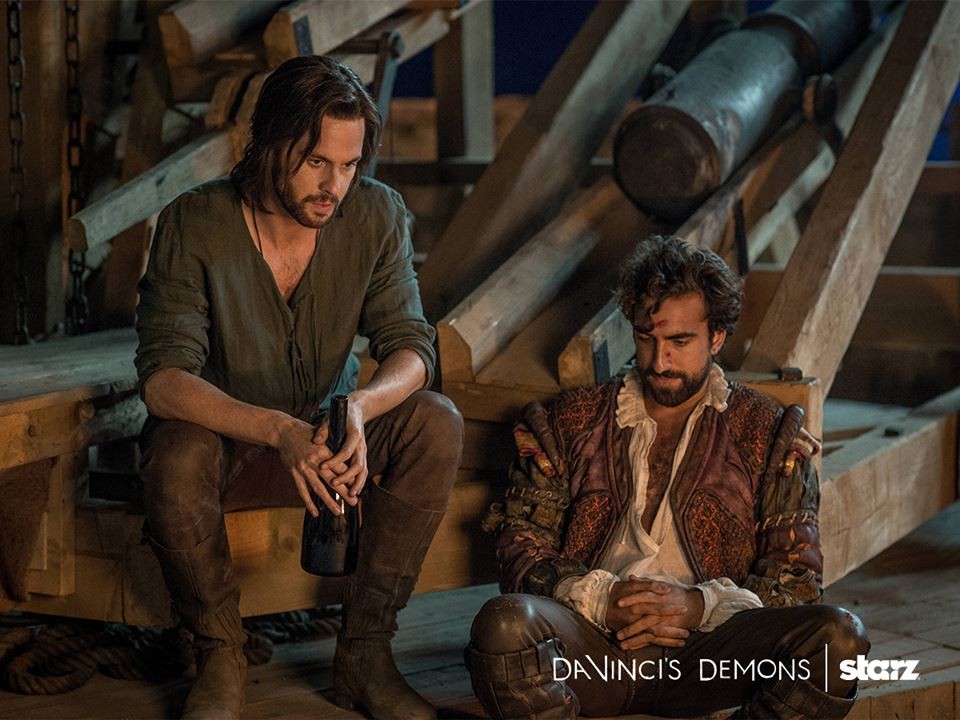 Courtesy of Da Vinci's Demons/Starz
Da Vinci's strongest demon, Riario, is also up for a treat, as the two are not so much enemies this time around, but the epitome of opposite characters. One is strong, self-reliant and confident - even in ideal, dream sequences; whereas the other is driven by a force of higher authority and is most of the time blinded by his strong faith. As if the House of the Medici hasn't gone through enough trouble already, Florence itself will be left at the hands of an unexpected ruler, as Clarice will be taking matters into her own hands, which will introduce the series' very own version of Sweeney Todd, and Lorenzo's fate is still to be decided. There's a million different stories told on the side, yet every single one of them is equally captivating and exquisitely told. 
As far as the Songs Of Mithras and the Book Of Leaves go, it doesn't really matter which one you would pick anymore. The third season of Da Vinci's Demons won't go further into either of them and our long list of questions regarding both mystical elements are left unanswered, as they're only used to serve the story this time around. It's obvious that the show won't be giving away much regarding these magic-involving plots, as it focuses more on the reality of things and has a whole lot of different stories to tell about the well-known characters, as well as the newbies. However, both the Sons and the Book are involved in several twists that will satisfy the viewer's desire for the unknown worlds.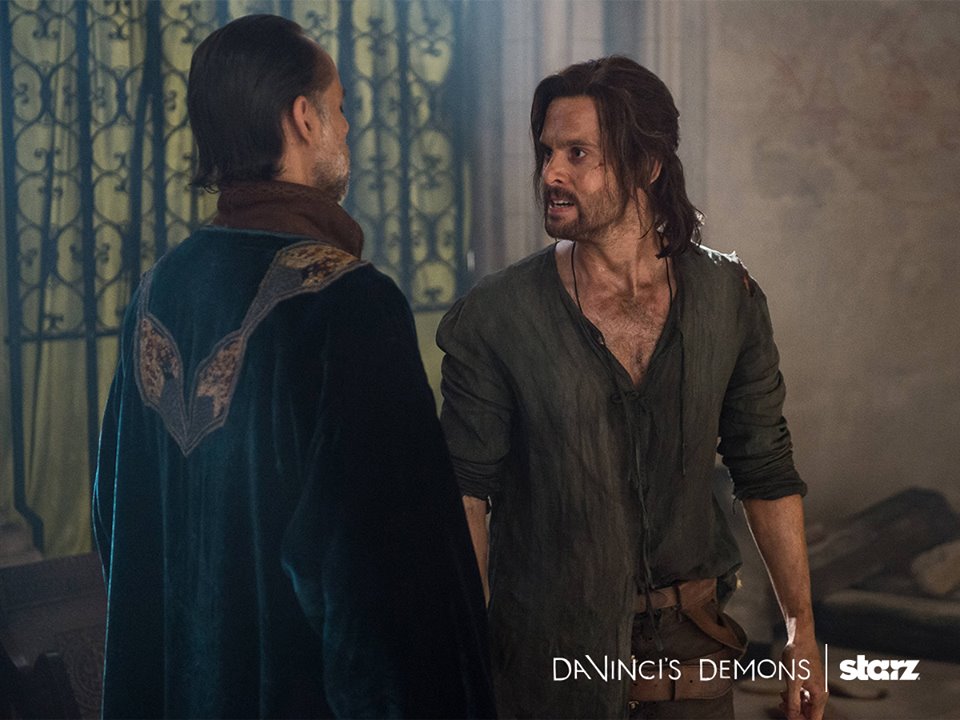 Courtesy of Da Vinci's Demons/Starz
Between the historicity and fiction of the well-penned script, Da Vinci's Demons delivered another stellar ten-episode season. What's actually surprising is how the series manages to go out with such a bang, yet give the closure a series finale requires, in a season finale that no one knew would be the last one for now. The settings have once again been outstanding, in a world so beautifully put together that it feels one hundred percent realistic, yet utterly heavenly.
As expected, the actors compliment what they're given to work with perfectly, as the whole cast delivers their best performances for their last go around as these characters. Once you've watched the whole season, Tom Riley's last words in character will bring the series to an end with one of the artist's famous quotes; the one that will get Da Vinci out of the door but, above all else, just like he was and always will be.
Da Vinci's Demons is an underrated and groundbreaking extravaganza of a series that we're devastated to let go, yet thrilled to have experienced.