Seinabo Sey is a Swedish/Gambian artist that has delivered extremely promising samples so far, after first catching our attention with "Younger." Therefore, her debut album Pretend, which came out today, is a record not to be missed. PopWrapped has it all reviewed for you and we even had the pleasure to chat a bit with Seinabo herself about it.
Seinabo took her time with recording and didn't rush to complete the record, so as to get the result she wanted. According to her, the process was really "organic" and "changing." In her words: "We've tried all type of methods to make each song be the best version of itself. The constant part has just been to follow our guts as much as possible and trust in our taste. 'If we like it, surely someone else will like it too' had definitely been the moto."
The record kicks off with "Younger," the song that started it all, setting the mood slowly with its minimal production and a soulful rendition, before the drum beat kicks in and leads the production to new heights. Current single "Pretend" brings a more electro-infused production to the table, clearly more upbeat and with more atittude in the vocals. The lyrics of the record seem really autobiographical, yet Seinabo Sey has gone and named the album after this song. Naturally, I asked her about it and she explained that she always had the saying, "fake it until you make it" in the back of her mind. "I feel like pretending has been the one thing that has helped me the most, but also messed up most things." Of course, she enjoys slightly messing with us, as she said "I like that it's a pretty vague album title, it keeps you wondering what I really mean and I love that haha..."
She nails the piano-driven, beat-accompanied midtempo balladry with "Poetic," only to bring the tempo back up with the banging, almost R&B-leaning "Hard Time." The drums go wild on "Easy," before dramatic strings and a fast-pace give a bunch of pop vibes on "Words." The sentimental "Sorry" slows things down for a moment, while "Who" changes the pace again with its synth-heavy production. Balladry returns with a bang on the strings-driven "Still" and "You," where minorly edited vocals get the job done on top of a simple beat 'n' keys combination. The emotion stays strong as a big choir provides backing vocals on the gospel-leaning "Ruin" and "Burial," effortlessly taking us to church. The urban-infused former single "Pistols At Dawn" and the experimental "River" serve as more than decent bonus tracks, alongside the well-known Kygo remix and an acoustic version of "Younger."
After a first listen, you'll definitely find difficulty in putting the record under one specific genre. "We made it a point to not think or talk about genres that much. I like when people call it noir pop, but to me it's soul music. Clean and simple, because it truly comes from my soul," Seinabo told us. Honestly, no one could have possibly described the case better.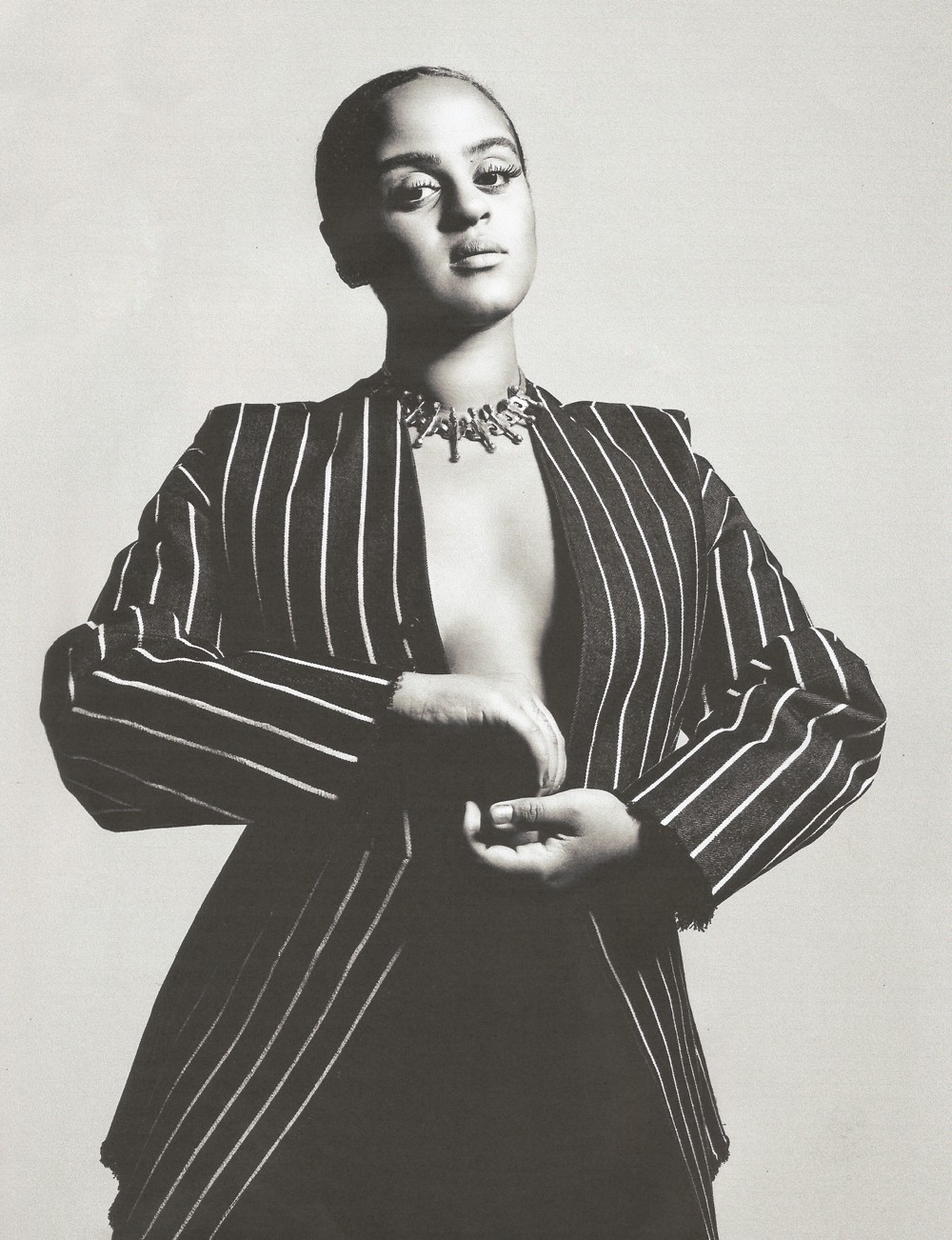 Courtesy of Patricia Reyes
In case you're wondering, she's definitely not stepping down now that Pretend is out, as she revealed to us that, "there will be a new video out next week and some touring going on next year," warning that we should keep our eyes out for those. You're free to either do that or don't, but you surely will be missing out if you pick the latter.
Pretend by Seinabo Sey is now available on iTunes and Spotify. Make sure to follow her on Facebook and Twitter so that you never miss another beat again.