On Thursday's episode of
Food Truck Face Off,
teams will once again meet face-to-face to compete in an epic showdown, trying to win their own food truck for a year. One of these teams,
Feast of Luv
, is taking the food truck phenomenon to the next level. Most of the time when you think of food trucks you either think of greasy food perfect for after the bar, or you think of totally unique street food that you can't get anywhere else. Feast of Luv takes the concept of food trucks to an entirely new level. What do they do that is so special? They serve vegetarian comfort food. I know what you're thinking...especially if you are a meat eater like myself. Can vegetarian comfort food really be good? Yes, it can be, and Stephanie Goldfinger and Heather Sheldon are poised to bring their creations to the masses. Both Stephanie and Heather have a passion for introducing vegetarian fare to those who live a meat-free lifestyle, but also cater to carnivores who are looking for a delicious way to fill their bellies. Some of the offerings that Feast of Luv brings to hungry diners include meatballs, carnitas, and burgers, only with a veggie twist. Speaking of this twist, you can also submit family or traditional meaty recipes via their website and the girls will come up with a veggie-friendly alternative using their
Recipe Restoration Project
. I was able to talk to Stephanie, and she explained that she and Heather met through EmpowHer Institute where Heather runs a non-profit self-esteem mentoring program for middle school girls in South LA. Stephanie became a mentor through the same organization and they hit it off, immediately. Stephanie was already running her own company, Cooking for Luv, where she caters and teaches cooking lessons and knew Heather was a baker and lover of all things pie. About a year later, they were able to bring their passions together and started Feast of Luv. They took the step to audition for
Food Truck Face Off
and the rest is (or will be) history! Feast of Luv offers catering in their Venice, CA service area for events large and small including, but not limited to, Presidential inaugurations,  Beyonce and Jay-Z concerts, and your cousin Moshe's bar mitzvah.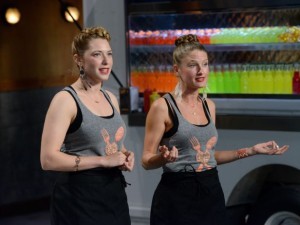 Courtesy of Cooking For Luv
On and off the screen, Stephanie and Heather aim to show how hearty, satisfying and insanely delicious vegetarian food can be and dream of starring on the first vegetarian cooking show on the Food Network. You can find out more about Feast of Luv via
their website
and make sure to tune into
Food Truck Face Off
Thursday night at 8pm eastern and pacific on Food Network.
Keep Up With PopWrapped On The Web!