We're in a world that's become all about networking; especially when it comes to projects. The faster you can find the right people to collaborate with, the better.
Although there are many channels they can use, artists and models don't really have a networking platform geared towards their wants and needs.
That's where FStop comes in. Created by Mick Bengtson, it allows models, photographers, and other artists to create profiles, upload their portfolios, and start connecting. 
Similar to Tinder, users swipe through other FStop profiles to find their perfect "match." Payment can also be exchanged using the platform and users can leave reviews.
If users encounter any problems--profiles with fraudulent information, harassment, etc.--they can easily report the issue to FStop's support team.
"I caught the boudoir bug and ran out of friends to shoot," Mick, a photographer himself, told PopWrapped when asked about the inspiration behind FStop. "Model Mayhem appeared to be my only option but the user experience really frustrated me, so I decided to try to build something better."
He wanted his platform to be simple and elegant, so users wouldn't be overwhelmed by it.
"I believe that most people appreciate only having a handful of options presented to them at a time. FStop was built with a very "mobile-first" philosophy, forcing the platform into a very simple, elegant architecture.
I think elegance is achieved when you take something really complex and distill it into something simple - empowering users without overwhelming them. We've tried our best to keep the learning curve almost nonexistent here - taking lessons from platforms like Instagram and Tinder that do a really fantastic job of embracing UX patterns like progressive disclosure."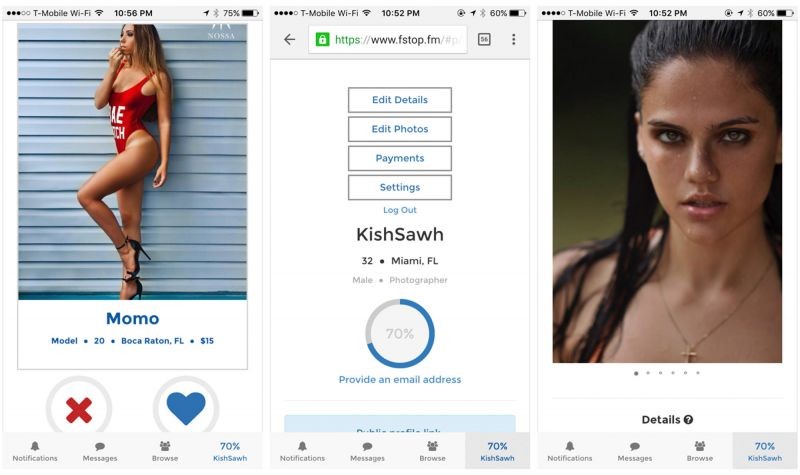 FStop
FStop fosters a sense of community, where people can build professional relationships. The FStop blog features stories about artists who have used the platform.
"[Reading] those posts has evoked everything from laughter to tears for us," Mick said.
Safety goes hand in hand with a growing community, and the FStop team have made sure to place an emphasis on that.
"While we won't ever claim to be 100% safe (I don't think any online networking platform can…), we're doing everything we can to keep it as safe as possible. We have incentivized phone verification, ID verification, user reviews, and we make it VERY easy to report other users through both chat and profile pages," Mick explained. "We have staff dedicated to responding to reports within 24 hours, and we err on the side of intolerance when it comes to user and platform abuse."
The team at FStop not only want to fulfill a need with their platform, but also to make an impact and help people spread their wings, so to speak.
"There's so much untapped potential out there and - at the risk of sounding lofty - we want to take a part in helping that stuff surface," Mick said.
FStop's iOS app is currently in development. The website is in beta, and they're preparing for a public release within the next few weeks.
To sign up and/or find out more about FStop, visit the official website.