Well, we have reached what may well prove to be the conclusion of the Gilmore world. What do you think the fall will hold for our girls?
Fall
Lorelai is in a cheap motel trying to figure out how to fit all her hiking equipment into her trail pack. I guess she really is going to do Wild. She phones Luke and leaves a voicemail explaining that she got there safely and has been on her own for 12 hours and is already nuts. Is food important on a hiking trip? She struggles with the pack over and over, at some points giving up and watching television and falling asleep on the floor.
She finally steps out the door to see a dozen other 30-50 year old women with their packs. There are factions! Book or movie? It matters!
The park ranger is none other than Jason Ritter, a nice little reference to Lauren Graham's other life in Parenthood. He tells them that there is a storm coming later in the day, and most of the women decide to wait it out in the hotel instead of hiking yet.
Rory is in the Gazette office, and she's announced that they are going to put the fall poem on the cover! She turns on the computer to see a message on the computer, "Get Ready". Esther and Charlie seem to know nothing about it. Petal runs by the office with a sign that says "Kick Up A Rumpus". That's weird.
Jess enters Luke's Diner, and everyone is on their laptops. Someone gave them the real password! Luke has dropped a bag of flour in the store room, and he doesn't seem to know which end is up. He must be missing Lorelai. Jess tells him that they don't have to worry about Liz and TJ and the cult anymore -- the cult thought THEY were too weird and kicked them out.
Jess is being sweet and suggests they can still get together for dinner even though their mission is off. Jess has done a lot of growing up since we saw him last! When Luke says they'll go to Liz and TJ's after dinner, Jess knows something is up and sits him down for a talk. Luke finally tells him that Lorelai is doing Wild (he wants to know if it's book or movie, too.) and also says that this three weeks is the longest they've been apart since they got together.
Jess also gives him a little present before leaving -- he unplugs the wifi!
Lorelai is choking down trail food in her hotel, and, when she goes out for ice, she sees that some of the other Wild women are hanging out around a fire. They are drinking box wine and eating Lean Cuisines. When they start questioning her, she realises that her life is actually pretty great. No (recent) divorce, no cheating, no pill addiction, no terrible children -- she has just lost touch with herself.
Rory is walking through town, and it's full of weird. There are strange lights, a dude on a unicycle, a raven that tells her (yes!) to get ready, and the door to the Gazette is wide open. Esther is waiting with a flashlight under her chin -- old school, Esther! -- and says "In Omnia Paratus". It's the Life and Death Brigade!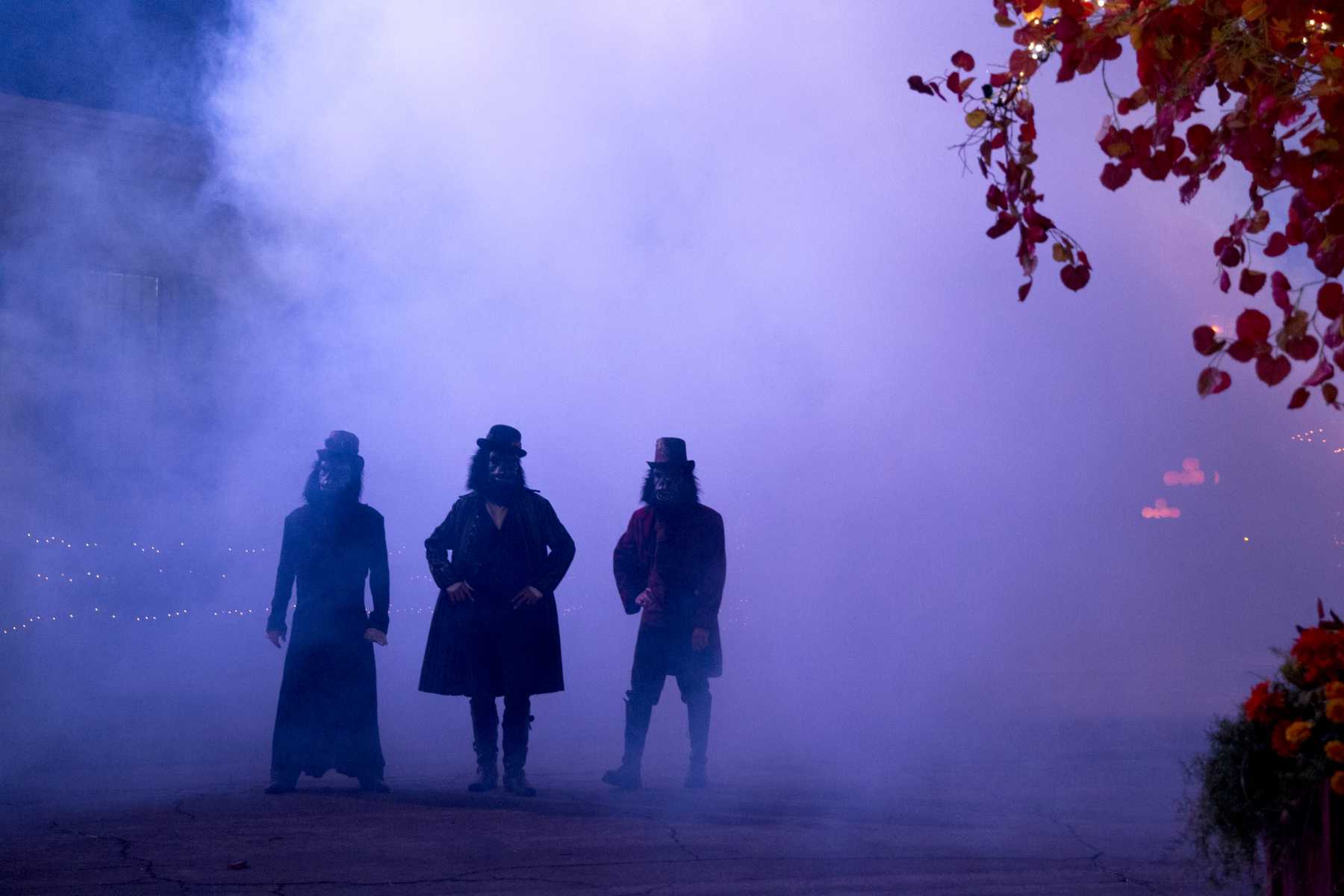 Saeed Adyani/Netflix
Rory looks out the window to see three figures with gorilla masks and steampunk outfits. When she confronts them -- knowing they are Colin, Finn, and Robert -- they tease her about how she is dressed and say there has been a meeting! Logan announces from behind Rory that, in that meeting, they decided they had to take Rory out.
What follows has been described as everything from indulgent nonsense "from the worst people on earth" to, you know, "what?". I've heard a lot of people talk about how fun and inventive it was, but I never had a lot of time for the LADB ('the lads'). They blow through Stars Hollow with a musical accompaniment ("A Little Help From My Friends"), playing golf from rooftops, stealing from Doose's -- though they DID leave money ... all over the floor -- watching Kirk's Petal film, and eventually ending in an underground tango club.
Logan wants to keep Rory around. Of course he does. He apologises for not telling her Odette moved in. He offers her use of a family house in Maine to write her book. No strings attached. Uh-huh. It's a sweet gesture that comes off as very sleazy given that he plans to, according to "dynastic plan", still marry Odette.
Colin has bought the club, and now they only play Rosemary Clooney. What a winner.
They end up in an inn somewhere (that looks very familiar under that kitschy mess), and Rory chooses to share a room with Logan.
Lorelai is back and ready to hit the trail this time!
Oh, no. That's all we get to see of her right now. Back to Rory, who is staring wistfully out a window while Logan sleeps. He has to leave at noon, and then he says he wanted everything to be special for her. Sleaze ball.
She gives him back the key to the Maine house. She already knows where she is going to write.
The lads don't look like they've actually slept any at night. Colin added to his collection of things-he-bought-last-night with a car. Finn is making martinis. Robert has a steak over his eye (from calling Finn a Kiwi). Rory reenacts the end of Wizard of Oz when saying goodbye to the lads.
Logan and Rory officially say goodbye. They share a kiss -- I think it was meant to be tender, but it was awkward -- and he drops her steampunk hat onto her head and frames her with his hands and leaves. She is left standing in the sitting room of the inn (even though she said she has a car outside).
Lorelai is determined to make it onto the trail this time. Today's ranger is Peter Krause, fellow Parenthood star and Lauren Graham's real life partner, who warns the women that any physical activity motivated by a movie (or book, most likely) is likely to end in hospitalisation. He won't let Lorelai on the trail because she doesn't have her permit to hand. He doesn't give in to her fast talking or her flirting. He does say that she can bribe him when she asks, but her wallet is also in the pack.
She drives off to find coffee, but the cafe is closed. So is the bar. She ends up walking around beside the gas station/cafe/bar and finding a really lovely clearing. She gets the peace and clarity she thought she'd find on the trail. She didn't have to have a permit for that kind of personal understanding. It's the Gilmore Wild.
She phones her mother with a genuinely touching anecdote about her father. She had her heart broken by a vicious boy when she was 13. She ran out of school and to the mall, and, for some reason, Richard was there. He was furious with her and demanded to know why she wasn't in school. She couldn't manage to do more than cry. He bought her a giant pretzel, took her to the movies, bought her popcorn and candy, and pretended to Emily that he had picked her up from school.
Emily thanks her -- actually thanks her -- and Lorelai drops her pack beside a dumpster with a sign that says "FREE" and drives away.
By the way, some of the classic music is back!
Luke is cooking for Paul Anka when Lorelai shows up. She explains to him why she didn't hike and that she didn't actually have to hike -- all she had to do was get coffee -- and that everything is clear now.
Luke cuts her off. He knows she's leaving him. She's going to bolt. He's not unhappy or unsatisfied. He will never leave her. He doesn't need space (since "I need space" means "I need space and the number of a good attorney"). He had to watch her marry Christopher. He's manic. He's terrified of losing her.
She finally gets him to listen. She wants to get married. This month on a Sunday, since he closes the diner early on Sundays.
He leaves the room. Oh, he is getting her ring! He tells her that the only way out now is with a body bag. She replies, "And now we don't have to write our vows."
THIS is our Gilmore Girls.
Emily is in Nantucket with Jack. He says he has to leave, and she doesn't seem to broken up over it. She practically chases him off, sending Berta for his bag. Emily finally seems in her element. She walks into the house and puts on some music. She finds a brochure for the whaling museum Jack was going to take her to see and decides to go on her own. She seems to be enjoying herself. Finally.
Rory gets a voicemail from Emily saying that she can stay at her house. Rory arrives and relives some classic Gilmore moments: dinners, the night of the frozen pizza, Richard in his study.
The la-las are back. Oh, how I missed them!
She sits at his desk, takes out her laptop, and gets to work.
Lorelai and Michel are interviewing for his replacement. He doesn't like any of them. He doesn't like that anyone else might work there. It's his inn. Michel has been a pain in the backside since the show started, and I wouldn't want to see anyone else manning that desk, either.
Lorelai sees a hospice (I think) that is closing, and the nuns are selling off the building. Lorelai takes an information sheet. She's trying to keep Michel!
Later, Paul Anka wakes her in bed, and Rory is there. They each bring peace offerings to kitchen table: Rory has leftover Chinese food, Lorelai has PopTarts and Red Vines. Lorelai suggests coffee, and Rory goes for ice cream. They hug and start to chat. Lorelai says the wedding will be the first day of the Harvest Festival (for the hot dog cart, Rory knows). Rory has the first three chapters of her book, The Gilmore Girls.
She wants Lorelai to give it a chance. If she doesn't like it, Rory won't write any more. Lorelai is afraid that Rory is going to hate her if she says no.
Emily is on a DAR interview panel, and she cannot handle these women anymore. They are making fun of the candidate, and she lets her know -- after getting up and picking through their snacks. She calls them out on their ridiculous cycle of interviewing trophy wives. She says, "I can't spend any more time on artifice and bullshit" before walking out. The DAR, for her, died with Richard.
Luke doesn't want to close the diner for the wedding, so Caesar can't come. Miss Celine is dressing them for the day! How is that lady still kicking?! (Yes, I know she's not 150 years old in real life.) Luke doesn't have anyone else to invite to the wedding -- except his old buddy KIEFER SUTHERLAND. It's the real Kiefer Sutherland, too. They did a baseball camp together and still go fishing.
What?
Rory books an appointment on her phone (job interview?), and, when she comes out, can't believe that Luke knows Kiefer Sutherland either.
Rory has gone to see her father, Christopher. He brings her coffee. Who knows how long it has been since they've seen each other. GG lives in Paris with her mother, it seems, and he's still dating some woman named Lana. He has "caved" and joined the family business.
She tells him that Luke and Lorelai are getting married, and he says he knows when to admit defeat. She also tells him that she's writing the book. He wants to know if he's in it -- and if he enters in a cloud of sulfur. She wants to know what he felt about Lorelai raising her on her own. He didn't have much choice, but he did let her do it. He just didn't try to compete with her since she is a force of nature. He has to get back to work, and, when he suggests dinner next week, she says "thanks for the coffee" and heads off.
Lorelai arrives to the Gilmores' to discover that the house is for sale. Emily is sure she means to tell her that the wedding is off. Once Lorelai assures her that the wedding is very much still on, she says she doesn't want the house because it's just not right without Richard. 
Emily bought the house in Nantucket where she and Richard rented every summer. She just offered twice what the house across the way went for. It's the first thing in her life that's in just her name -- not Mrs. Richard Gilmore's name.
Lorelai has come to her to say that she needs to expand the Dragonfly. We hear echoes of the first episode with Emily's refrain of "You need money."
Shock of shocks, she simply says, "I'll get the checkbook." Lorelai wants to use the Luke's Diner Franchise money since he doesn't want it. She thinks it could honour Richard's memory, too. There's a catch, though: she wants Luke and Lorelai to visit two weeks every summer and one week every Christmas.
Emily comments on how happy Lorelai looks and suggests that they celebrate properly. While she's gone for the good stuff ('69 Dom Perignon), Lorelai finds an appropriately-sized portrait of Richard all wrapped up.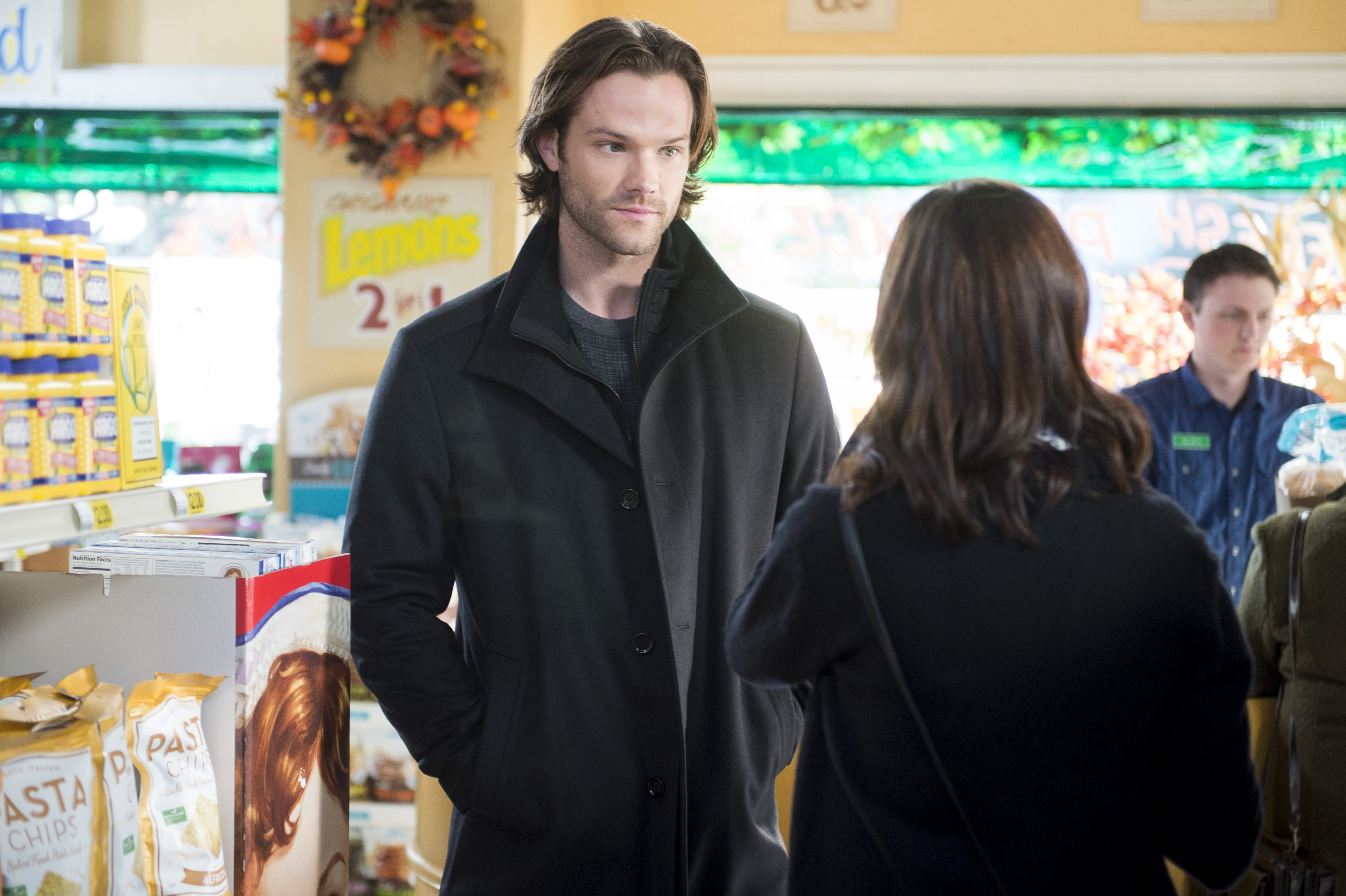 Neil Jacobs/Netflix
Rory enters Doose's and, under Lorelai's telephone instructions, finds a box of white safety pins for her dress. When she turns around, she runs into Dean -- literally, a call back to their first meeting. He's got a wife, three boys, and a little girl on the way. He's unsure that he wants to be in her book. She has a string of lovely compliments about his character and what he did for her. 
As he walks away, she notices they are standing next to the corn starch. He says, "pay for it this time" and breezes away.
Lorelai enters the kitchen at the inn, and SOOKIE IS THERE!
STOP EVERYTHING. SOOKIE IS THERE.
She has a crazy Sookie story, and she has made a dozen wedding cakes for Lorelai. They are all different styles, and one is a freaking milestone cake. It's not so beautiful, but boy does it hit hard: Lorelai with baby Rory, the house (with the Jeep!), The Dragonfly, the zucchini patch at night, the animal fair, the hospital where they Sookie's fingertip the day they met...
Michel chews Sookie out for being gone so long and for hurting Lorelai and turning her into a hot mess. Oh, and because she hasn't been there to make him fat-free granola. She has brought him a huge vat of it for him, so he plays nice and goes straight to eat his weight in granola.
They have a touching wee moment, and then Sookie freaks out because her nose is never wrong, and she can smell all the guest chefs.
Emily has her house in Nantucket with Berta's family. She is a docent at the whaling museum! She disgusts all the kids with the facts and looks like she is having the time of her life.
Luke has a suit ready for tomorrow -- the big day. Jess teases him but has a sincere moment to say that he looks good. Kirk bursts in to say that everything is under control. He got an idea for their wedding (meant to piggyback on the Harvest Festival), and now he's freaked out that he did too much and ruined everything.
Luke is being very traditional about the day-before-wedding stuff and doesn't want to see Lorelai. The girls hide in the kitchen, and Lorelai gives Rory back her chapters. She hasn't read them, but she still wants her to write the book with one note: drop the "The". "Just Gilmore Girls. It's cleaner."
Jess is going to crash with his mother, and Rory brings him the chapters to read. He clarifies that it's a work thing between them, and Luke asks if he's over her. He's very over -- only he looks through the window before leaving, and it's a look of longing. Oh, that face. It broke me.
Luke and Lorelai tease each other about flash mobs for the wedding. Luke's is to a Steely Dan song, and she insists that you can't flash mob to Steely Dan. They are stressed over the wedding, and they start to think that they should elope. It's bingo night, and Reverend Skinner is up late on bingo night.
Lorelai wakes Rory up (leaving Kirk to sleep), and they get ready to elope. As Luke drives them through town, the tears start.
I mean, the music starts.
Same thing.
The song is "Reflecting Light", and Luke and Lorelai danced to it at Liz and TJ's wedding back when Luke saw her face. Not special at all.
They see what must be Kirk's surprise -- a big door that says "OPEN ME". They go through a tunnel of curtains and find the town square in lights. Kirk gets a text that says "It's perfect!" and looks pleased with himself. Miss Patty's dancers are practicing on an outdoor stage. There is loveliness everywhere.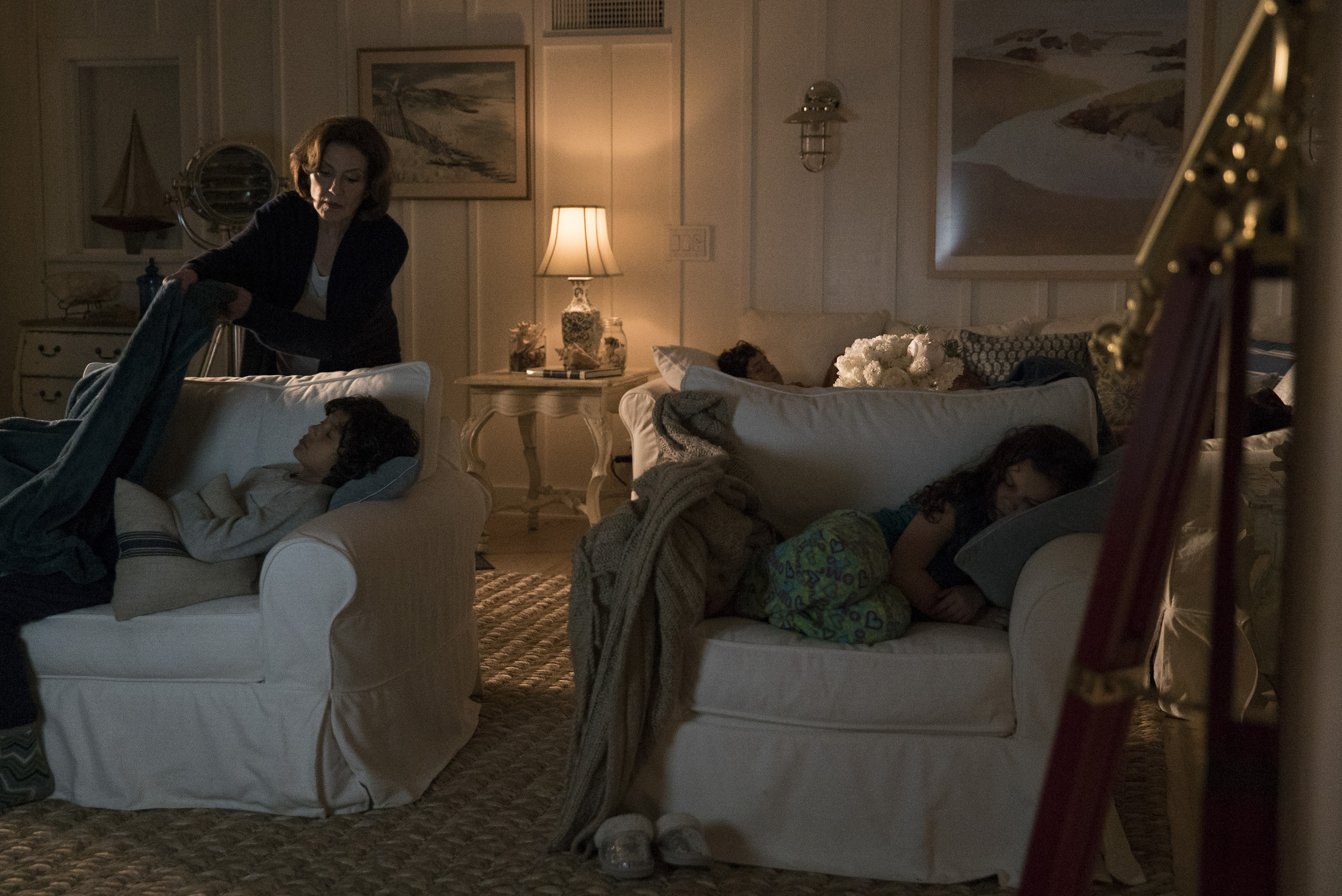 Saeed Adyani/Netflix
Emily kisses the portrait of Richard good night and tucks in her new family. This is her new life, and she is going to enjoy it.
The Reverend marries Luke and Lorelai in the gazebo with Michel, Lane, and Rory to witness.
The next morning, early, Lorelai and Rory are sitting in the gazebo, and this is when it hits me that this might well be the last scene of Gilmore Girls ever. They are in opposite positions to the opening scene in "Winter".
They laugh about Steely Dan, and Lorelai has a glass of champagne. She suggests that, now that she's married, maybe Rory should be, too. Rory gets a polite text from Paul breaking up with her. She acknowledges that she sucks, which, in this case, she did. She goes quiet and says she wants to remember every detail.
The camera switches to behind them. The last four words?
The last four words.
Rory: Mom?
Lorelai: Yeah?
Rory: I'm pregnant.
As Lorelai turns toward her, looking shocked, the screen goes black, and the original theme song begins to play. After a moment, we get some la-las, and the whole thing is over.
Is it really over? Is there more coming? Do you want more? So many questions! Let us know how this episode made you feel, and see if you agree with our gut reactions to the series as a whole.
Be sure to read up on "Winter", "Spring", and "Summer". Gilmore Girls, the original series, is available now on Netflix or on DVD.