Twitter accounts of major celebrities, international organizations, media outlets and websites were hacked on Wednesday and then started tweeting propaganda in support of Turkey's ongoing diplomatic spat with the Netherlands and Germany.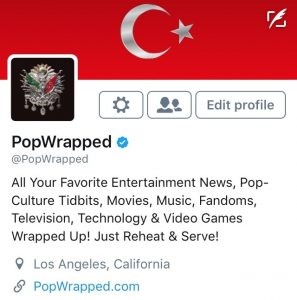 Twitter
Victims of the global online attack included pop-star Justin Bieber's Japanese account, Forbes, Amnesty International -- and even PopWrapped's own Twitter account.
The compromised accounts have taken back control from the hackers, although, for a while after, some of them simply showed an egg for a profile and a blank header image.
During the height of the attack, for some reason, Justin Bieber's Japanese profile still showed his original profile image. The Hackers might be fans for all we know!
All of the accounts involved were hacked through Twitter Counter, a third-party analytics service.
The hackers changed the header images of the hijacked accounts into the Turkish flag and the profile pictures to that of a Turkish emblem. Tweets posted included a swastika and message written in Turkish, which when translated, reads,"卐 #NaziGermany?#NaziNetherlands, a little?#OTTOMAN SLAP for you, see you on #April16th." The tweets also posted a link to a Pro-Erdogan Youtube video.
Twitter
April 16 refers to the date when Turkey plans to hold a referendum, which will decide whether to grant additional powers to President Tayyip Erdoğan.
Twitter has released a statement regarding the incident and said that it was "aware of an issue affecting a number account holders this morning." They also said, "Our teams are working at pace and taking direct action on this issue. We quickly located the source which was limited to a third-party app. We removed its permissions immediately. No additional accounts are impacted."
The permission mentioned by Twitter is granted to a third-party service that an account chooses to link to, in this case, Twitter Counter. This grants the third-party application to take actions on behalf of the user. When the service is compromised, so are all the accounts that links to it.
Omer Ginor, Twitter Counter's CEO said that "we are aware of the situation and have started an investigation into the matter." He then added that "we've already taken measures to contain such abuse of our users' accounts, assuming it is indeed done using our system - both blocking all ability to post tweets using our system and changing our Twitter app key." He also made it clear that "We do not store users' Twitter account credentials nor credit card information."
There has been rising tension between the governments of Turkey and the Netherlands, after the latter chose to prevent a Turkish minister from attending a political rally in support of the referendum in Amsterdam. There were concerns that the gathering may disrupt public order.
Turkish citizens who live abroad are allowed to vote in-absentee on the referendum, so their political support is crucial to the Turkish government.
Other European nations like Switzerland, Denmark, Austria, and Germany have also banned Turkish officials from holding political rallies in their countries citing security concerns. German Chancellor Angela Merkel who is considered to be the de facto leader of the European Union has backed the Dutch government in their action.
This has resulted in Erdogan going on a tirade and accusing the German and Dutch governments of being Nazis.
Currently, there is no confirmation that the Twitter attacks were backed by the Turkish government in any way.