Play as a competitive gardener vying for the best collection of herbs in Herbaceous. This card game was a collaborative effort designed by Eduardo Baraf (Lift Off! Get Me Off This Planet) and Steve Finn (Biblios).
At its core, Herbaceous is a press your luck set collection game with beautiful artwork. Gameplay is utterly simple. Draw a card to place in your garden or the community garden, then draw a second card to place in the opposite garden from the first card. It is your thought process that becomes intricate and interesting. Forced to play a card in both gardens, you have to decide if you need to keep that card away from your opponent or hope to draw something better for your private garden (such as the special herbs worth bonus points). Some of the best laughs in the game come when a player spends a minute contemplating where to put a herb and after they finally decide, they draw the same herb. The game is quickly paced, making it an excellent filler game, but is so enjoyable that you may end up playing it repeatedly.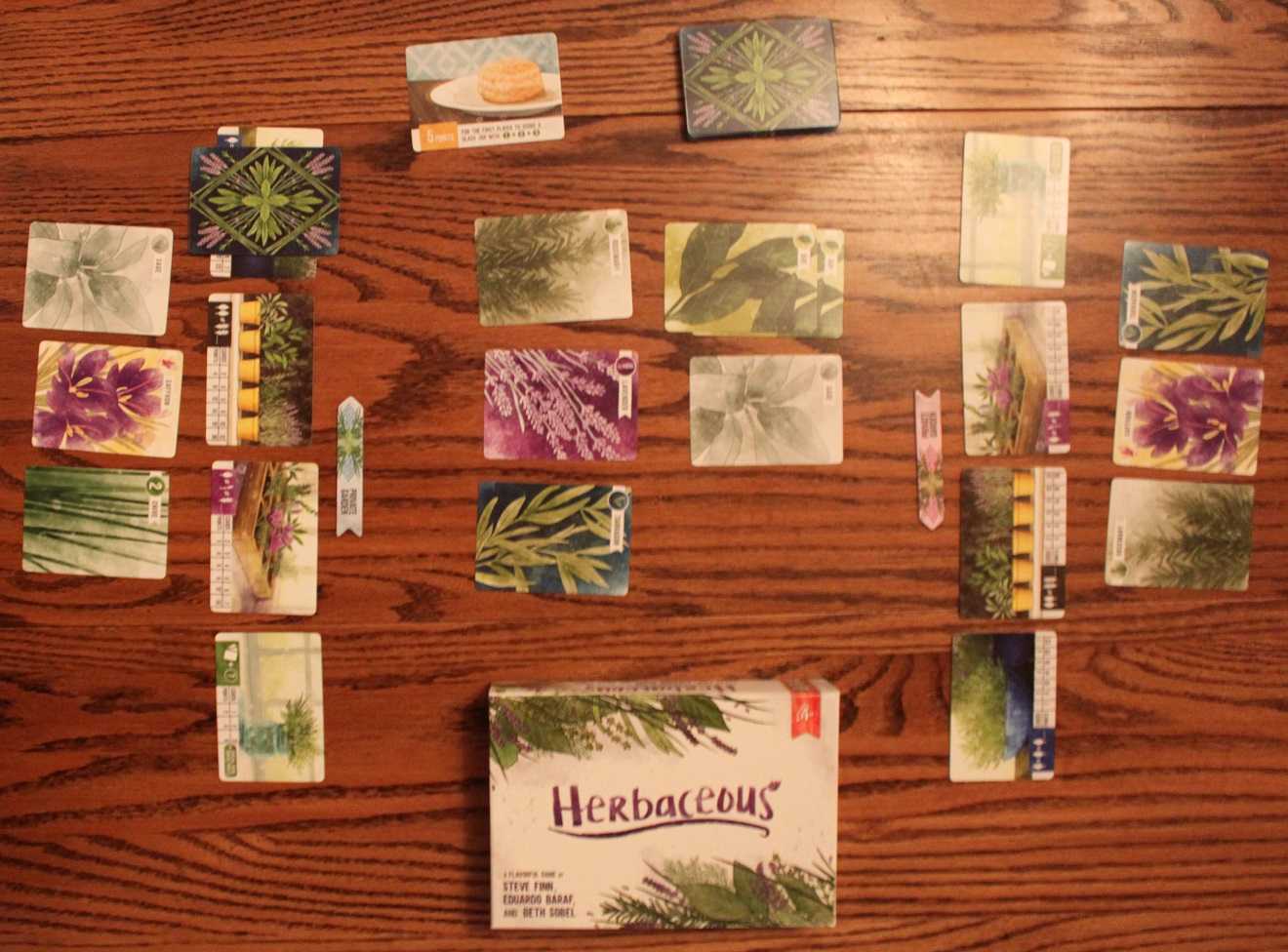 For the completists out there, Herbaceous has a mini expansion that adds three flavor cards to the base game. These cards are event cards that allow all players to perform a special action. They include swapping a private herb with one in the community garden, adding one herb to a pot, or taking an herb from other player's private gardens. It doesn't add a whole lot to the game, but it is nice to spice up games with a bit of variety every once in awhile. What I liked about the expansion was the insecurity it created. In the base game, players can rest easy knowing herbs in their private garden are protected and there is no reason to use them over community herbs (since they score one point each in the end). With the possibility of players taking a valuable herb from your private garden, there is a little more pressure to pot herbs from your private garden. This expansion was only available during the original Kickstarter campaign and can only be obtained in future campaigns run by the publishers (get notified with the Pencil First Games newsletter).
As someone who loves to keep their game components well organized, Herbaceous gets big bonus points in my books for the extra effort put into the packaging design. The plastic insert has molded spaces for the garden signs and two for the cards, which keep the herb cards separate from the container, biscuit, reference, and expansion cards. The card slots have a space for a finger to slide in and remove the cards. It is a small detail irrelevant to the game, but many publishers skimp on the inserts forcing consumers to spend extra dollars on custom inserts instead of more games. The molded logo on the insert and the UV spot finish on the box, not to mention gorgeous artwork from Beth Sobel, makes Herbaceous a quality production.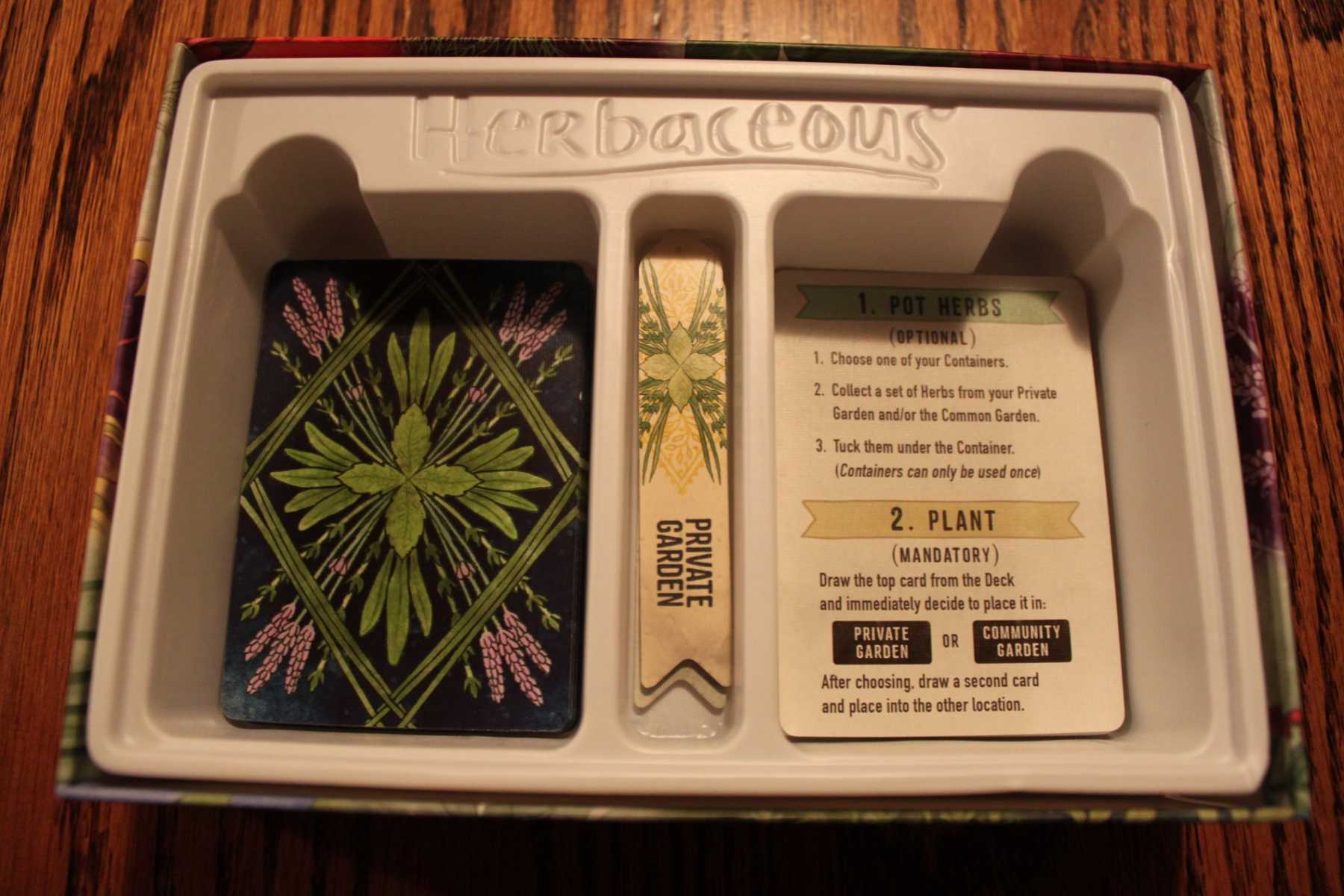 It is difficult to find faults in a game with such elegant design as Herbaceous. However, my least favorite part of Herbaceous was the solo variant. It limited the press your luck aspect of the game due to the fixed size of the community garden and lack of an opponent. You can only press your luck until there are four cards in the community garden, then you either pot or will have to discard all the community herbs when a fifth herb is placed there. Since there is no opponent, there is no reason to pot herbs until the community garden is full unless you can already max out a pot. Otherwise, you might as well see what the next herbs will be and then pot when the community garden is full. I also found that when playing quickly all the turns blended together and it was hard to remember whether this was the first card of a turn or the last. This can be prevented by counting 1, 2, 3 for each card played, but it still detracted from solo play. Although it can be fun to try to outscore yourself, the solo variant lacked the feeling of pressure and stress that makes the multiplayer game so entertaining. For example, you can create frustration within opponents by potting herbs from the community garden just when they were ready to do so on their next turn.
Herbaceous is great for playing with family and young children. Even if your child can't read just yet, the artwork makes the cards easily distinguishable and can be identified visually. The game plays well with two players, so this is an excellent game for a partner or spouse. Thematically, Herbaceous is a great Mother's Day gift idea (yup, it's approaching soon) for mothers who enjoy gardening or gaming with their kids. If you enjoy set collection games like Lost Cities, Jaipur, or Lanterns, then Herbaceous will be an superb addition to your game shelf. Find Herbaceous at your local game store.