This story has been expanded and updated HERE, and includes many witness statements, court documents, and a public statement from Remind The Nation organizer, Melissa Jensen.
UPDATE (4:30PM PST): Remind The Nations's website has gone dark, now requiring a password to view, and all Remind The Nation social media channels have been deleted. 
Park City, Utah (January 25, 2017) – Jacob "Jake" Nold, Melissa Jensen, and Kevin Williams, the organizers of military-themed night Remind the Nation, are facing massive backlash from the Veteran and Hollywood communities for barring gay Veteran and 9/11 rescue worker Garrett M. Goodwin from attending simply because of his sexuality. Many reports of other similar incidents were reported by celebrities and event attendees, including Hollywood YouTube star, Shane Dawson.
Per their now deleted social media accounts, "Remind the Nation boasts unity in a country divided," but Monday night, when Goodwin, an invited guest of the event stopped by, unity meant non-homosexual. "I was an invited guest of Remind the Nation and many of my Veteran friends were there," Goodwin stated. "I was at the Sundance Film Festival to promote my book and received an invitation to attend the morning of the event." Shortly after arriving, Nold and Williams made a spectacle in front of 40+ Veterans attending the event by aggressively escorting Goodwin out of the building, asserting the event was not for "homosexuals." Goodwin, whose homosexuality was recently made public in a memoir, was shocked by the actions of the event organizers. "My being kicked out of the event had nothing to do with the Vets who were there and everything to do with the bigotry of Nold, Williams, and Jensen."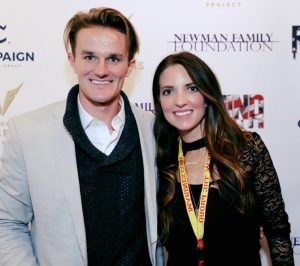 Jake Nold and Melissa Jensen
Justin Youse, a friend of Goodwin and one time contributor to Remind the Nation, witnessed the ordeal and, in a public statement on Facebook, condemned the actions of Nold, Jensen, and Williams. "Overall this was a token event put on by three people trying to make a name for themselves on the backs of Veterans," Youse said.
Remind the Nation, held January 23rd at the Sundance Film Festival, was the subject of yet another anti-gay controversy earlier that evening when YouTuber Shane Dawson was also forcibly removed from the event by organizer Kevin Williams. Williams was shown on video removing Dawson and boyfriend Ryland Adams, which trended Monday evening after the incident involved conservative Host Tomi Lahren, a high school friend of event organizer Jake Nold. Dawson was reportedly treated at a local hospital and is wearing a leg brace.
Labs for Liberty, founded by event organizer Jake Nold's parents, was the presenting sponsor of Remind the Nation, a non-profit 501 (c)3 located in Utah. Nold's bio lists him as a "Veteran/first responder," and the event brought well-known military veterans Boone Cutler, Kris Paronto, and Rudy Reyes as guests, who had no idea of either situation unfolding just outside. "I know most of the guests who came that night and I have tremendous respect for all of them. Whatever Remind the Nation claims to be, it is not what Veterans of America stand for," Goodwin said. PopWrapped spoke, at length to Jensen, who denied any liability or responsibility for the incidents of the evening in question. She has, at the time of this writing, refused to provide any official statement to PopWrapped.