If you're looking for an extra special way to show mom you care, get her a romance novella featuring none other than Colonel Sanders. Yes, you read that correctly. Kentucky Fried Chicken released a romance novel entitled Tender Wings Of Desire starring none other than Colonel Sanders. Go ahead and take a few moments to recover.
Apparently, one of KFC's most profitable days of the year is Mother Day and they experience a 40% boost in sales. In response to this, KFC created a $20 Fill-up meal that feeds the entire family, "so Mom gets the night off to sit back, relax and be whisked away to a faraway fantasy." As long as that fantasy includes getting swept off her feet by a handsome sailor with a mysterious past.
The following description is from Amazon:
"When Lady Madeline Parker runs away from Parker Manor and a loveless betrothal, she finally feels like she is in control of her life. But what happens when she realizes she can't control how she feels? When she finds herself swept into the arms of Harland, a handsome sailor with a mysterious past, Madeline realizes she must choose between a life of order and a man of passion. Can love overcome lies? What happens in the embrace of destiny, on the Tender Wings of Desire?"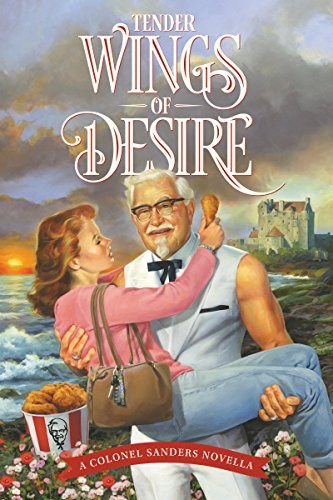 The cover is hilarious. Just like any classic romance novel, it features the love interests on the cover in an embrace with a castle in the distance. Colonel Harland Sanders has forgone sleeves on his typical suit jacket to reveal muscular arms. Whereas Madeline is casually dressed wearing jeans, perhaps a cardigan and yes, those are her keys dangling from her purse. It seems that Harland has also swept Madeline away from her errands. It's hard to tell if Madeline is gazing at Harland or if she's longing for the drumstick in her hand.
Watch the video promo below.
Tender Wings Of Desire is available for free download on Amazon. It currently has a rating of 3.8 out of 5 stars and readers are describing it as "Deliciously Crisp Writing," and "Love in the Free-Range." One reader reports being "Pleasantly surprised" that it was well-written and free from chicken puns. Check it out if you need a laugh or if you're mildly curious what kind of romance novel KFC came up with and are looking to get swept away like Madeline.
If Hamburger Helper can drop a rap album, why can't KFC drop a romance novel?