When Mattel introduced Ken to the world in 1961, he seemed the perfect fit for Barbie. The pair exists as an untouchable attractive couple and quickly became one of the best selling toys in history. But consumers found themselves bored with the unreachable status Barbie and Ken represented and asked for a more realistic doll. Last year, Barbie underwent a makeover and was released to the public with the new body types petite, curvy, or tall. To no surprise, Ken has undergone the same makeover.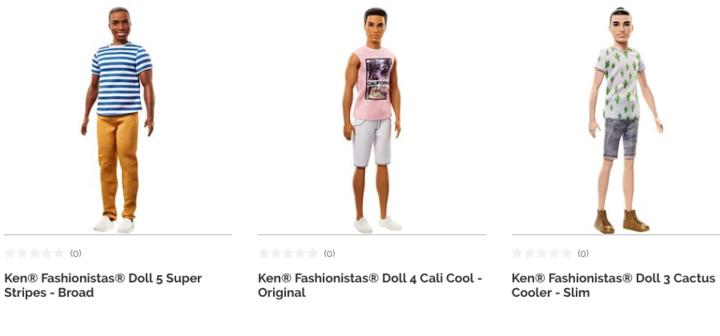 Mattel's 15 new Ken dolls
15 new Ken dolls will be released with slim, broad, or original body types. Mattel did not stop with the introduction of new bodies; they also added seven diverse skin tones accompanied by eight hair colors, which come in nine hairstyles.
In a press release, Barbie's senior vice president and general manager Lisa McKnight said, "By continuing to expand our product line, we are redefining what a Barbie or Ken doll looks like to this generation. Evolving Ken was a natural evolution for the brand and allows girls to further personalize the role they want him to play in Barbie's world." Barbie.com features 10 new Ken dolls are which are available to purchase while five are being released in the coming months. The official title for the new Ken is "Next Gen Ken."

The line adapts itself with new designs and styles, which younger generations are producing. Hairstyle options range from man buns to cornrows, while outfits now include modern styles from athletic to business casual. The dolls are categorized under Barbie's "Fashionista" line.
Take a look back at the evolution of our main man Ken. #TBT #TheDollEvolves #ManBunKen pic.twitter.com/6eMyZSmtfp

— Barbie (@Barbie) June 22, 2017
Mattel's business statement stresses how they are "a creations company that inspires the wonder of childhood. Our mission is to be the recognized leader in play, learning and development worldwide." This is not a far-fetched claim, as the Barbie line has released more than 100 new diverse looks within the last three years and exists as the most diverse doll on the market.