The 2017 Met Gala was on May 1st to honor the institute's exhibition titled "Rei Kawakubo/Comme des Garçons: Art of the In-Between." The red carpet is almost more hyped, however, and we have for you commentary on the good and the bad fashion choices of the invited celebrities.
The Good:
Selena Gomez's look is a play on a two current fashion trends: embroidery and the slip dress. The gown by Coach is a more simple but elegant piece. The babydoll structure of the bodice is highly reminiscent of a lingerie piece, a surfacing fashion trend. Selena looked fresh and elegant in the gown, leaving her hair and makeup simple to focus on the dress.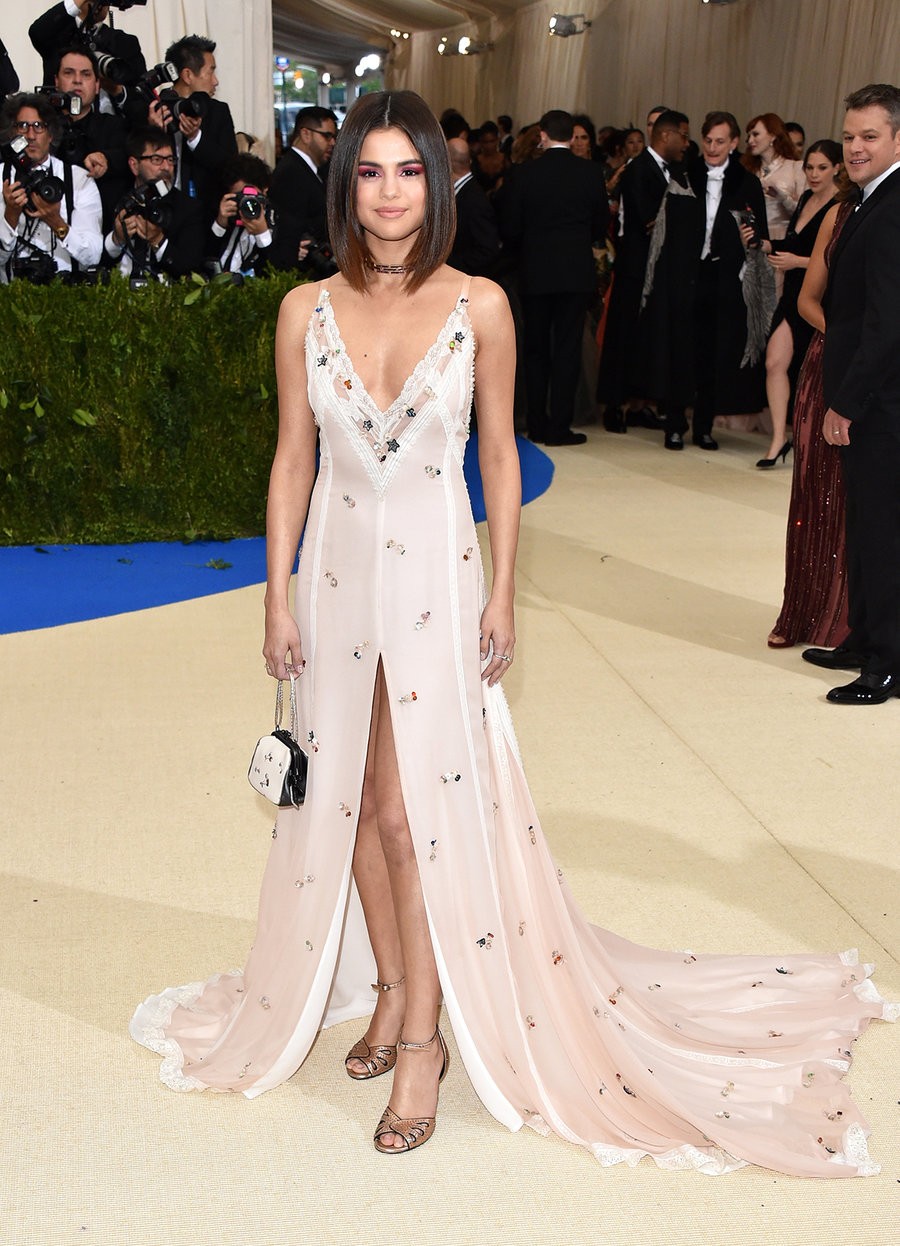 Lupita Nyong'o stunned everyone in her bright orange dress. A color most would stray from, she looked elegant and fun in the Prada dress. Similar to a few other gowns at the gala, the bodice has a gathering effect of tulle-like fabric. It seems to be a red carpet trend this season!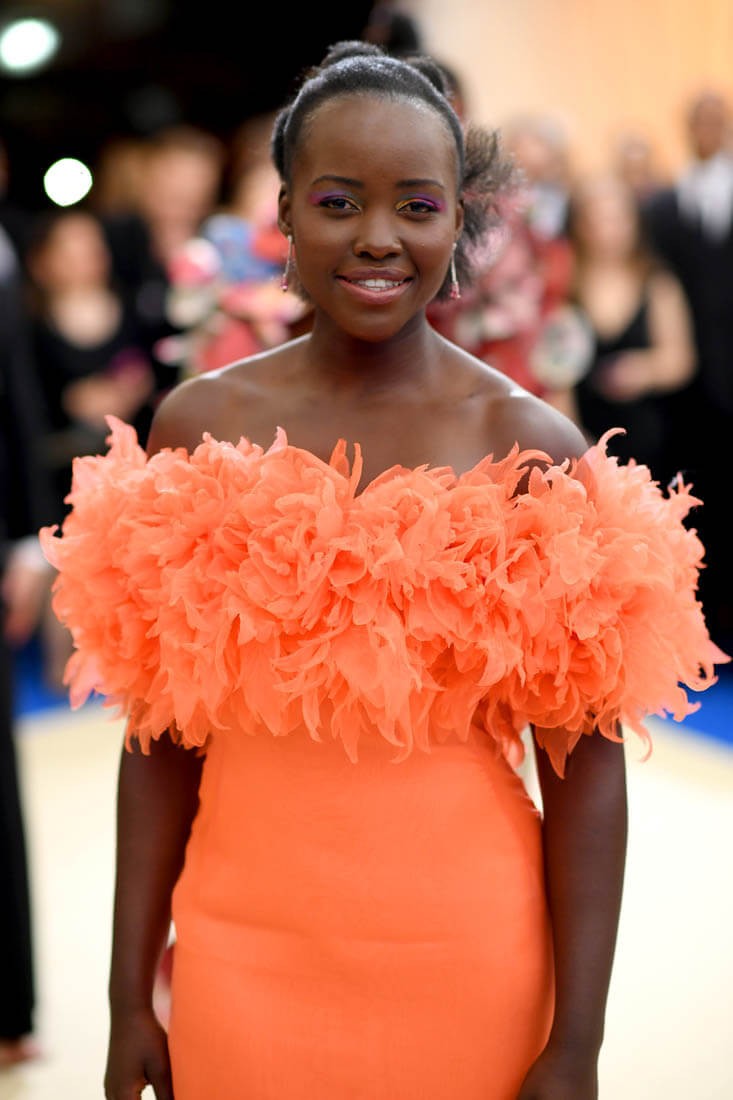 Chrissy Teigen and John Legend looked like the classiest, trendiest, most expensive bride and groom ever. Ever. The black and white color scheme was in line with many other fashion choices at the gala, but they might have done it best. The skirt of Chrissy's dress was flawlessly elegant, to the extent that looking at the pictures, we were fearful of someone stepping on it. It's beauty must remain intact!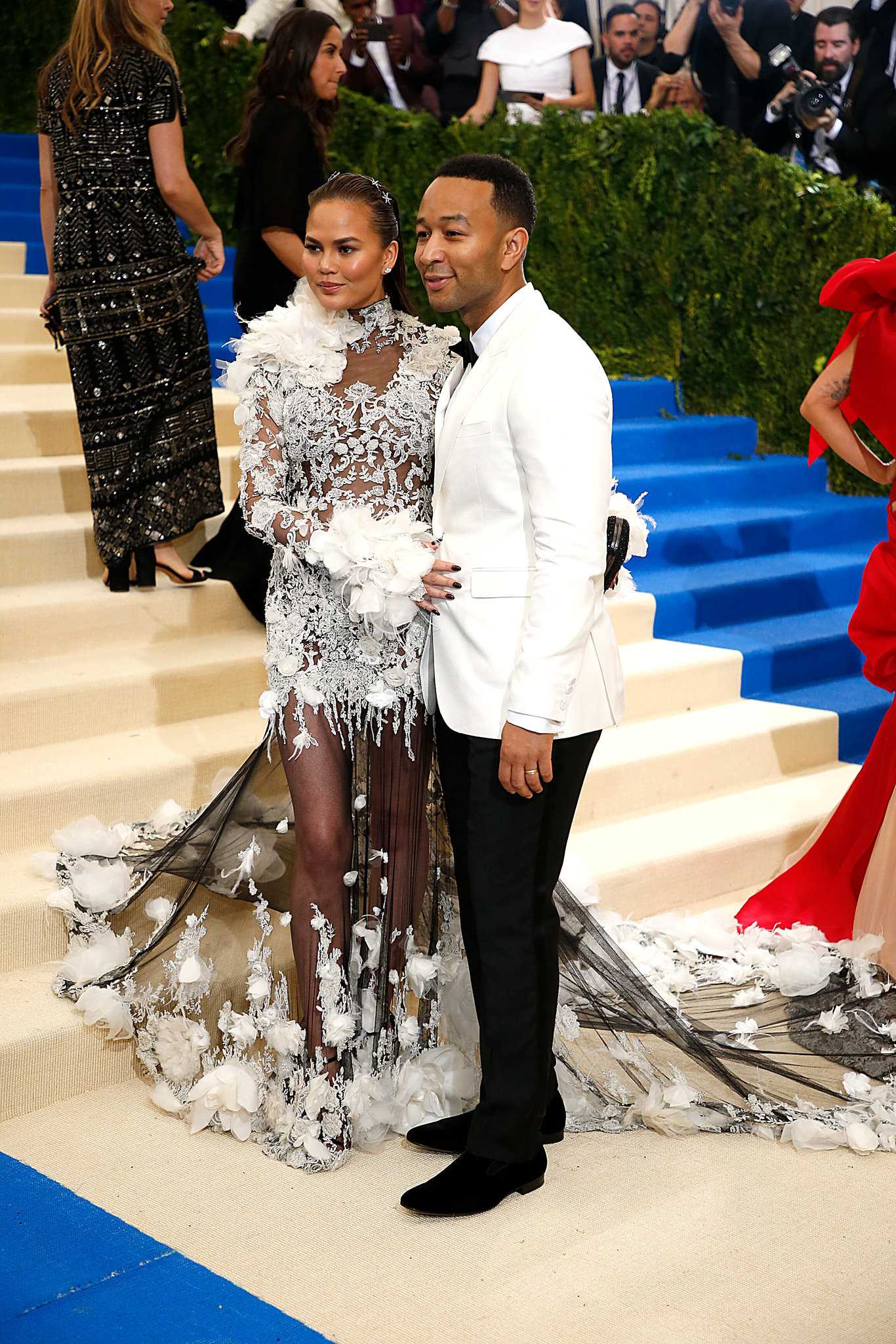 Rihanna was wearing perhaps an actual sculpture, not even an avant garde piece. But if she could still walk and talk and perform as a celebrity should at a red carpet event, then more power to her because she was living art and it was extremely visually interesting and eye catching.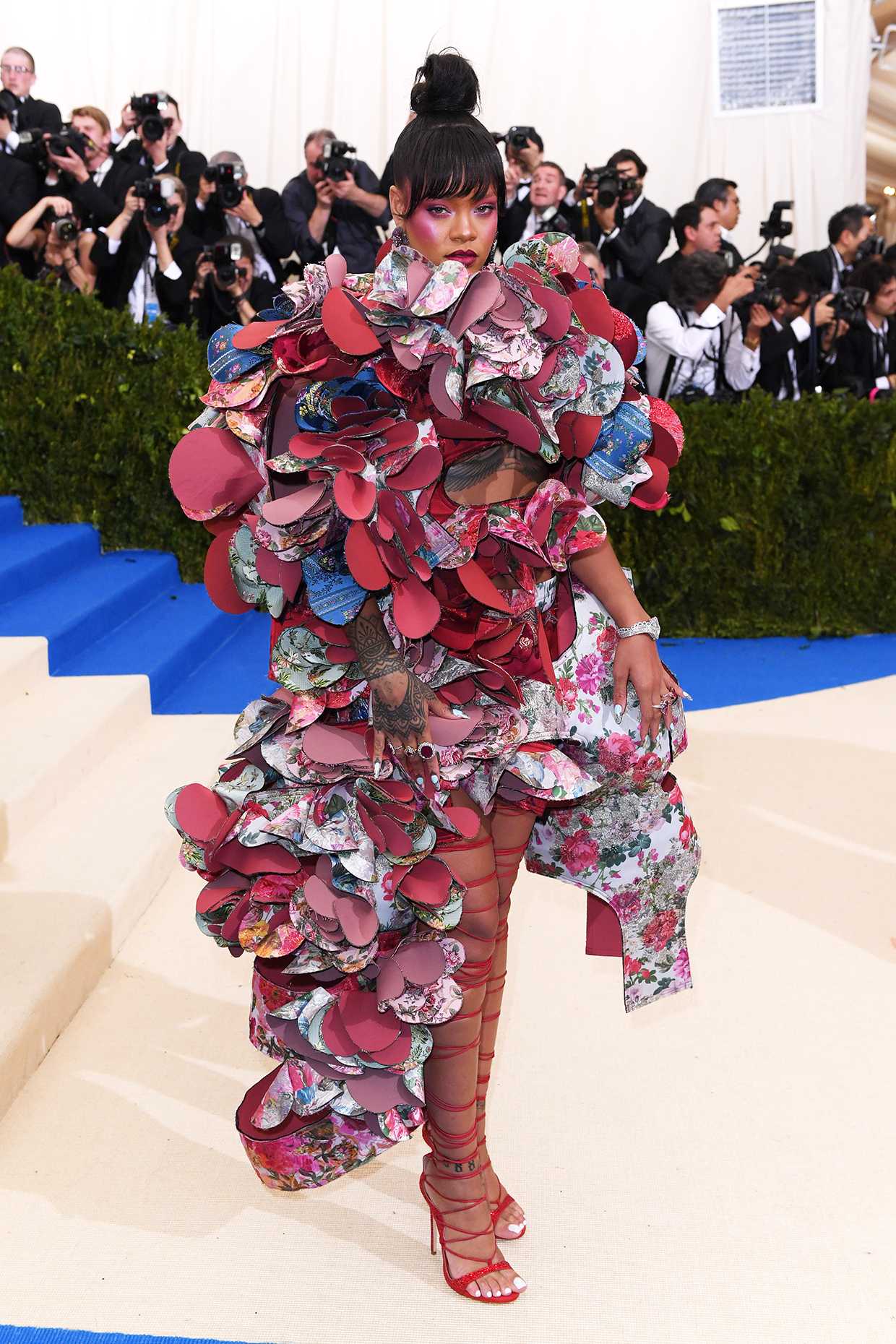 Reese Witherspoon looked stunning in a Mugler gown. It had both a structural element and a traditional skirt, but the combination was absolutely beautiful. The sapphire blue mixed with black is a classy combo that stood out from the background in pictures and complimented her blonde hair extraordinarily. Reese, we have one word: damn.
Blake Lively rocked a similar color scheme. A style of gown she has worn many times before, there was a twist this time: the colorful bottom. Like a bird of paradise, blue gem tones adorned the feathering at the bottom of the dress. Her husband, Ryan Reynolds', bow tie matched and the two (as usual) were perfect.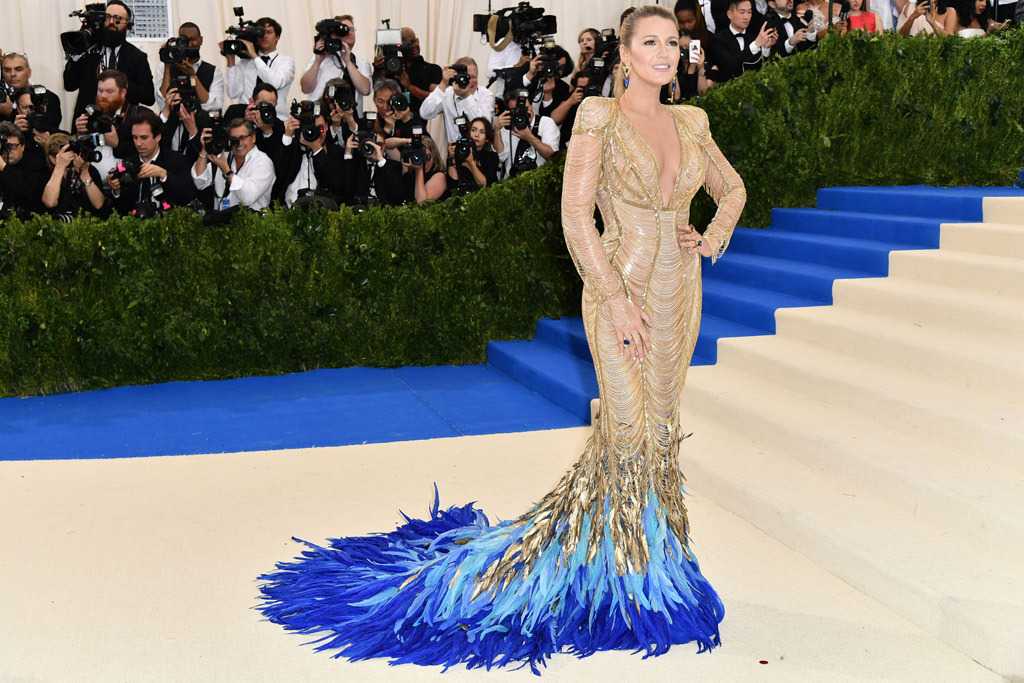 Emily Ratajkowski looked stunning in a dress by Marc Jacobs. The silhouette is simple but the pattern is, well, amazing. Does it tickle something in your brain? Probably, because the color scheme mimics Starry Night by Vincent Van Gogh and it's ingenious.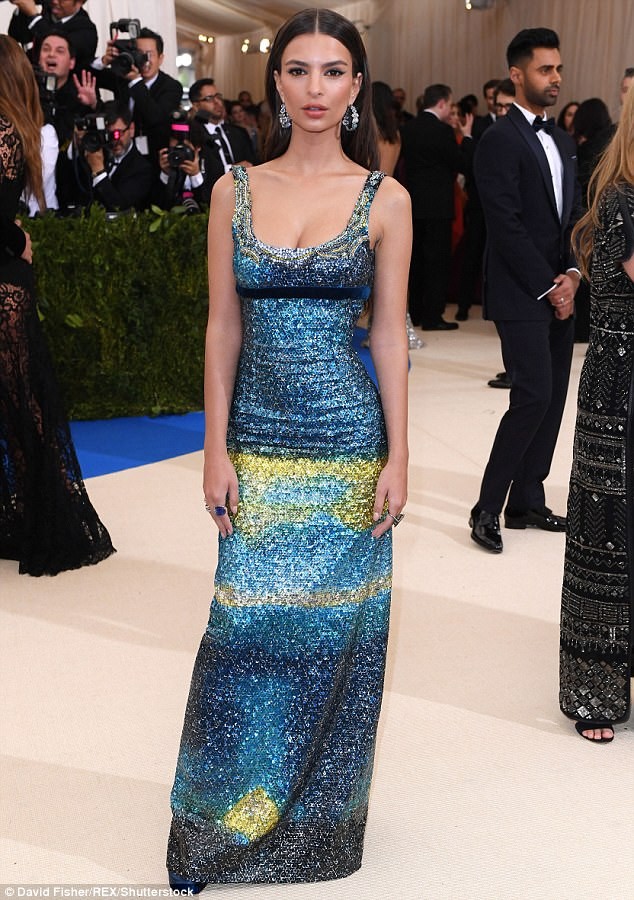 And we, of course, have to take a moment to talk about Janelle Monet. A red carpet icon, she wore a gown by Ralph Russo. A showstopper, but not for pulling the wrong kind of attention, her dress was reminiscent of her Oscar dress this season. She must have a type of dress she is drawn to, as both had a large skirt that accentuates her hips and decorative detailing on the bodice. The black and white color scheme was also similar.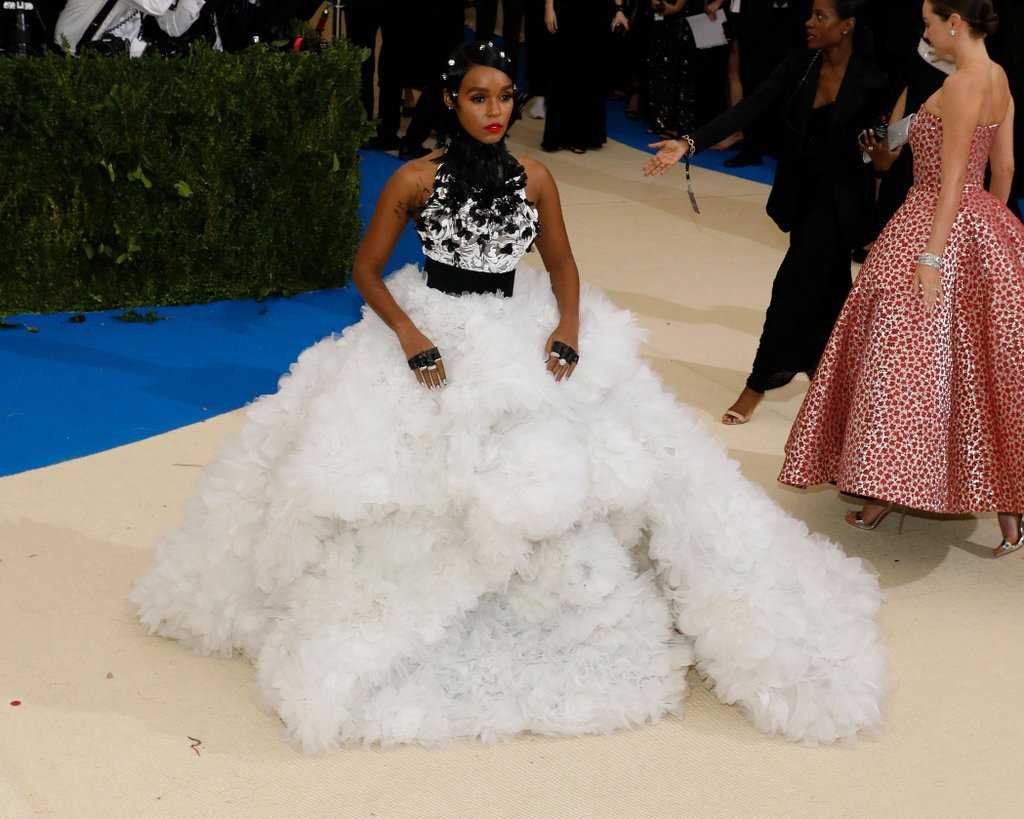 The Bad:
Madonna is the first celebrity to note, as her camo dress was… a showstopper. Adorned with chains, keys, and safety pin accessories, it can be assumed to have grunge inspirations. And with a hunting blind attached as a train, maybe designer Moschino also had some more rural inspirations.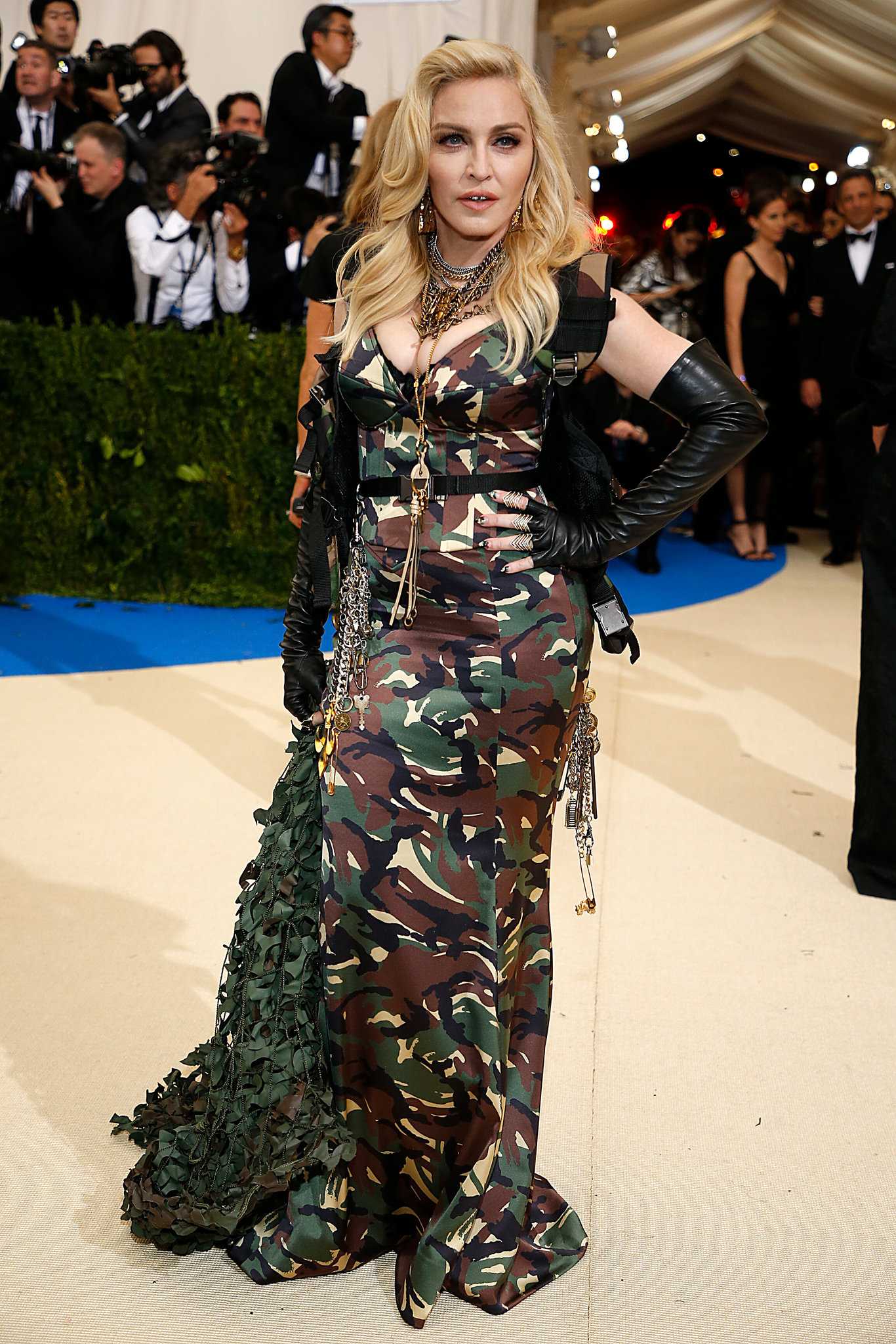 Katy Perry's outfit has drawn attention for it's unique nature. Both the color choice and adornments raised questions. The aesthetics of the outfit are not what should cause you to dislike it, however: the design label responsible is Margiela and their creative director is now the same man who was laid off from Christian Dior for anti semitic comments. Yikes.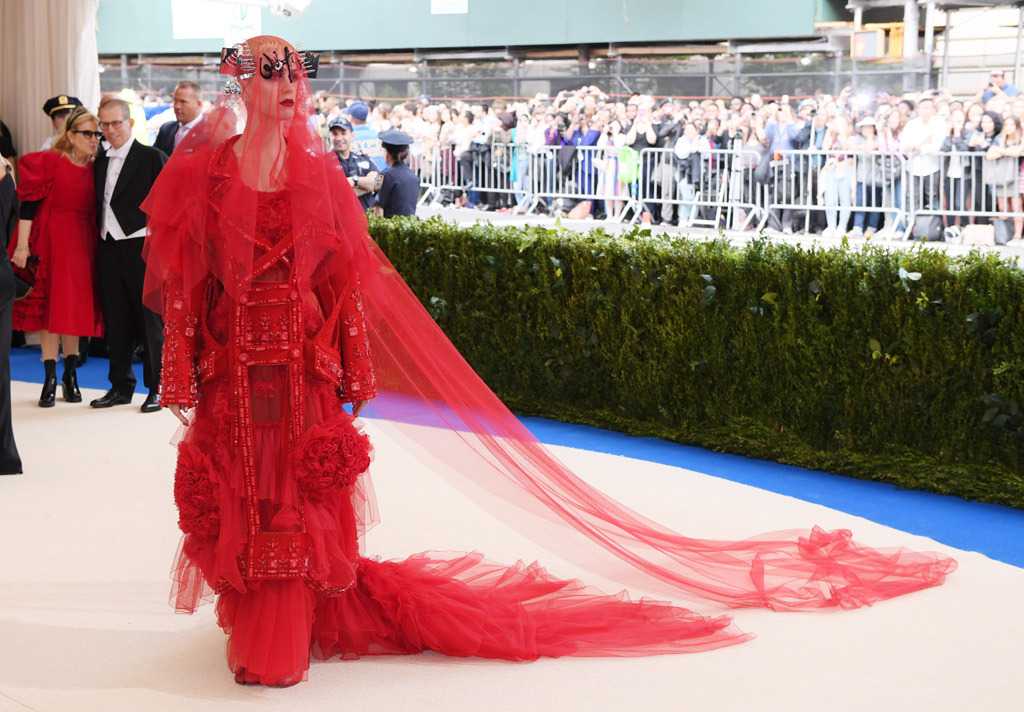 Both Gigi Hadid and sister Bella Hadid made appearances (both without the significant others they were accompanied by last year). Gigi's dress is the one worth commentary, however. This blend of half power suit, half prom dress by Tommy Hilfiger drew attention. The shoulder pad (yes, singular) alludes to the workforce women of the 80's and is balanced by the tulle on her opposite leg. The fishnet and pump finish the look off as a clear hybrid of the two ideas. Perhaps she is going straight from work to the dance.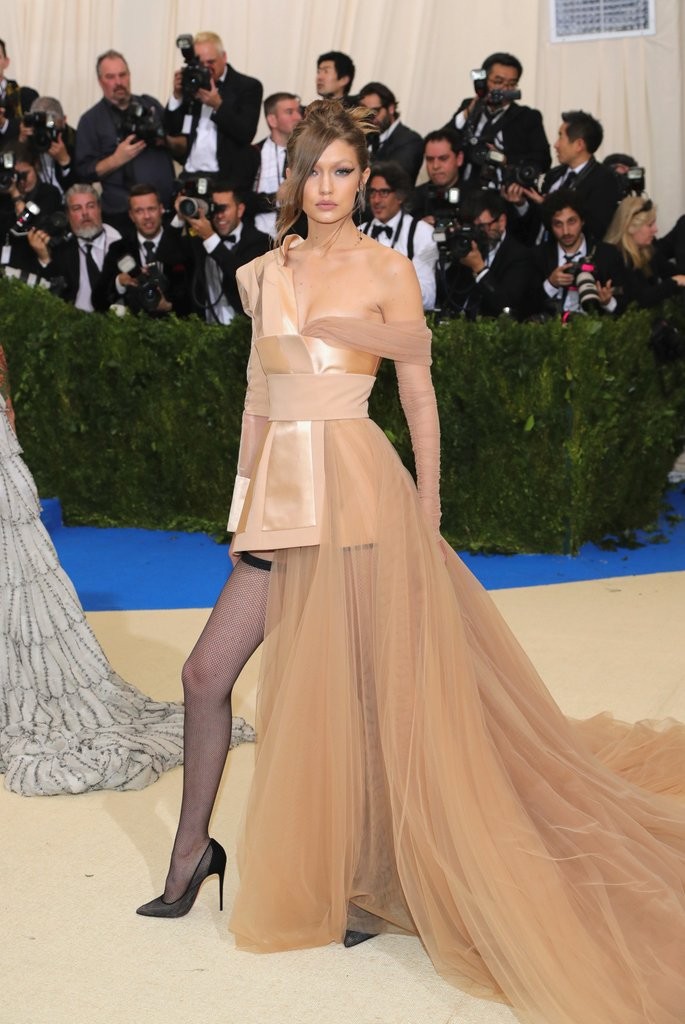 Solange arrived to the MET Gala in a piece by Thom Browne. We're not altogether sure that Solange and Tom got the memo of "red carpet event" however: the dress resembles a winter coat, or perhaps a Hefty bag. Solange even wore heels reminiscent of ice skates. Do they not know that May is a spring month?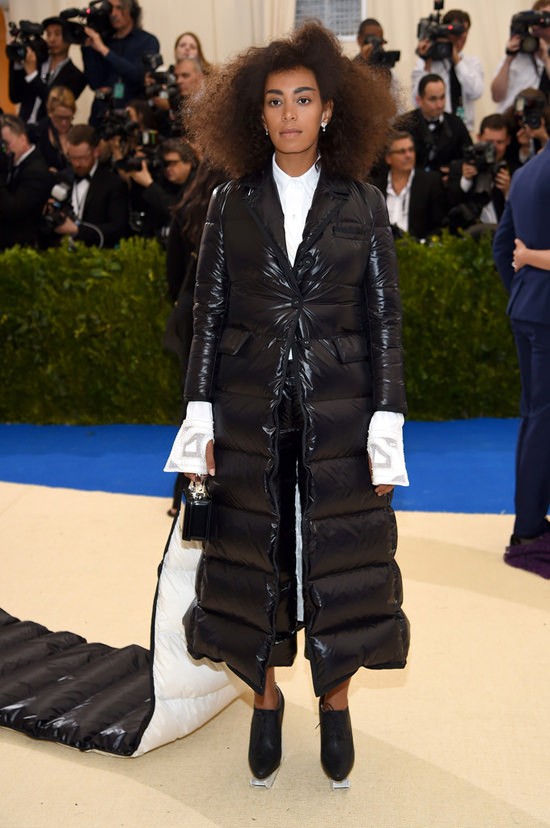 Both Cara Delevingne and Rita Ora had a similar hairstyle. Seeing as they're friends, perhaps they planned it. Cara insinuated, via an Instagram post, that she shaved her hair prior to the gala to have the silver leaf on her head. Rita just appears to have covered her hair with something resembling a beach volleyball. It somehow doesn't go with the red ribbon wrapped around her body like how a toddler wraps a Christmas present, but Marchesa didn't ask for my notes on the design.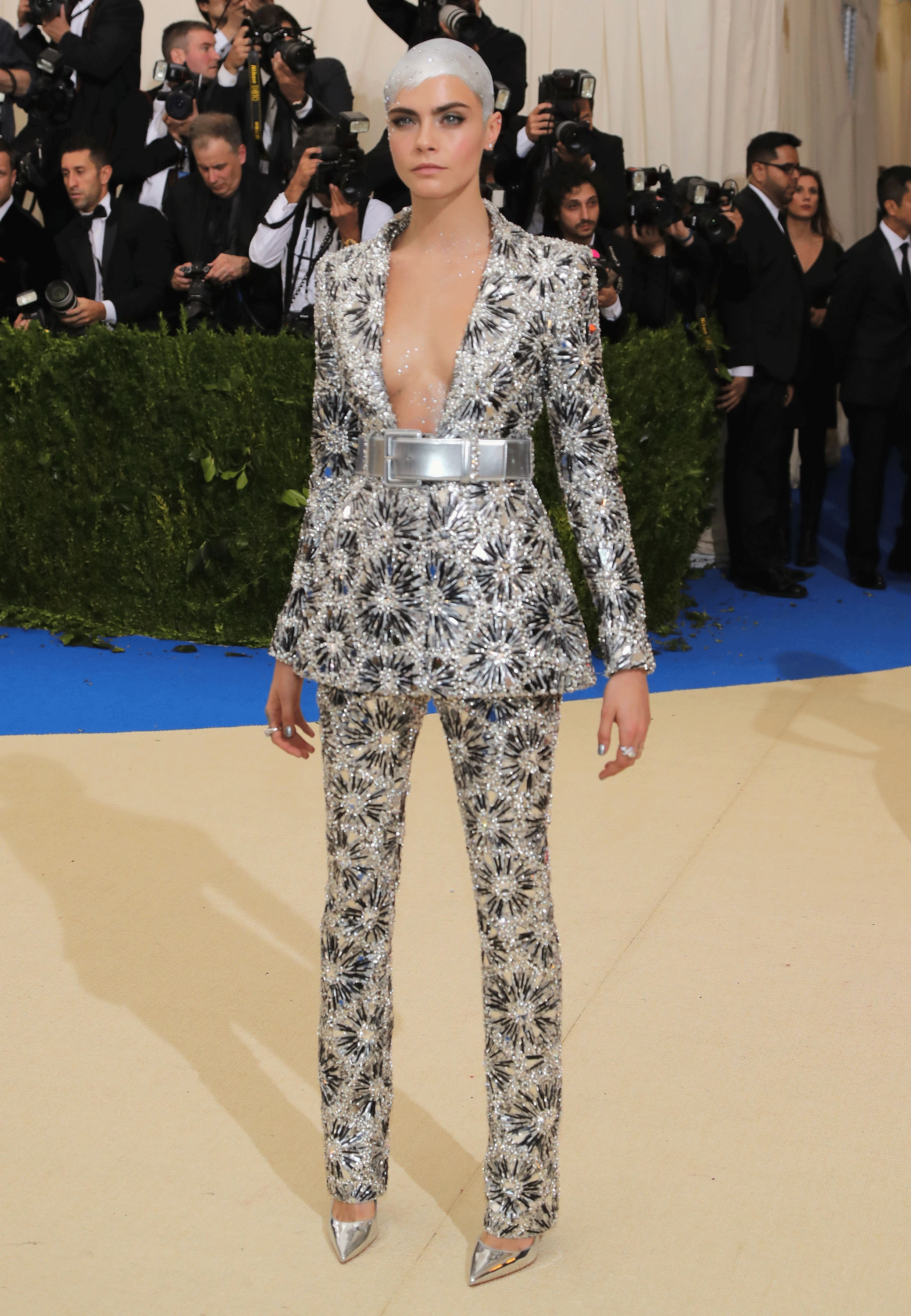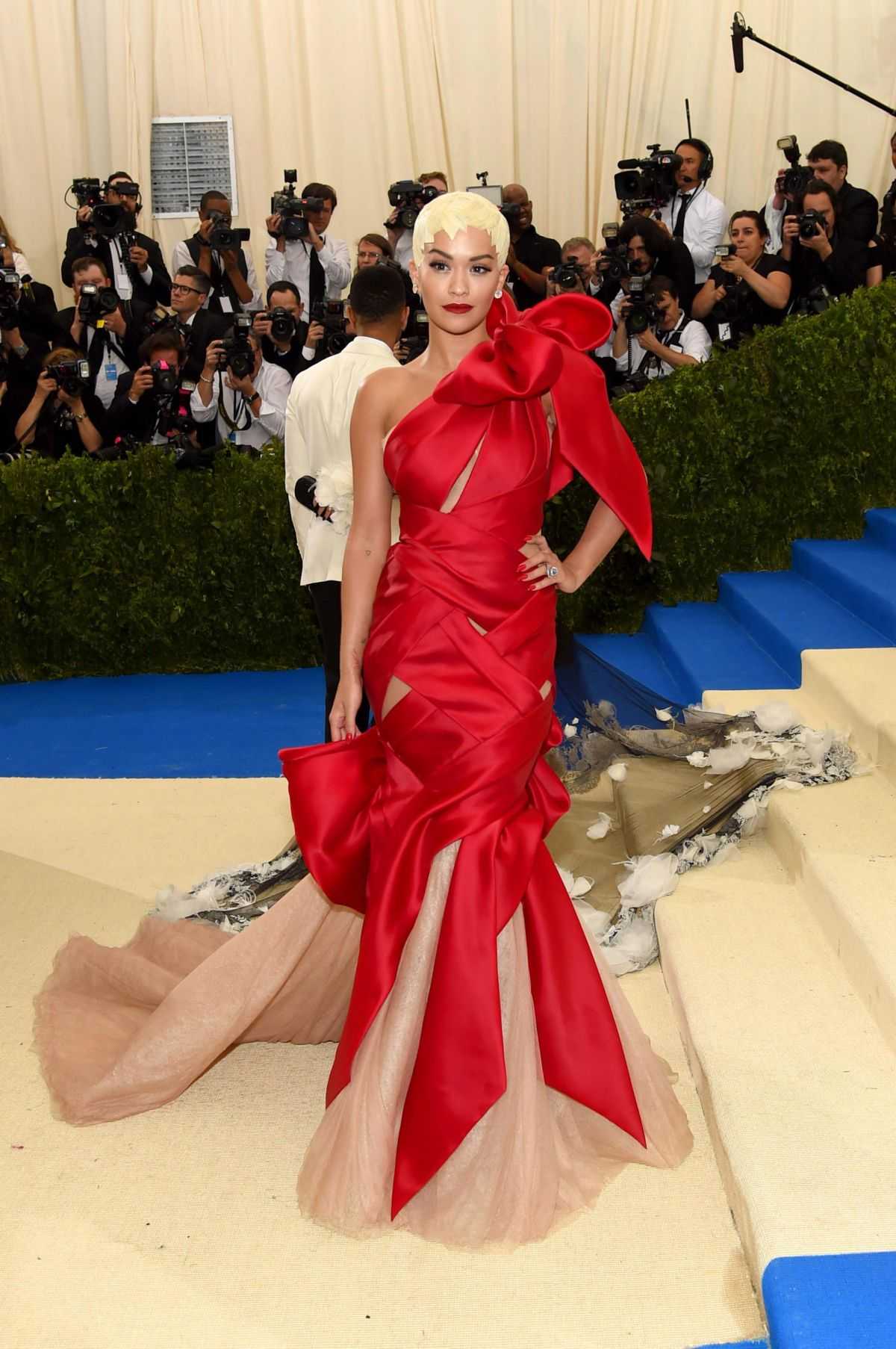 Actresses Kerry Washington and Lily Collins both donned a similar hairstyle for the event. A straight across, dark bang with a bob is somehow becoming high fashion now? Either way, both had vibes like Quora from Tron, so perhaps this is the future of hairstyles.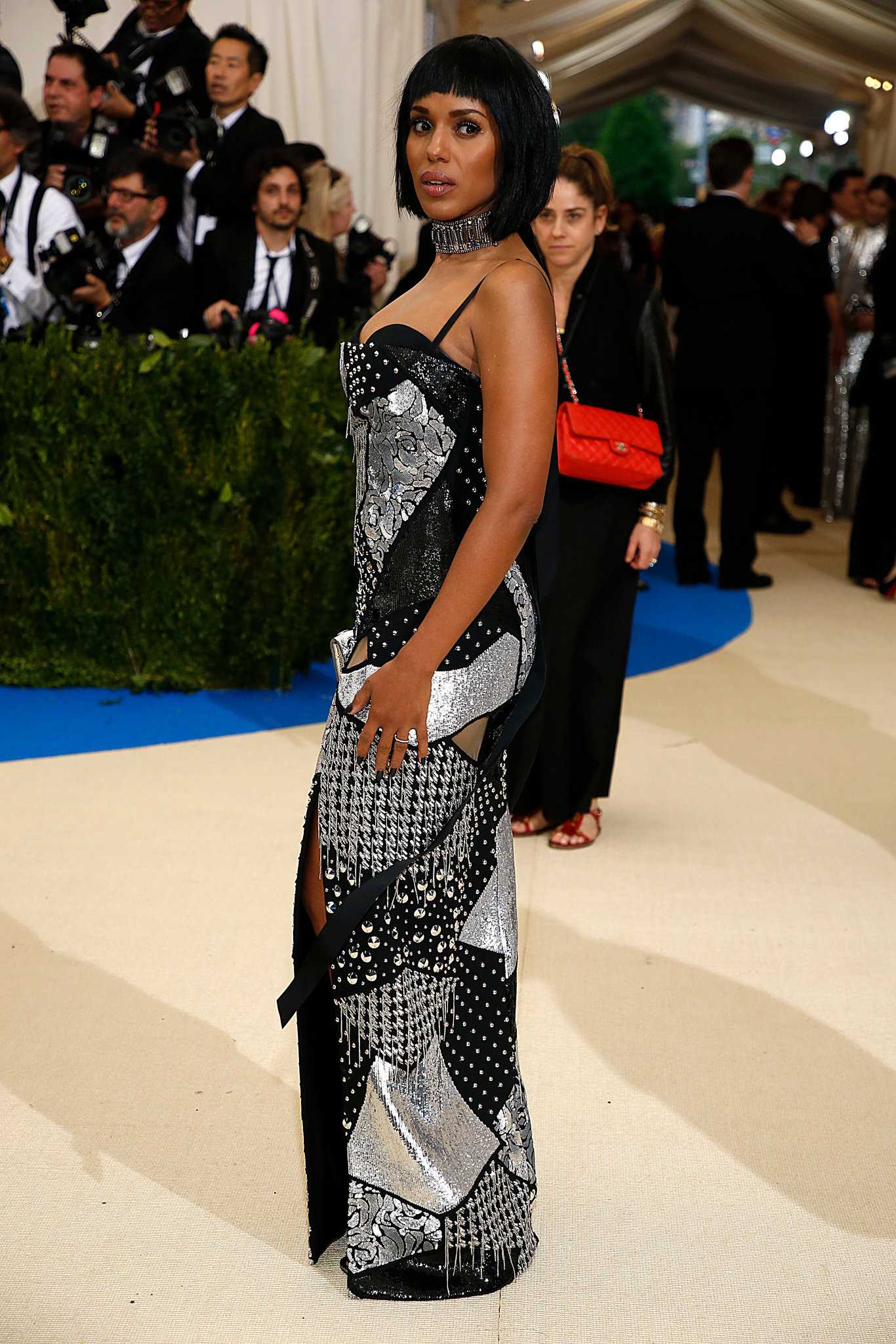 Mary-Kate and Ashley Olson found inspiration from their grandmother's home. It seems that they brought vintage doilies to The Row to ask to be sewn intro dresses. We'll leave it at that.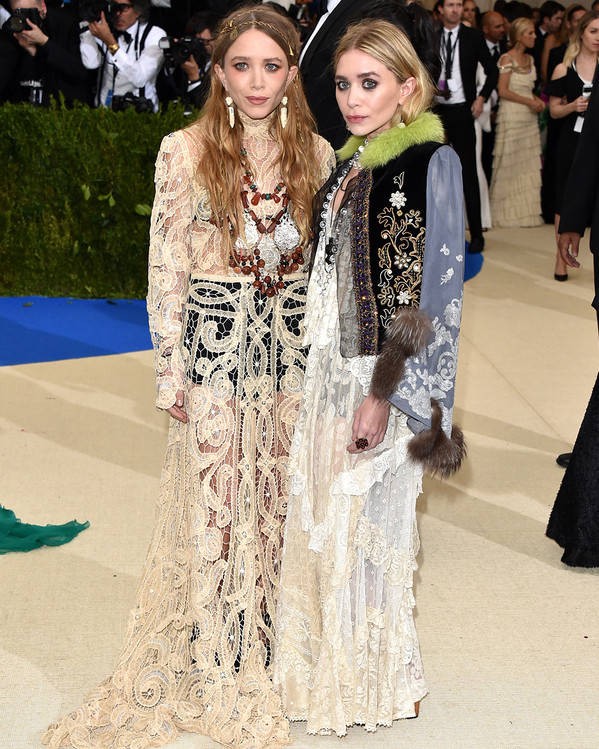 The Men:
The men of the gala do not get their own category because they cannot participate in high fashion like the women (it would be groundbreaking for a male identifying celebrity to show up in a gown, let's be honest) but because they continue to be mostly unoriginal and need to be called out sometimes. Was their suite black, white, or a jewel tone? Yes for 99 percent of them. Men's fashion continues to be pretty bland, so there were just two we took note of.
Nick Jonas wore a patterned suit jacket by Ralph Lauren. The black and white geometrics created some visual interest while still not setting the youngest Jonas brother out from the crowd too much. It is a safe toe dip into the world of high fashion.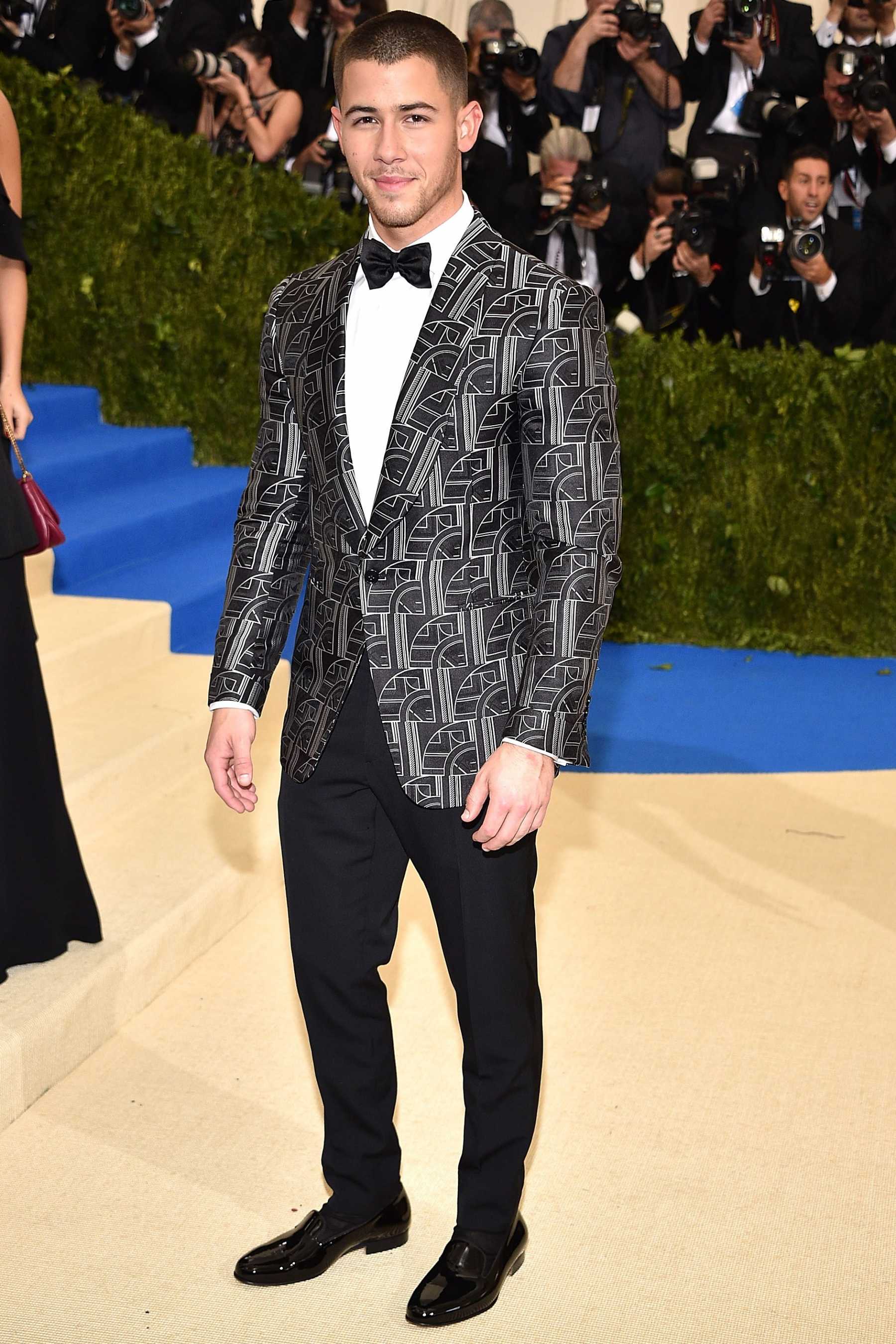 Michael B. Jordan was the other noteworthy male fashion statement. In a plaid suit, he had both the aesthetic of something new, something up-and-coming but also something old fashioned. As they say, everything comes back into style eventually.