Now that the latest version of It is out in the world and Castle Rock is still on the way, what's a Stephen King fan to do (other than read, of course)? Well, fans of this horror and suspense legend can tune into Super Channel to get their fix, as the TV adaptation of Mr. Mercedes premieres April 12. I haven't read the book, but I have seen the first episode, and even though there are no monsters or demons—though I guess technically there is an evil clown—the chills it was definitely still there.
The series opens with a massacre, as a man in a clown mask drives into a crowd of people in Mercedes, killing and injuring countless victims. Two years later, retired detective Bill Hodges receives a terrifying email, mocking him for being unable to solve the crime while he was still on the case. Add in a nosy neighbor and an off-putting and overworked computer expert (played by one of my favorite Frankensteins, Harry Treadaway), and you have the making of a very eerie case to crack.
While a lot definitely happens in the first episode, I have to say, the initial depiction of the murders was a real stand out for me. Going into the screening, I was only loosely familiar with the plot, so I knew the people we were watching were doomed from the start. Still the TV show took care to make them real people rather than just victims to be thrown under the bus (well, you know what I mean) for the benefit of creating a case for our characters to solve. It was upsetting to watch, don't get me wrong, but I also think it shows that the people behind the series care about the source material and want to get us invested.
Brendan Gleeson plays Bill Hodges, the lead character. While he definitely doesn't have a likable personality, the character is relatable and entirely believable. You can really see the creeping depression of someone who no longer has the day to day routine he had grown accustomed to and no more work to truly take pride in without the show needing to dumb it down or turn it into a caricature.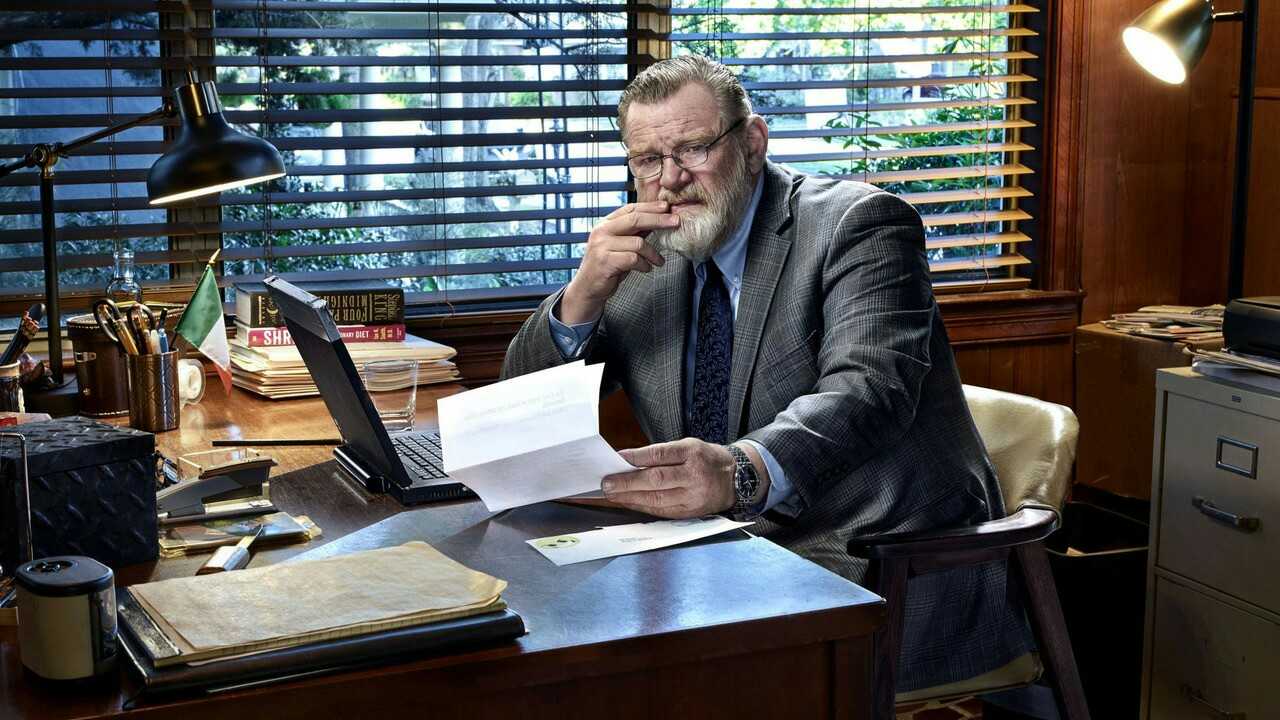 Treadaway's Brady Hartsfield is a college hopeful who is running himself ragged taking on multiple jobs and comes from a troubled home, and the show is definitely trying to make him look as suspicious as possible which, while certainly effective, also makes me skeptical. It's only episode one after all. There has to be more than meets the eye.
Bill's neighbor Ida (Holland Taylor) is also quite the character, though personally I found her off-putting. Ida is doing her best to insert herself into Bill's life (complaining about his lawn, showing him racy photos of her), and it can come off as distracting from the overall mystery. She does seem to care about Bill deep down, though she shows it in an unusual way, and considering how hard she's trying to be part of Bill's life, it will be interesting to see how she fits into the mix as Mr. Mercedes closes in.
The rest of the characters are fine based on the premiere, though I'm certainly hoping they are expanded on as the series goes on. Brady's coworkers and Bill's former partner were a little one note for me. Then again, it's only episode one, so there is still time to flesh everyone out and I know there are more characters we haven't been introduced to yet, so with a pretty creepy case and a wide variety of characters, I recommend suspense fans give Mr. Mercedes a try. I can't promise you'll grow attached to every single character on screen, but you'll definitely want to see where the mystery goes.
Click here to find out more about Mr. Mercedes.