It's never too early to learn how to craft a cover letter. 9-year old Jack Davis is ahead of the game and he wrote NASA a letter to apply for the position of Planetary Protection Officer. Jack takes his title of Guardian of the Galaxy very seriously and is determined to help protect Earth from aliens.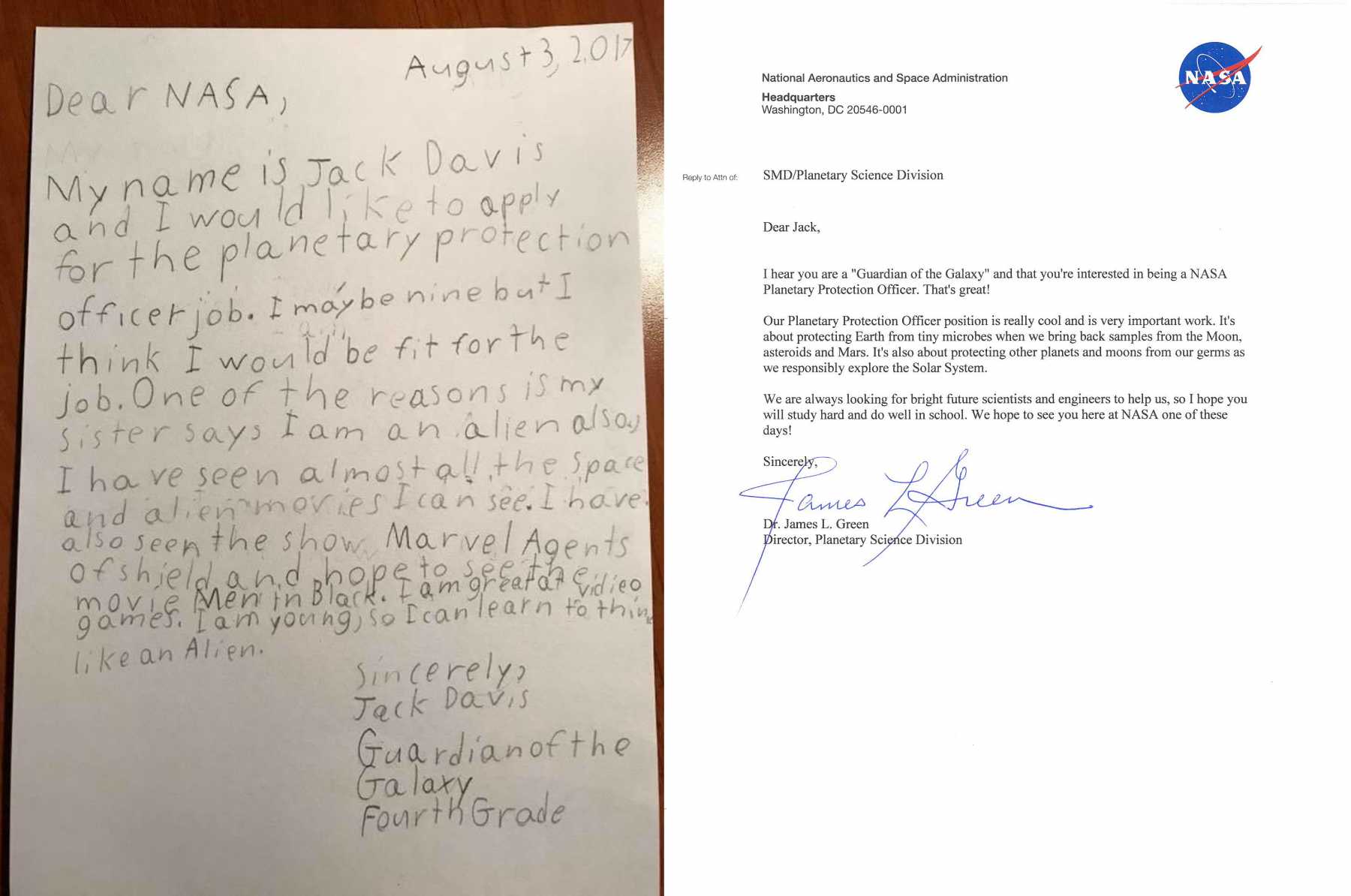 Jack's letter to NASA
Dear NASA,

My name is Jack Davis and I would like to apply for the planetary protection officer job. I may be nine but I think I would be fit for the job. One of the reasons is my sister says I am an alien also, I have seen almost all the space and alien movies I can see. I have also seen the show Marvel Agents of Shield and hope to see the movie Men in Black. I am great at video games. I am young, so I can learn to think like an Alien.

Sincerely,

Jack Davis

Guardian of the Galaxy

Fourth Grade
One of Jack's top qualifications is a reference from his sister that he is an alien. He also listed several sci-fi shows and movies and clearly has a willingness to learn how to think like an alien.
Even though protecting Earth from aliens isn't in the job description, NASA took the time to reply to the fourth grader. NASA gently explained that the position is about protecting Earth from microbes brought back with samples taken from the moon, in addition to protecting other planets and moons from our microbes. NASA also encouraged Jack to study hard so he could follow his dream and really work at NASA one day.
Maybe Jack isn't quite ready for the position, but Twitter is in love with his letter and NASA's response.
Twitter reacts to NASA's response
This kid is going places! 10/10 would hire him :-) https://t.co/LOMvADw5C2

— Jakob Witt (@witt_jakob) August 5, 2017
This is how you inspire dreams in children and what a beautiful way to go about doing so. Well done NASA!

— Marco A. Islas (@TheMarcoIslas) August 4, 2017
Nice job @NASA. The imaginations and dreams of children deserve to be nurtured and supported. Must have meant the world to Jack.

— Lisa Meyers Hill (@LisaMeyersHill) August 5, 2017
Hey @NASA you are missing an opportunity. You need a new Guardians of the Galaxy (or Solar System) NASA affiliated youth group. #JackLeads

— NynJoy! (@RKNyman) August 4, 2017
Keep dreaming Jack! We hope you get a chance to see Men In Black soon and that you make it to NASA one day.