There's nothing better than biting into a chocolate-nut-ice cream drumstick ... unless it can get you sick. Nestlé, famous for its Drumstick Club, has just issued a recall of all 16-count variety packs and 24-count vanilla packs due to possible listeria.
What Is Listeria?
Listeria, also known as listerosis, is "a serious infection usually caused by eating food contaminated with the bacterium Listeria monocytogenes" (LM).
While this disease "primarily affects older adults, pregnant women, newborns, and adults with weakened immune systems," other individuals can be affected.
But those are rare cases.
How Do You Prevent Possible Contamination?
According to the Center for Disease Control (CDC) you can reduce your risk of contamination or exposure by storing food properly, following safety guidelines while preparing your food, and being knowledgable about where your food comes from before eating it.
How Can We Tell Which Package Is Recalled?
According to ABC News, all packages currently being recalled "carry distinct UPC codes" and Best Before dates.
While the company did run tests for LM on their production equipment at their Bakersfield, CA location, they have yet to receive a positive reading for tests on the actual desserts.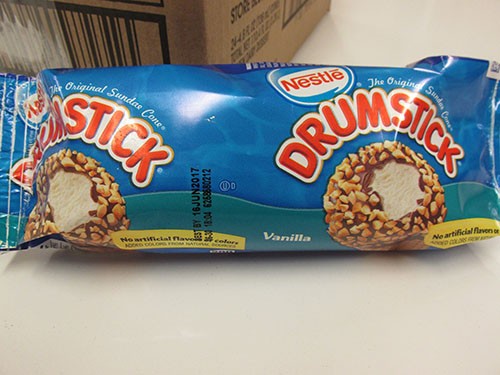 FDA
No illnesses have been reported yet, but the company assures customers that "this recall [is] a precautionary action to avoid any potential for customer illness."
Symptoms of Listeria
Listeria can be fatal in the individuals mentioned above, but healthy people can also be affected. Short-term symptoms of listeria include "high fever, severe headache, stiffness, nausea, abdominal pain and diarrhea."
Listeria infections can also cause miscarriages and stillbirths.
Customers are encouraged not to consume any Nestlé drumstick products until they are checked against the list of recalled products. Any items found should be returned immediately to the place of purchase.
Anyone unable to physically return their product may call Nestlé Consumer Services for a replacement at 1-800-681-1676, or email Nestleproductinquiry@casupport.com.
Talk about a meltdown!