With a title like The Girl on the Train, we would hope a girl would appear on a moving locomotive (or an immobile one, we're not picky) at some point or another. Thankfully, our first look at the movie's photos do not dash our expectations.
The film will follow Rachel (played by Emily Blunt), an alcoholic divorcee. Her daily commute to work has her fantasizing about the perfect life for a real life couple (Luke Evans and Hayley Bennett) whom she has named Jason and Jess. She sees them everyday as the train makes its routine signal stop, and envisions the perfect life they must lead, and how it is so very different from her own.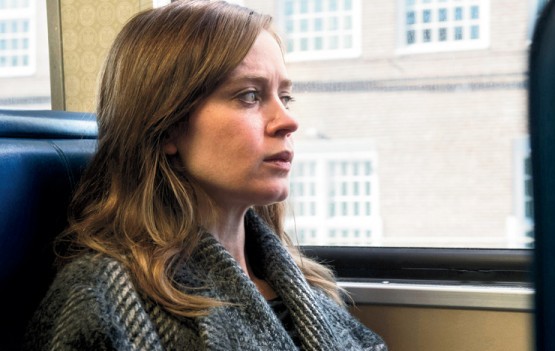 Entertainment Weekly
But one day, that routine stop reveals something shocking. It throws a wrench into Rachel's day, puts her on a path of intrigue and conspiracy. Tate Taylor (The Help) directs the film, and notes how "Rachel does things that we all think, and we all wish we could do."
Rachel is us, and we all wish we could be thrown into an intriguing situation, if only to see how we would react.
The book of the same name was originally set in London, but Taylor has taken the main character out of her home element. By keeping her British background, Taylor increases her isolation in the middle of Manhattan: "She's trying to reclaim or redefine herself, and yet she's not in her native land."
While some have said Taylor's The Girl on the Train will be the next Gone Girl in terms of cinematic experience, Taylor wants to assure audiences he is giving us a very different feel from David Fincher's chilling tale.
Justin Theroux and Rebecca Ferguson will star alongside Blunt in this female-driven thriller.
Grab a comfort blanket and prepare to come aboard with The Girl on the Train when it hits theatres October 7th.