Marvel fans got a shock this week when new Thor: Ragnarok photos were released. Not because of anything to do with the plot. Oh no, there was something much bigger at stake.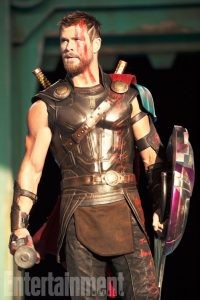 EW
Thor's hair is short! So short! What happened to your lovely, flowing locks, Thor?
I'm kidding, of course. There are plenty of amazing new reveals in these photos, including your first look at some brand new characters.
[gallery type="slideshow" size="medium" ids="157730,157732,157731,157734"]
First up is Tessa Thompson as Valkyrie.
Thompson recently sat down with EW to talk about the new character and how she relates to the other characters in the film.
"When we meet her and she meets Thor in Sakaar, I can't really say much about what she's doing there but she does have a relationship with Jeff Goldblum's character — it's a business relationship." Thompson goes on to describe how her character puts the plot in motion, "She finds Thor and brings Thor to the Grandmaster thinking he might be of interest. The rest is a secret."
Moving on to the Grandmaster, played by Jeff Goldblum himself. Described by Wikipedia as "one of the oldest living beings in the universe" and is from "from one of the first intelligent races to evolve after the Big Bang," The Grandmaster may look a little silly, but he's definitely one you want to watch out for.
Finally, we have the villainous Hela, played by Cate Blanchett. While she looks different from her comic book counterpart — no giant head gear in sight — she definitely looks intimidating, and it's exciting to see a female villain in the Marvel Cinematic Universe!
In addition to some new faces to the franchise, we get to reunite with characters we know and love. There's Thor with his aforementioned new 'do, Loki in what looks to be a lovely new yellow cape, and, of course, a reunion with Bruce Banner, who you may recall ran off at the end of Age of Ultron and hasn't been seen since.
You can find all the new photos by clicking here, and let us know which new character you're most excited for in the comments below!