For many, Christmas is jolly, merry, and all those other happy words that seem to exist solely to describe that one specific day in December. For Whovians, however, Christmas can be downright traumatic.
"Doctor Who" And Emotional Attachments
It's the curse of Doctor Who: being a fan of the show means suffering a guaranteed loss once every few years. Going through your first regeneration is a rite of passage for every Doctor Who viewer, and let me tell you, it's not easy. I still haven't fully recovered from David Tennant's regeneration myself, and that was seven years ago.
It's true, whenever you meet someone new and find out they watch Doctor Who, the question "Who's your Doctor?" is inevitable, because everyone has one. Maybe it was the first Doctor you ever watched, or maybe it was the one who surprised you the most, the one you bitterly told yourself you wouldn't love then found yourself crying over three seasons later when it was his turn to regenerate. Whatever the reason, emotional attachments are commonplace in this fandom.
So when it was announced that Peter Capaldi's third season would be his last and that the Twelfth Doctor would regenerate on Christmas Day, one young fan was particularly concerned. Fortunately, because Capaldi is just generally lovely and an old school Whovian himself, the actor stepped in to alleviate the nine-year old's worries.
Peter Capaldi Writes Young Fan A Letter
Brian McGilloway, English teacher and father of the lucky young fan in question, shared a picture of a letter Capaldi had written to his son, David, and if this doesn't make your heart grow three sizes, you're a Grinch beyond repair: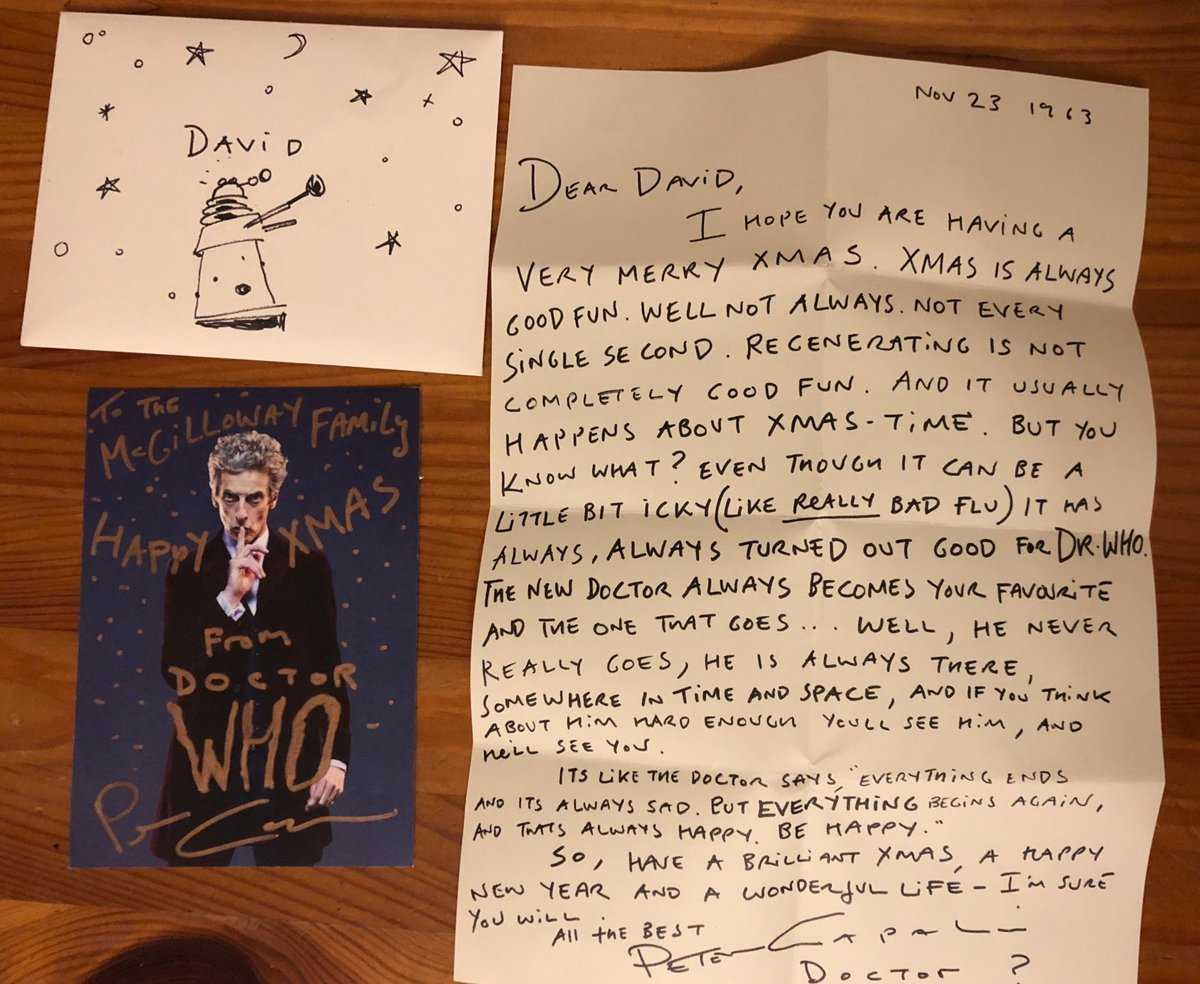 Capaldi, who graciously handed the keys of the TARDIS to the first female Doctor Jodi Whittaker this Christmas, assured David, and all of us, let's be honest, that your favorite Doctor "never really goes, he is always there, somewhere in time and space, and if you think about him hard enough you'll see him, and he'll see you."
And note the date in the top right hand corner: November 23, 1963, the date the first ever episode of Doctor Who premiered on BBC One, with William Hartnell as the First Doctor. So let's all just give Peter Capaldi a round of applause for amazing attention to detail.