When the creators of the animated series Rick and Morty (Dan Harmon and Justin Roiland) began working on a parody version of Back To The Future - they had no idea that the series would contribute such a major impact on pop culture and mainstream media, but now nearly 11 years since its development the series is the biggest it has ever been. Following the adventures of the quirky alcoholic mad-scientist Rick Sanchez and his reluctant grandson Morty, the series is viewed as a science-fiction comedy that is unlike any other animated series on television/streaming services. After nearly five years since the series originally aired on Adult Swim, Rick and Morty is back for a third season with critics and fans both salivating at the chance to enjoy more misadventures and we had the opportunity to talk to the creators and voice actors that make the series as enjoyable as it is.
When it came to the surprise Rick and Morty episode on April Fools Day, it was an out-of-the blue treat for viewers, dedicating the entire Toonami Block to air the series that had been kept secret for so long. Roiland addressed the last minute announcement, explaining, "It was such a fun build online. We kept a lid on it and kept the series so secret." Roiland continued, "I think with season two, the first three episodes leaked a week early and I was terrified this would go wrong but nobody knew it was coming and the internet was exploding - it was brilliant."
As mentioned, the series had a long hiatus in between seasons and with that comes risk for any series or franchise so when the third season was revealed it was as if it had grown into something entirely new, so what was their reaction to the praise? Roiland chimed in telling us, "I feel like our audience has almost quadrupled. You would think that going on a hiatus would hurt the show but I feel like in a weird way it seemed to help." Harmon added, "I do think word of mouth advertising is viral. Something happened." Harmon says that he doesn't feel the Nielsen rating pressure he might have experienced at NBC, telling us, "I judge things based on when I wear my Rick and Morty t-shirt and how many waiters say 'I love that show'." The team is clearly humble about the shows popularity and says to this day they are still confused yet thankful for the intense love it has begun to receive within the last few months and according to Harmon, "We also learned from season 3 that worrying about how popular your show is won't make you create a better show."
As for some of the guys' thoughts on the most messed up scenes from Rick and Morty so far? Writer Ryan Ridley offers a glimpse at what's to come, "There's an episode coming up that deals with (all at once in one concept) incest, beastiality and caniballism and you guys are gonna be like 'well it works'." Harmon on the other hand says that "The darkest thing we've done is when Rick takes Morty to an arcade and has him play a game and the game is that you live a human life where you get cancer, don't die, and slip and fall at the carpet store." Roiland chimed in, "But a close second is when Rick's ship uses the resurrection of a cops child who died drowning!" Which was met with agreement and a few laughs by everyone at the table because it's just one of those series that can push limits and still keep its comedic tone.
The comedic force by the name of Sarah Chalke (Beth Smith) and the delightfully talented Spencer Grammer offered us their own hints for the upcoming season, starting with a rough-patch for Jerry. Grammer admits, "I think they really lean into the tragedy of what that means to lose your family [laughs]." Chalke added, "The season does get really dark! There's one episode of Jerry's this season that's my absolute favorite." Chalke went on to talk about how the relationship between Beth and Rick is going to always be crucial to Beth's happiness, explaining, "Rick abandoned her and she would do anything to get that back. You'll get to see more of her childhood and her relationship with her dad."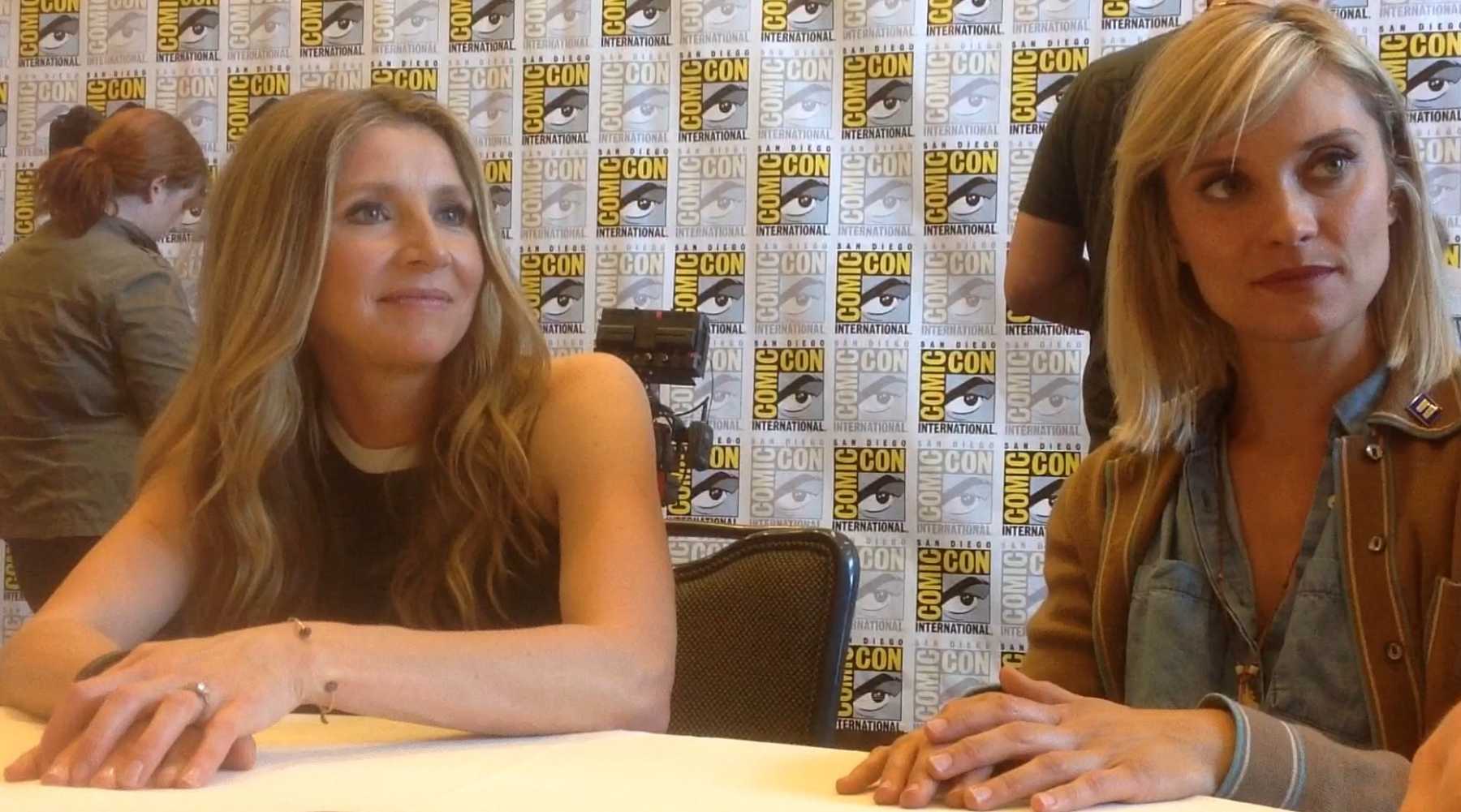 Chalke gave us her view on how the series has impacted people, giving major credit to the human relationships of Rick and Morty. "There's these intergalactic adventures but I feel like it's grounded in this dysfunctional family that's dealing with the real painful, funny and heartbreaking things that families go through." Grammer agrees and added, "There are also very specific relationships amongst families that we can all identify with, but it's just in the realm of this crazy backdrop." Grammer shares that the episodes were recorded over a year ago, but there was a need for time to ensure a beloved season three.Grammer shared, "They wanted to make sure that when viewers get to see season three that it was actually worth it. The fans of Rick and Morty are really smart so there's an added pressure." Chalke concludes with a laugh, "They do have high expectations."
Rick and Morty returns with the second episode of the third season tonight at 9pm PST and will air the remainder of the season every Saturday on Adult Swim.