ROBOT RISE! is a new card game for two to six players designed by Craig Froehle. A secret organization of super villains and mad scientists is recruiting one new member. Players are amateur mad scientists vying for that spot by eliminating all their competition. ROBOT RISE! is currently seeking funding on Kickstarter.
How to Play ROBOT RISE!
Each player has three secret lair cards, which eliminates that player when destroyed. Depending on the number of players, everyone is dealt 5 or 7 cards. On your turn, you must play a card (if possible) and then draw a card to end your turn. There are lethal and nuisance attack cards, which can be defended against by playing defense cards. Lethal attacks must be defended against, otherwise one of your secret lairs is destroyed. Nuisance attacks only have some minor effect on you and it is optional to defend against them. Utility cards help you draw more cards or protect from attacks and event cards take effect when drawn. Robot cards are both attack and defense cards, but can only be played when you have a complete robot (made of a head, body, and legs). Matching the robot pieces together is unnecessary, but if achieved it will attack two players instead of just one. Last player standing wins the game.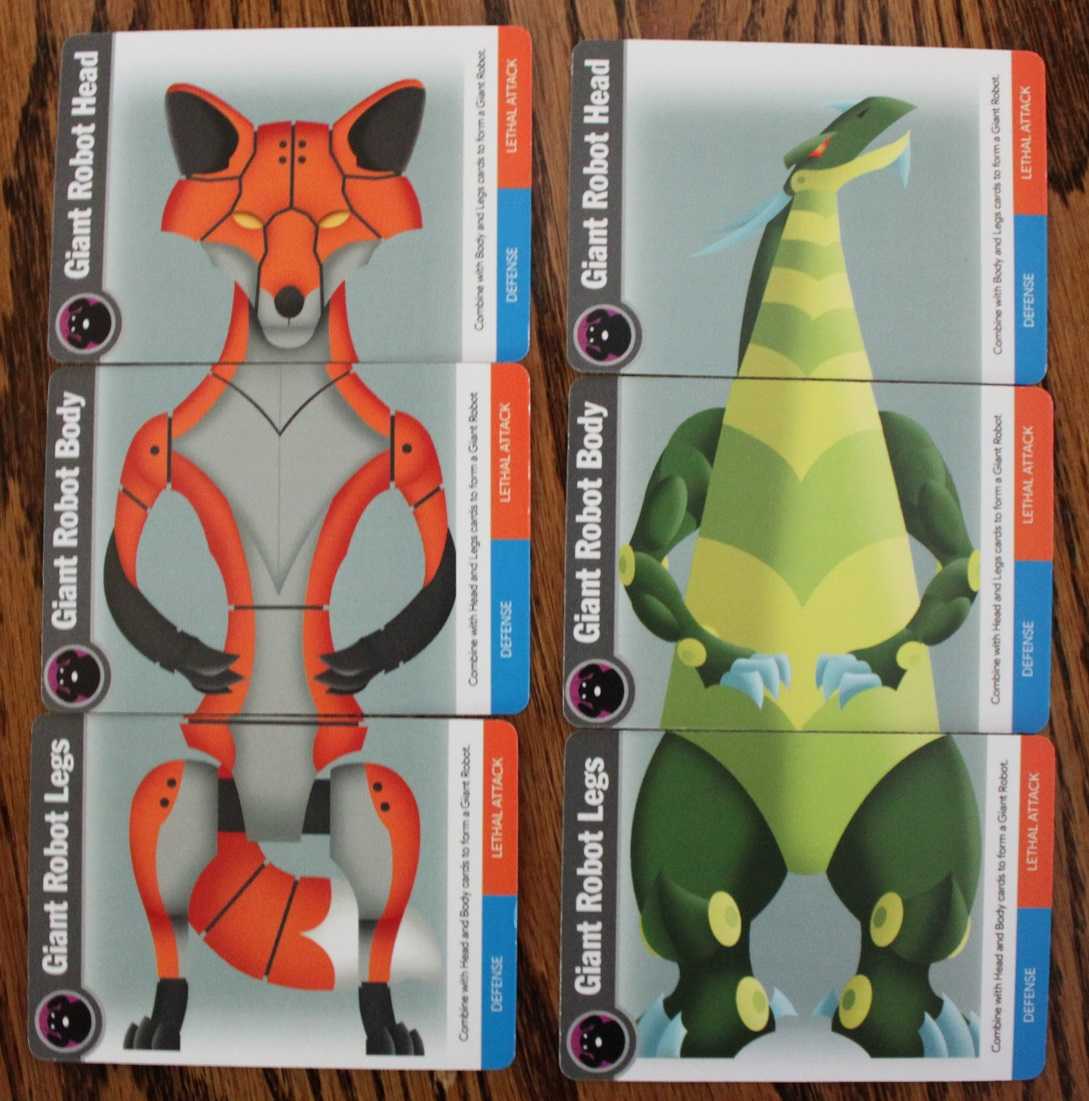 Happy Harpy Games has a goal to "publish great consumer games for adults that kids love," as opposed to games for kids that adults have to put up with. I believe they did a pretty good job delivering on that goal. ROBOT RISE! is not going to be the sole focus of a game night for adults, but the quick rules explanation and simple strategy make it a decent filler game. It really felt aimed at parents playing with their kids frequently. Unlike some filler games that grab your attention and make you want to play again, I didn't find it had enough variety or depth for me to play it more than once in a session.
Player elimination is typically a negative in my book (it sucks having to sit there while other people continue playing a game). However, in all my games everyone seemed to get down to one remaining base around the same time. It is a possibility to consider though that if you have more vicious friends, they can gain up on one player and get them out early.
Weak Points of ROBOT RISE!
The game is largely luck based and you do better if you are getting the cards you need. For example, if you don't have a defense card in your hand, there is nothing you can do about it. If you are attacked by an opponent and they destroy your base, the next players now know you are vulnerable. In a four player, you could lose all three of your bases before it is your turn to get cards to protect yourself. As mentioned earlier, if you are playing with a friendly group it isn't as big of an issue. I would have liked a rule that allowed players to draw a card when their base is destroyed, to at least give them a chance to get a card to defend against another attack.
The artwork for a few of the robots was pretty cool, but on the whole the artwork was lackluster. Many cards had primitive artwork and the secret lair cards looked like a bad rendering from an old flash game. While kids won't notice this as much, it certainly lowered interest for some people I played with.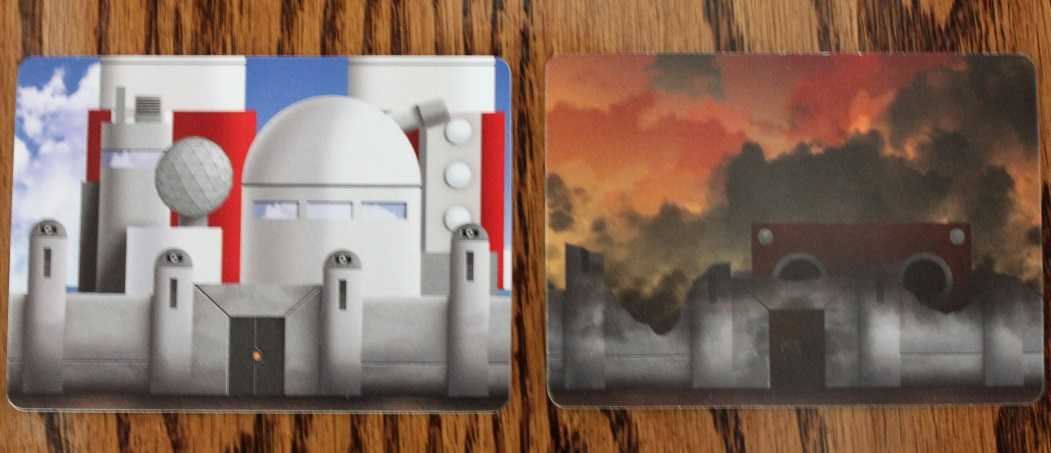 The two player game is a little bit lacking in my opinion. Since there is no possibility for temporary alliances (where opponents can help you complete a robot), if you don't have cards to play, you just draw to end your turn. All too often there would be several turns in a row of both players just drawing cards back and forth. This is alleviated somewhat by the new rule to allow discarding three of the same parts to draw two cards, but still occurs.
Good Kids Game, Some Fun for Adults
It wasn't all bad with ROBOT RISE! There is some satisfaction to destroying an opponent's secret lair, particularly when they play a robot and you use the malware card to turn it against them. The mad scientist and robot theme is also excellent. All the cards are very thematic and it is fun piecing together robot parts to make wacky looking robots. This is an aspect of the game kids really enjoy. The gameplay was very quick, not much waiting between turns. You play a card, draw a card, and it is the next player's turn.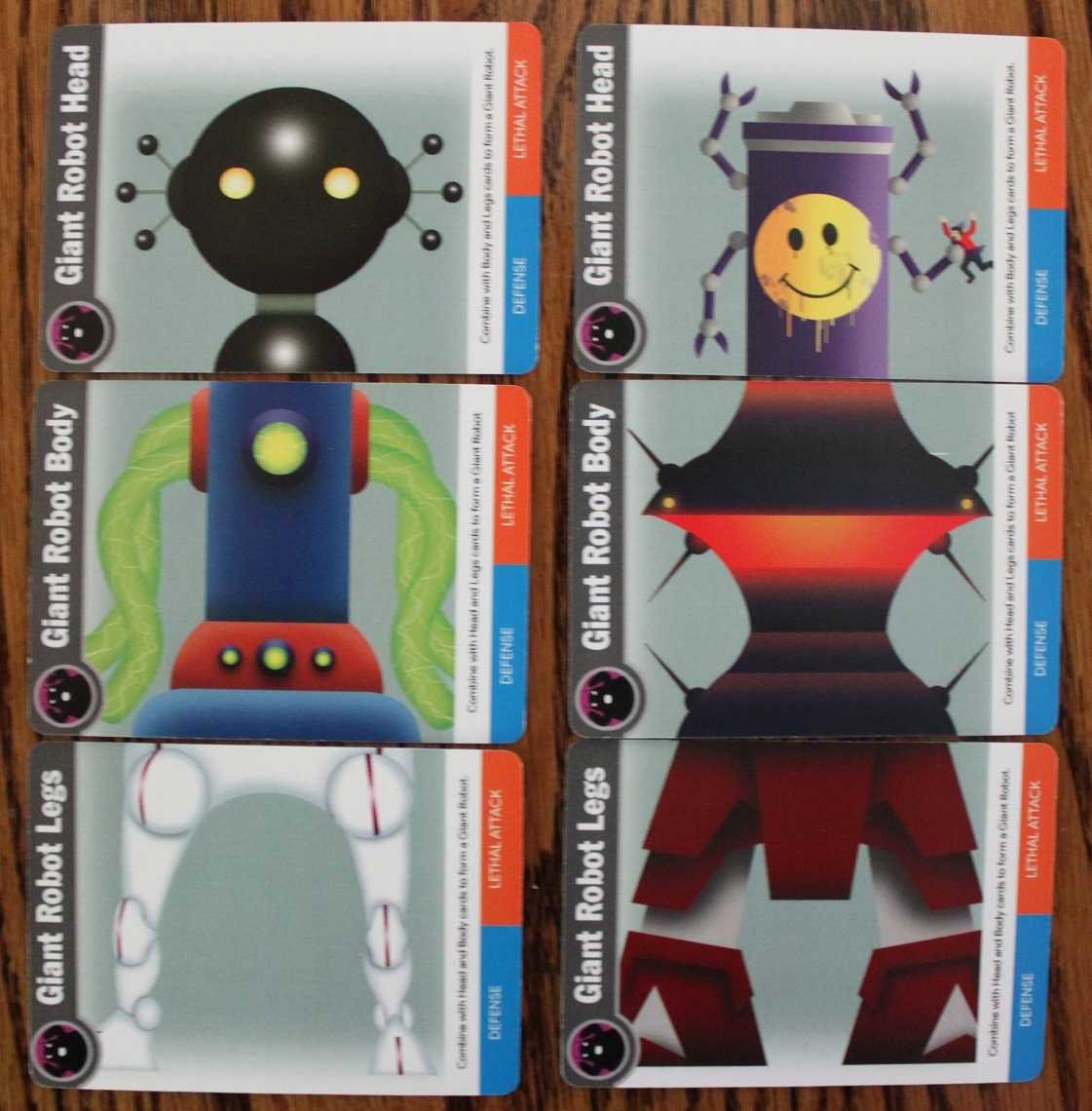 Overall, ROBOT RISE! was a bit of a miss for me. It is a good game to play with children since it is easy to understand, but not completely boring for adults like some kids games. For this I feel Happy Harpy Games was successful in their mission, but it didn't quite land with me. I wasn't enthralled by the game and didn't get as much excitement from it as I expected.