Basic table etiquette prohibits playing with one's food, but don't tell that to Salma Hayek. Later this month, the actress and entrepreneur is launching Blend It Yourself, a line of frozen smoothies and açaí bowls that double as effective face masks. With flavor combinations like "Watermelon Hibiscus," "Pink Pitaya Chia," and "Papaya Avocado," Hayek's venture with the Juice Generation smoothie company is meant to be good for you both inside and out.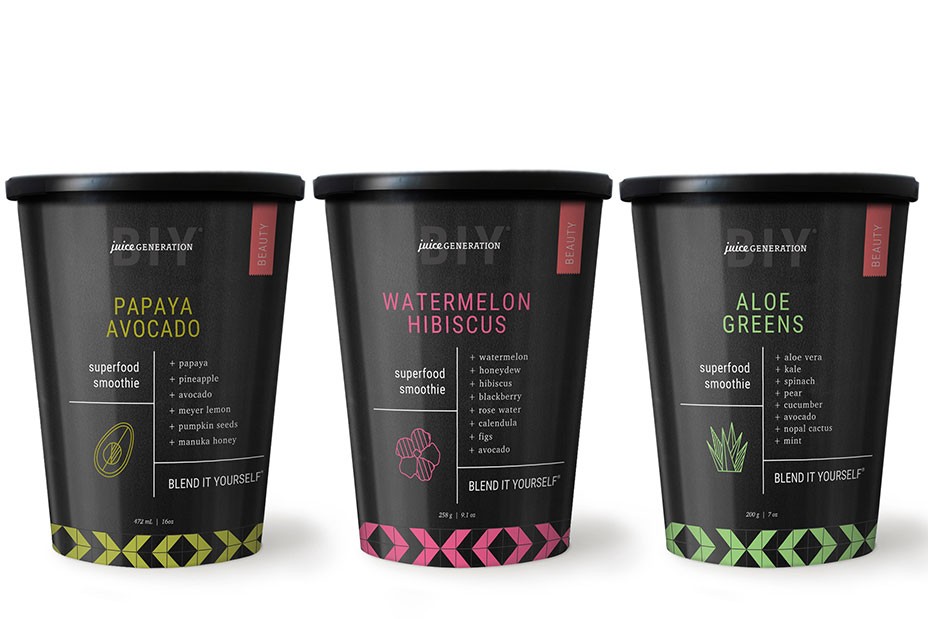 The tubs of Blend It Yourself (blendityourself.com) smoothies and other products will be priced at $7.00 each and shipped frozen directly to customers.
Salma Hayek & Blend It Yourself: Inspired by Family & Nature
Hayek's inspiration for Blend It Yourself came from her grandmother's approach to beauty.
"My grandmother was into natural ingredients. She was like a witch doctor, a cosmetologist," Hayek told The Hollywood Reporter. "We'd be having breakfast, and she would take the leftovers—papaya, yogurt, honey, nuts—and blend them all together, then she'd start putting them on her face."
With the exception of the Papaya Avocado flavor, all of Blend It Yourself's smoothies and açaí bowls are vegan, and the company is working to attain certified organic status.
Salma Hayek: Beauty Entrepreneur
In addition to her newest venture, Hayek previously collaborated on a juice cleanse line. Also, her brand of skin care, makeup, and hair care products, called Nuance, launched in 2011. With Nuance, which is sold in CVS stores, Hayek's focus has similarly been on blending unique ingredients (e.g., blue agave extract and mamey fruit) in products inspired by her upbringing in Mexico. "The women of my family have been using these exotic ingredients for generations," Hayek says on Nuance's site. "And with Nuance, I am passing them on to you."
Despite her many business projects, Hayek hasn't stepped away entirely from Hollywood. Her new indie film Beatriz at Dinner has been earning strong reviews across the board.
Whether it's film, fashion, or business, Salma Hayek is blending it all herself like a boss.