If you like space shows, you'll like this!
Shows about space have always been around, and we have Star Trek to thank for that. While Star Trek is bringing a new series to our screens this very month, we're more interested in a different type of space show. Seth MacFarlane (creator of Family Guy) created and stars in The Orville which is a show about space and starships with a spoofy feel. It reminds us of the film Galaxy Quest which mocked the original Star Trek series back in 1999. The Orville isn't just a spoof of previous space shows, but almost an homage to the original and it gets that feeling just right. It's a clever mix of funny and heart that some shows, even the Star Trek series themselves, couldn't replicate from the original show.
So what is The Orville About?
MacFarlane stars as Captain Ed Mercer who is a screw up due to a failed first marriage with Kelly Grayson, played by Adrianne Palicki. The show opens with Mercer coming home to find his wife in bed with a blue alien and then jumps forward one year where Admiral Halsey (special guest star Victor Garber) meets with Mercer to give him command of a ship. This scene is hilarious because unlike most meetings, Halsey doesn't hold back as he makes sure Mercer knows just how lucky he is to get this command after how much trouble he's caused in the last year. Mercer thanks Halsey for the ship and learns he is in need of a First Officer and a helmsman. Mercer has an idea of another troublemaker in the form of his friend Gordon Malloy (Scott Grimes) who is the best and therefore gets the green light.
When we meet Malloy, he is playing a virtual game he created and it's very funny. After he gets signed on, the rest of the crew is introduced. Dr Claire Finn (Penny Johnson Jerald) is on this ship because she thinks Mercer will fail even though she's of a much higher caliber then the Orville will require. Bortus (Peter Macon) is an alien with a dry sense of humor, Alara Kitan (Halston Sage) is the head of security and though she's only 23 her planet's low gravity gives her super strength, and John LaMarr (J. Lee) is the comedy relief among the already funny cast. The ship gets on to its mission and things are going smooth until the First Officer is assigned in the form of Mercer's ex-wife.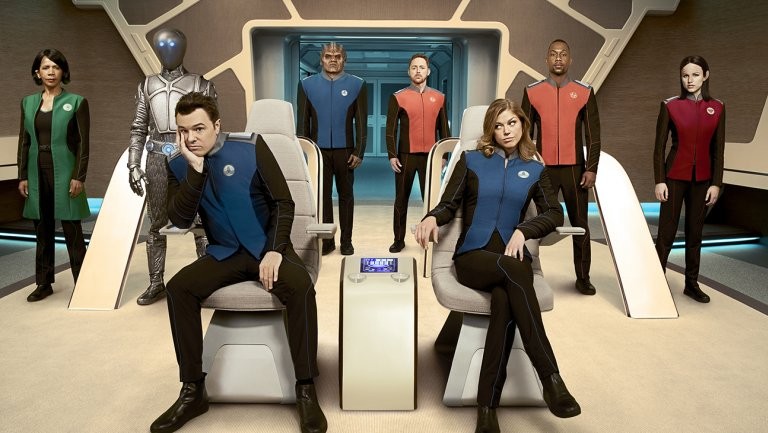 This show has been getting mix reviews since it's debut September 10th, but in our opinion you are missing out if you don't give it a chance. The Orville is everything Star Trek was in its original form but with more humor. It airs Sunday nights on Fox at 8/7c and you need to watch it. We are hoping to see Victor Garber a few more times before the 13 episode season ends.
Check out the show's trailer
If you watched The Orville's premier, what did you think?