Space Invaders Dice! is a new game that brings the classic arcade game to your table. Designer Daryl Andrews has replicated the experience of the video game in a quick dice rolling game. Space Invaders Dice! plays with 1 to 4 people in under 30 minutes. The game is available for direct pre-order from Turn One Gaming Supplies until May 29 and will be available in retailers soon after that.
The rules are quite simple and easy to pickup. Learn how to play by watching the brief video below.
As you can see, the game is mostly luck based but there are some strategies to work with. This is largely due to the blue and green cannon. You can either use these to work vertically towards the UFOs, but you will empty columns and lose dice faster. Alternatively, you can use them to destroy more blue invaders and work horizontally. You will roll more dice for longer and increase chances that all the dice will be useable, but you may miss out on the high value UFOs. That's really all there is to it. If you like dice rolling, you'll get plenty of it with Space Invaders Dice! This is an excellent game for car trips or bus rides. Roll the dice in the box lid and you can play right on your lap. I preferred this game solo, because the multiplayer rules are basically the same but it plays slower with more people. The multiplayer has the major downside of player elimination. If you get unlucky with some rolls, you can be eliminated much faster than your opponent. You are left watching your friend play and they are basically playing solo now. If you are playing with four players, there is more waiting between turns (not unreasonable for a game) but you can lose up to three UFOs before you get another turn. As I'm writing this, it occurred to me that I never really played Space Invaders multiplayer, so it makes sense that the dice version would also be a good solo game. Attempting to best your previous high score is where the game excels and is what I enjoyed most.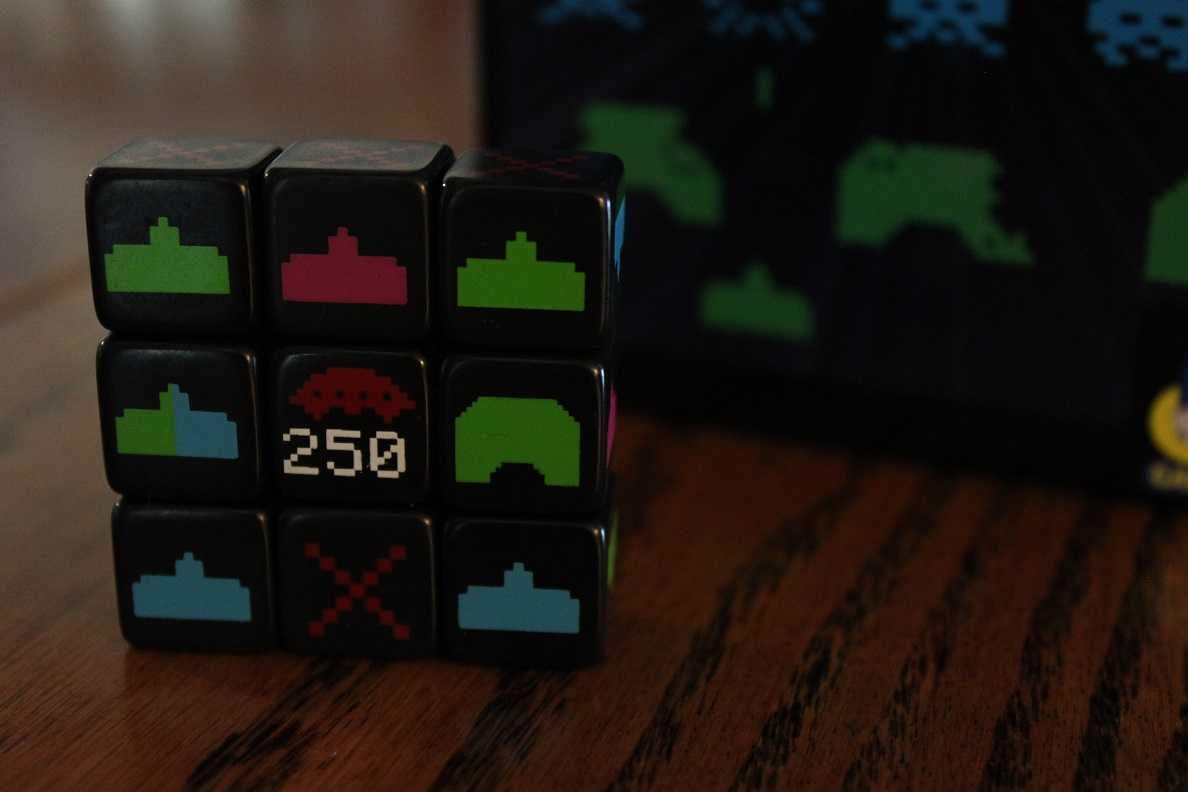 Space Invaders Dice! is a great novelty game for fans of retro video games and geeks of all ages. Perfect gift idea, even for younger kids who are unfamiliar with the arcade game. Realistically, it is not a game I would play regularly with a board game group, but is a fun little game to bring on trips or to have on the shelf for those days when you are feeling nostalgic.