Hosting an awards show in any year is a tricky job. How do you land jokes for the industry crowd but also the audience at home? Go for more taped bits or more song and dance? In 2017, with so much seemingly upside down, the only question appears to be "Go for it, or ignore the tweeting elephant in the room?"
At the 69th Annual Primetime Emmy Awards this past weekend, host Stephen Colbert gamely tried to do a little of both, resulting in a show that was a little entertaining, a little edgy, and mostly forgettable. The show opened with one of those taped song-and-dance numbers featuring cameos from Allison Janney and Anthony Anderson, and right off the bat, Colbert went for it: "Guys, I know the world outside is getting crazy, but look on the bright side. Television's never been better…So don't you worry 'bout global warming, or the Middle East...Stranger Things is much less strange than our reality. Everything is better on TV!"
His opening monologue tried to mix in those more pointed zingers with generic entertainment milestone factoids that awards shows love, but it wasn't until Colbert launched into the Trump jokes that the show came alive. "What a year it has been for television!" Colbert said. "I mean, the industry is booming. There were over 450 original scripted shows made this year. Of course, there's no way anyone could possibly watch that much TV…other than the president, who seems to have a lot of time for that sort of thing. Hello, sir! Thank you for joining us. Looking forward to the tweets."
The current administration and its chaos, ineptitude, and frequent recklessness are unavoidable in the present day, and of course inescapable for Colbert, who hit his stride on his new late-night show only after leaning in to the absurdity in the White House. At the Emmys, Colbert's Trump jokes were entertaining if a bit light, but perhaps the "go for the jugular" idea was the surprise onstage appearance of former White House press secretary Sean Spicer. Many in the audience were visibly shocked when he rolled out with his briefing podium, ala Melissa McCarthy's now Emmy-winning SNL spoof of him. But as brief and surprising as the moment was, it rang false. Melissa McCarthy as Sean Spicer is funny. Sean Spicer acting like he's in on some kind of joke is not funny.
Much funnier, thankfully, were the later taped bits of Stephen Colbert playing a Westworld android with Jeffrey Wright and then interviewing the Emmy statue come to life, with the always on point RuPaul:
Less funny were the telecast announcer's attempts at spontaneous humor. At every awards show broadcast, there's an unnamed person who announces the presenters in absence of the host or reads a few quick, interesting facts about the winners as they make their way to the stage. This year, the Emmys put a spotlight on a featured announcer, Jermaine Fowler of the CBS show Superior Donuts. I'm not familiar with Fowler or his work, but though his energy and enthusiasm were great, the announcing didn't work for me. His timing was off more than once, and a lot of his jokes and in-the-moment reactions were more distracting than entertaining. Same for the faux red carpet exit for winners and presenters, complete with "paparazzi" snapping photos as they walked off stage. I'm sure there was a social media tie-in, but the effect was overkill, just like with Fowler.
In line with Colbert's efforts overall, there were no truly shocking wins or upsets, though seeing Donald Glover and Lena Waithe make history was nice (becoming the first African-Americans to win for Outstanding Directing for a Comedy Series and Outstanding Writing for a Comedy Series, respectively). As expected, Saturday Night Live racked up, winning nine Emmys, including Outstanding Variety Sketch Series and awards for SNL vets Kate McKinnon and Alec Baldwin, who in his acceptance speech gave a shout-out to the person he portrays on the show: "I suppose I should say at long last, Mr. President, here is your Emmy!"
Continuing with the unsurprising wins, Hulu's The Handmaid's Tale picked up eight awards, with star Elisabeth Moss winning for Outstanding Lead Actress in a Drama Series right before the show triumphed in the overall drama series category. Earlier in the evening, co-star Ann Dowd delivered the sweetest acceptance speech of the night for her win as supporting actress. She seemed genuinely overwhelmed, surprised, and delighted.
HBO's star-studded miniseries Big Little Lies took home eight trophies, including Outstanding Limited Series and honors for Nicole Kidman in the lead actress/limited category and Laura Dern in supporting. Both Dern, Kidman, and executive producer and co-star Reese Witherspoon praised their series' embrace of complicated female characters and called for more such high-profile roles in the future.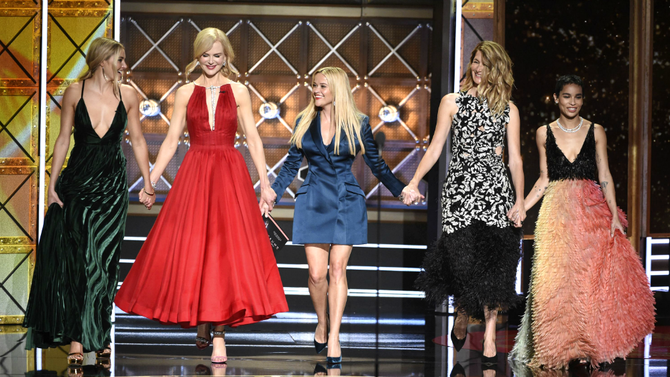 In between the mostly predictable wins, many of the presenter pairings served to up the excitement level. TV icons Norman Lear and Carol Burnett presented the comedy series category, and Jane Fonda, Dolly Parton, and Lily Tomlin nearly brought down the house with their surprise 9 to 5 reunion (and Trump zinger of their own).
By the end of the night, the telecast had run long, and it felt long. Stephen Colbert did what he could to walk the fine line between acknowledging we're in ridiculous times and pretending nothing's wrong. His amiability and charm floated him through for the most part. In such an unpredictable year, the Emmys were surprisingly predictable, save for a few head-scratching outliers here and there. With the broadcast sinking to match its all-time lowest ratings, though, hopefully next year's ceremony raises the bar a bit more.