Sterling K. Brown has risen to fame ever since his breakout role as Christopher Darden on Ryan Murphy's anthology series The People v. O.J. Simpson: American Crime Story, even if Brown has been in the business for many years.
Besides taking guest and recurring roles in many shows -- ER, Alias, Masters of Sex and Supernatural, among others -- he starred in the Lifetime series, Army Wives.
Brown's first love, however, was the theater. Brown is an alumnus of Stanford University, where he earned his B.A. in Drama, and he also got a Master's Degree in Fine Arts from the Tisch School of the Arts at New York University, and, after he finished his studies he devoted himself to the stage. He has been doing theater consistently throughout his career, starring in plays such as Twelfth Night, The Resistible Rise of Arturo Ui, Macbeth and Father Comes Home From The Wars (Parts 1, 2 & 3), for which he was nominated to a Drama League Distinguished Performance Award in 2015.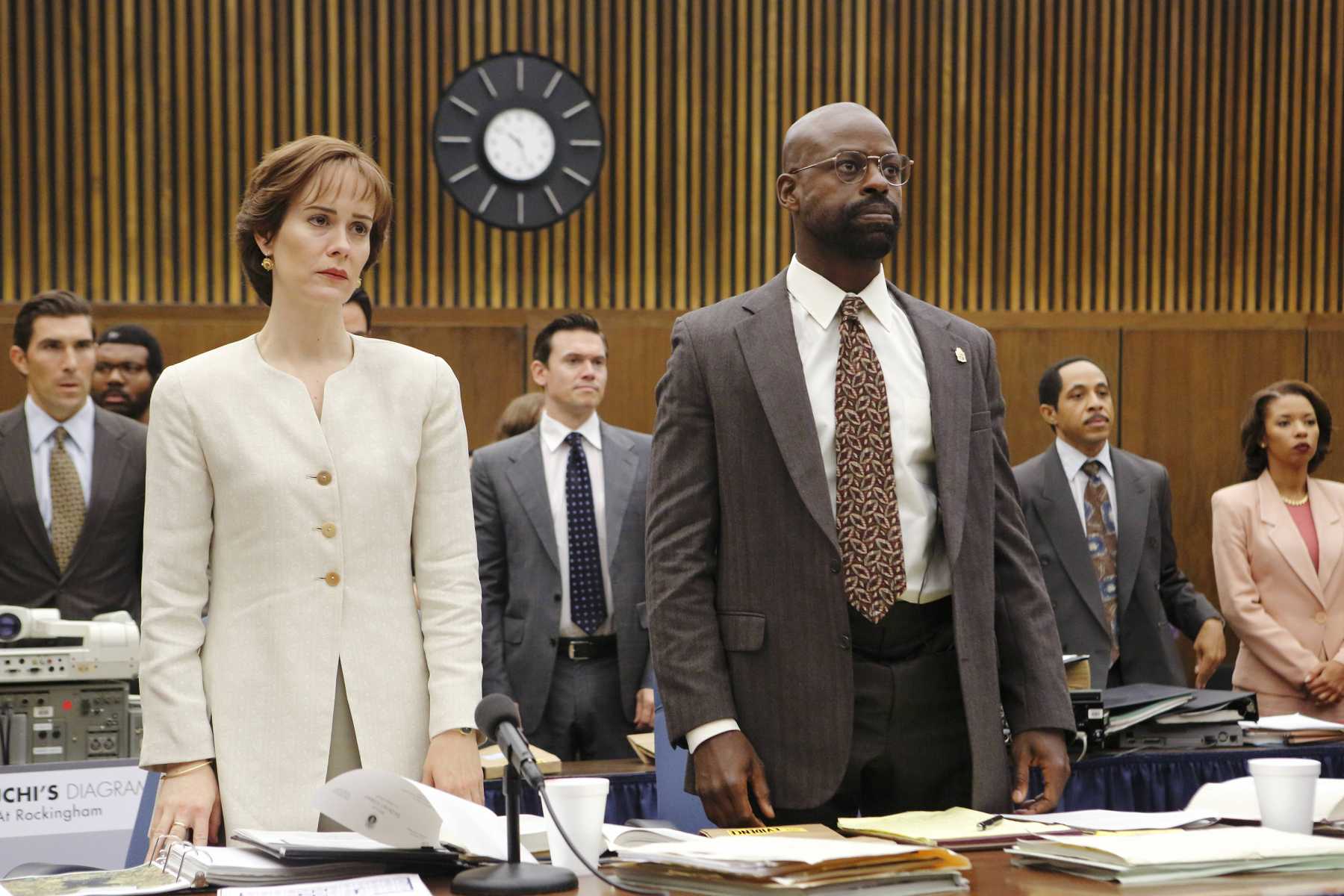 THE PEOPLE v. O.J. SIMPSON: AMERICAN CRIME STORY Pictured: (l-r) Sarah Paulson as Marcia Clark, Sterling K. Brown as Christopher Darden. CR: Ray Mickshaw/FX
Even if he has been acting for years, his breathtaking performance as Christopher Darden made him a household name and a sought-after star. The People v. O.J. Simpson: American Crime Story was, as I've said before, one of the best -- if not the best -- series of the year. It not only was incredibly well made, with brilliant direction and superb acting, but it was also a very important piece from a social standpoint. Sterling K. Brown's Christopher Darden is heartbreaking as one of the prosecutors of the O.J. Simpson murder trial who is caught between his race and doing what he believes is right.
At the moment, Brown is filming Marshall, in which he plays Joseph Spell, a man charged with the attempted murder of a white woman in 1941. From that description alone, it seems as though we are bound to get another compelling and powerful performance from Brown, and we can't wait to see it.
Back in February, though, before embarking on Marshall, Brown filmed the pilot of the new NBC future hit show (yes, I'm calling it!) This Is Us. The show is described as a "refreshingly honest and provocative series that follows a unique ensemble. And as their paths cross and their life stories intertwine in curious ways, we find that several of them share the same birthday -- and so much more than anyone would expect."
This Is Us is a one-hour dramedy written and executive produced by Dan Fogelman (Crazy, Stupid, Love). John Requa (Focus; Crazy, Stupid, Love) and Glenn Ficarra, (Focus; Crazy, Stupid, Love) will direct and executive produce.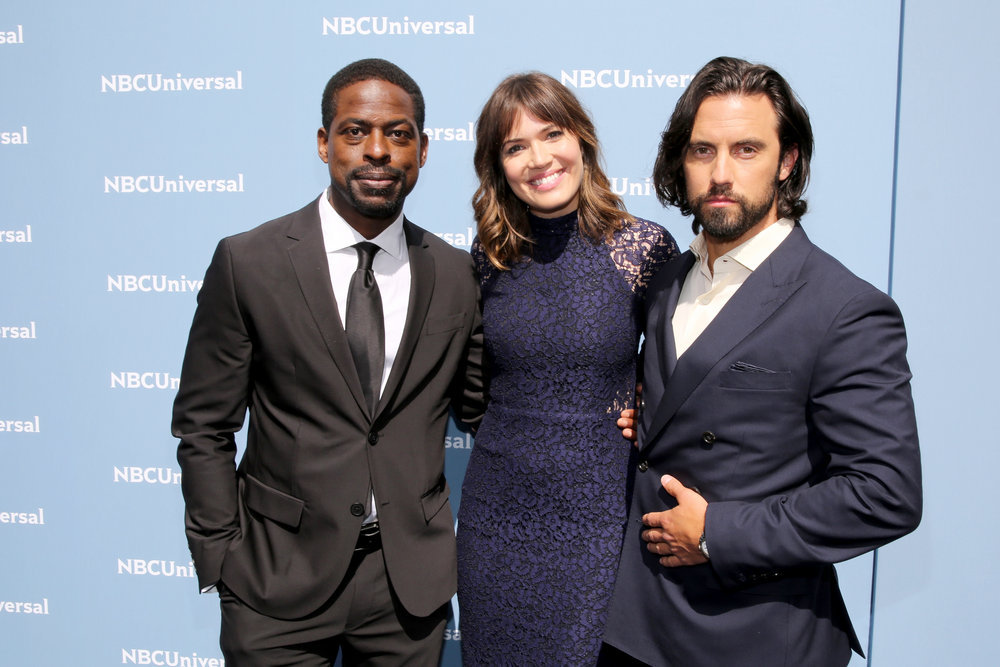 NBCUNIVERSAL UPFRONT -- "2016 NBCUniversal Upfront in New York City on Monday, May 16, 2016" -- Pictured: (l-r) Sterling K. Brown, Mandy Moore, and Milo Ventimiglia, "This Is Us" on NBC -- (Photo by: Cindy Ord/NBCUniversal)
Besides Sterling K. Brown, the show has an incredible ensemble, with Mandy Moore (A Walk to Remember, Tangled), Milo Ventimiglia (Heroes, Gilmore Girls), Justin Hartley (Smallville, Revenge), and Chrissy Metz (American Horror Story) among its key players.
The trailer of the show has been nothing short of a phenomenon. Since it was presented at NBC's Upfronts it has garnered a record-smashing 66.5 million views, with no signs of it slowing down. DC's Legends of Tomorrow previously held the record with a little over 4 million views, just to put some perspective regarding how huge the This Is Us' trailer has gotten. Viewers have been mesmerized and moved by the two and a half-minute clip, and that is a testament of how much people connect with stories involving the human spirit. We are sure the show is going to surpass expectations and become a favorite of viewers and critics alike.
I had the pleasure of doing a small interview with Sterling K. Brown about This Is Us, making me even more excited for the show to premiere.
PopWrapped: How was the casting process for This Is Us? How did you get the part?
Sterling K Brown: I had recently worked with John [Requa] and Glenn [Ficarra] on Whiskey Tango Foxtrot, and they brought me up to Dan [Fogelman] as a prospect for the role of Randall. We had a great meeting, and, a few weeks later, I auditioned for them.
PW: What can you tell us about your character's struggle to reconnect with his father?
SKB: Very little. I can tell you that Randall recently turned 36, and he's always been very curious about who his biological father is. I think he saw it as a "now or never" sort of scenario.
PW: Why do you think people have connected so much to This Is Us, even if the show is not on yet?
SKB: People like to be moved. It's clear from the trailer that Dan and John and Glenn have created something with tremendous "cathartic potential." There's something about a good cry that helps you to appreciate what you have in life, while simultaneously connecting with other people's pain. It reminds us that we're all dealing with this crazy thing called life as best we can, and we're not alone.
PW: Without giving too much away, what is your favorite line of dialogue or scene from the series so far?
SKB: "What's happening?" ... you'll see.
PW: Tell us a little bit about your future plans. Any new projects you are particularly excited about?
SKB: I am currently working on a wonderful film entitled Marshall, which focuses on the life of Thurgood Marshall when he was an attorney for the NAACP. In 1941, he goes to Connecticut to defend a black man by the name of Joseph Spell, who he believes may have been falsely accused for the rape and attempted murder of a white woman by the name of Eleanor Strubing. It's a really powerful story with a great cast and crew. I am working with Chadwick Boseman and Josh Gad. The film is being produced by Paula Wagner and directed by Reginald Hudlin.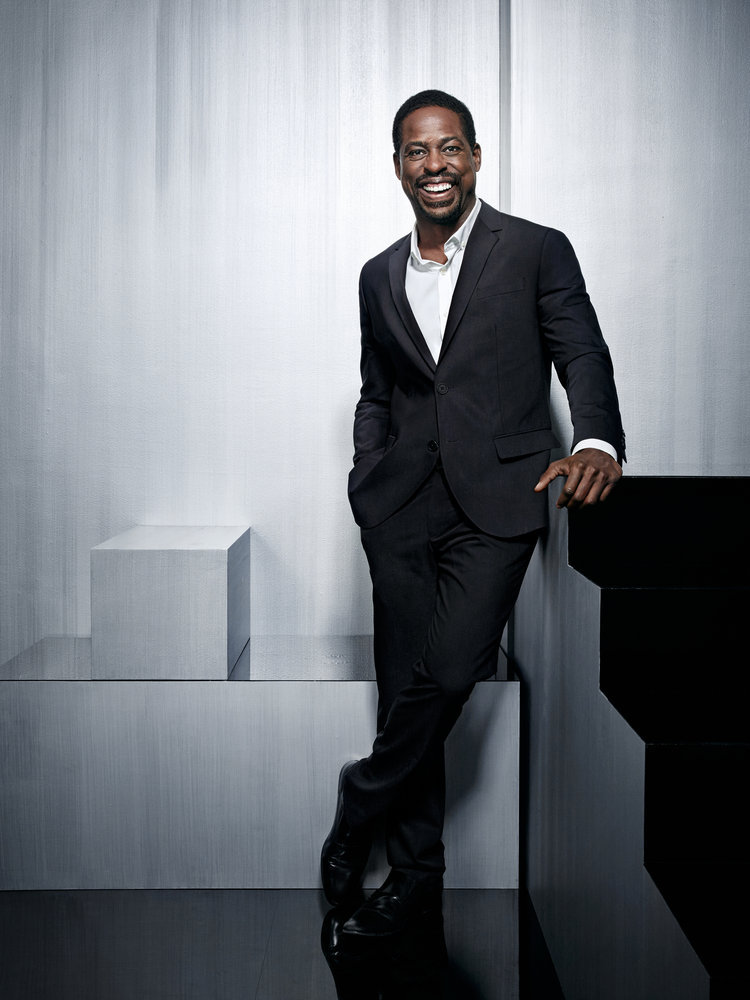 NBCUNIVERSAL UPFRONT -- Pictured: NBC's "This Is Us" star (Sterling K. Brown) -- (Photo by: Art Streiber/NBCUniversal)
You can catch Sterling K. Brown and his This Is Us co-stars Milo Ventimiglia and Mandy Moore, among many other celebrities, on The Red Nose Day Special -- a charity event, which helps raise awareness and money for children in need -- airing on NBC tonight at 9pm. And, of course, be sure not to miss This Is Us, coming to NBC this fall Tuesdays at 9pm.
Additionally, tune in to the Emmy nominations if you want to hear Sterling K. Brown's name announced. Mark my words, his name will be called.