Taylor Noelle isn't your typical 20-year-old girl. Originally from Los Angeles, Noelle later moved to Nashville, Tennessee during her senior year of high school. She went on to attend Belmont University for a degree in Music Business.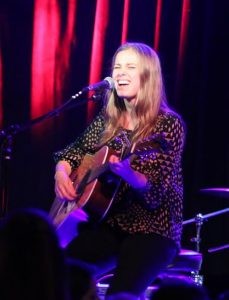 Taylor Noelle
When Noelle performs, she has a refreshingly wonderful blend of pop and soul. Her musical inspirations include such talents as Fleetwood Mac, Tori Kelly, HAIM, Alabama Shakes, Sara Bareilles, and Adele -- many of whom may have influenced her sound.
Noelle recently released her debut EP, Out of My System, which was produced by Andrew Conner at Iron Oak Studio.
"The EP's title reflects how it even came about," Noelle said. "I had all these songs that meant a whole lot to me that I just needed to get 'out of my system' and into the world. My vision is that there are people out there who can hear these songs about my pain and my joy and connect them to their own lives. I use songwriting to process my feelings, and I hope that my songs can help other people to do the same."
We here at PopWrapped are so thrilled to get the chance to listen to Taylor Noelle's EP. Take a listen to Out Of My System on Spotify:
https://open.spotify.com/album/5JRUYE7FR5cNqJ4rjA9y4Q
Out Of My System
1. "Too Good"
Taylor Noelle might just be channeling some inner Tori Kelly with "Too Good." The guitar and just the narrative of the lyrics is incredibly relatable for listeners.
2. "I Fall"
"I Fall" has some major Carrie Underwood vibes. The raw emotion was spot on and you can feel what she is singing in your bones.
3. "Won't Waste My Time"
Easily the most powerful song on the EP, "Won't Waste My Time" has a sound and style that are profoundly memorable.
4. "Covers Me"
Our favorite on the EP, "Covers Me" strikes a personal chord with listeners and hit us with all of the feels.
Taylor Noelle's music is incredibly refreshing to hear and is already motivating us to plan our next open-road adventure.
If you want more of Taylor Noelle, and we highly recommend that you take a listen, check her out on Soundcloud, Facebook, and Twitter.