At the D23 Expo, a biennial convention for fans of all things Disney, attendees in Anaheim, California, this year were treated to insider panel discussions, a gathering of the voice talent behind many of the Disney princesses, and even an appearance by Oprah (on stage with her cast in Ava DuVernay's big-budget A Wrinkle in Time). But most thrilling for Disney Parks fans was the announcement of several new developments in store for the Walt Disney World Resort in Orlando, Florida.
From a Star Wars-themed hotel to the cleverly nicknamed "Minnie Van" resort transportation system (Disney's answer to Uber), Disney World has a host of projects in the works for its guests as it approaches its 50th anniversary in 2021. Here's a Top 5 ranking of the most exciting Disney World announcements coming out of Anaheim.
Coming Soon to Disney World: Top 5 New Developments
5. A Tron coaster is coming to the Magic Kingdom.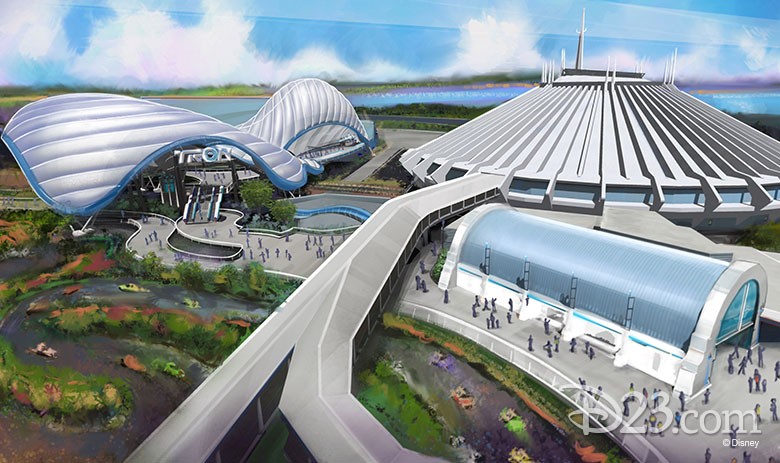 Tomorrowland in the Magic Kingdom is set to expand with a new Tron-themed coaster, which will be built near Space Mountain. The ride will be modeled after Shanghai Disneyland's popular TRON Lightcycle Power Run attraction. Inspired by the 2010 Disney film TRON: Legacy, which starred Jeff Bridges, Garrett Hedlund, and Olivia Wilde, this new addition to the Magic Kingdom is slated to be open in time for Disney World's 50th anniversary year.
4. Guests at Epcot will soon be able to dine in "space."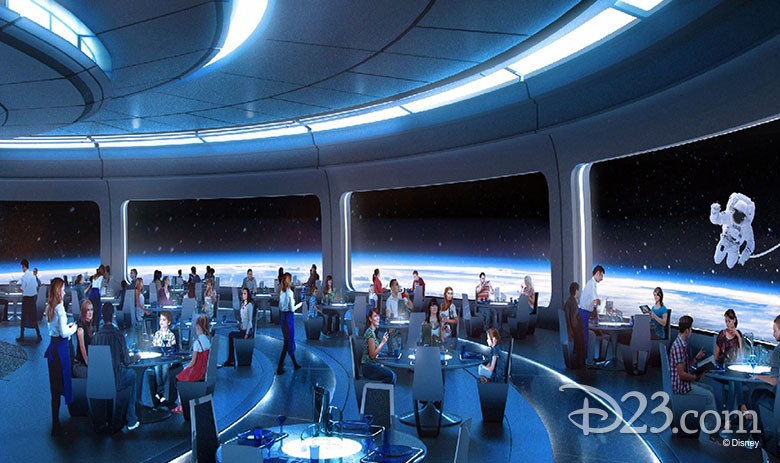 Walt Disney World Resort is home to a myriad of magical and fantastical dining experiences (hello, Cinderella Castle!). With its newest restaurant, guests will be able to dine in a venue that is truly out of this world. Located next to the Mission: SPACE attraction in Epcot, the new space-themed restaurant promises to take diners "high above the Earth," where they can experience "great meals and an even greater view."
3. A Ratatouille-themed attraction and expanded France pavilion is on the way.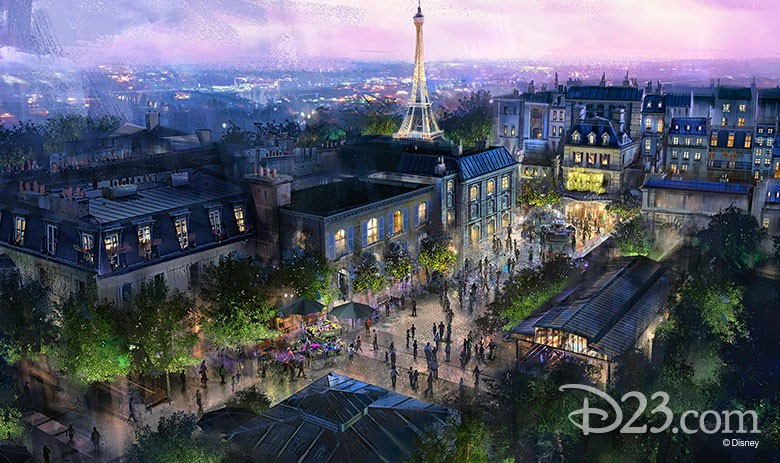 Epcot's World Showcase transports guests around the world and gives them the opportunity to explore a host of countries through special pavilions offering unique dining, cultural, and entertainment experiences. The France pavilion will be seeing the addition of an attraction inspired by the 2007 Disney-Pixar film Ratatouille and modeled after the one in Disneyland Paris. And, as seen in the concept art shared at D23, the pavilion's landscape will be getting an overhaul to capture the feel of a romantic stroll down a lovely Paris avenue. Both the France pavilion expansion and the space-themed restaurant in Epcot are targeted for opening in time for the 50th anniversary celebration.
2. Toy Story Land will be opening in the summer of 2018.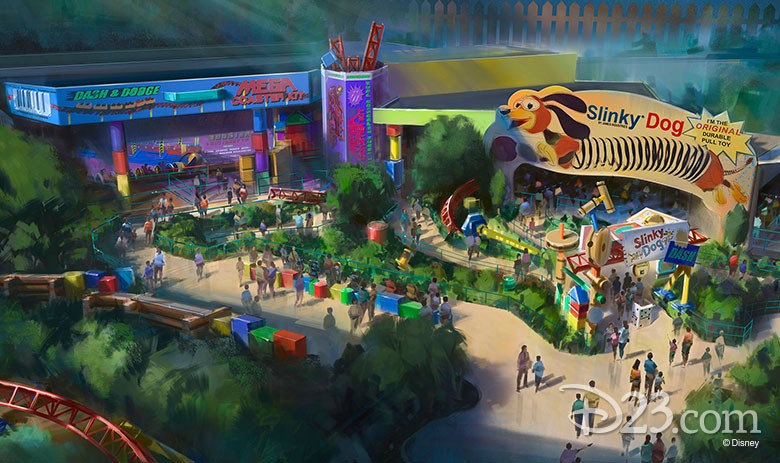 While the addition of Star Wars: Galaxy's Edge to the Hollywood Studios park has been getting most of the attention, the other exciting addition to this park—Toy Story Land—is on track to open in the summer of 2018. The Toy Story Mania ride has long been one of the park's most popular attractions. Next year, it will be joined by a build-out featuring more of the Toy Story universe, as well as two new rides, Alien Swirling Saucers and the Slinky Dog Dash.
1. A gondola transportation system will be flying guests around the world.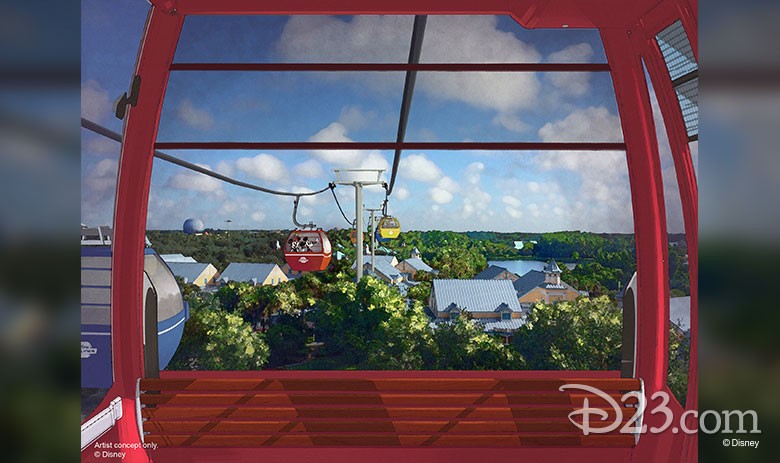 Some Disney World fans may remember the Skyway gondolas at the Magic Kingdom, which were taken down in 1999. The new system, called the Disney Skyliner, will be transporting guests further than ever before in the park. The gondola system will connect Hollywood Studios and Epcot with some of the Disney hotels like the Pop Century, Art of Animation, and Caribbean Beach resorts, giving guests a bird's-eye view of Disney World like never before.
From immersive hotel experiences to inventive transportation upgrades and enchanting new attractions for fans, the Happiest Place on Earth is heading toward its 50th anniversary with a whole lot of pixie dust. Which development are you most excited for?