Jimmy Kimmel has been on a roll.
This past week, I got the opportunity to attend a live taping of his Emmy-nominated ABC late-night show, Jimmy Kimmel Live! Seeing all the behind-the-scenes activity was a thrill. The show tapes inside the historic Hollywood Masonic Temple on Hollywood Boulevard and was built in the 1920s. It's also located directly across the street from the Dolby Theatre, where the Academy Awards take place.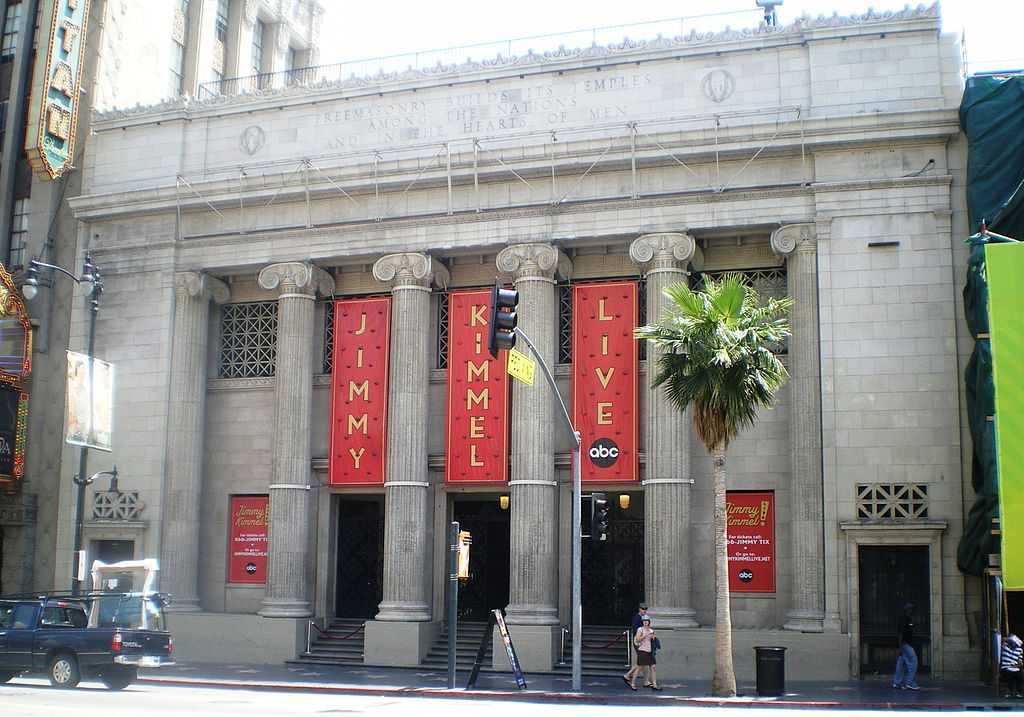 After waiting in line and getting wristbanded, my friend and I went through security and were then ushered inside with the other audience members, where we stood in a waiting lobby while everyone had bathroom break time. While we waited, clips from previous shows aired on monitors overhead. (Kimmel's faux disdain for Matt Damon will never get old!)
Once inside the studio, we were shown to our seats, and a warm-up comic spent most of the rest of the show's setup time trying his hardest to loosen everybody up and make sure we knew how to cheer like crazy-crazy fans. The set is much smaller in person than it appears on TV. After Kimmel's monologue and any taped-bit segments, the desk and chairs for guests have to be rolled out and put into place in the middle of the stage. Most impressive was the twinkly and colorful LA backdrop scene set against the back wall. It gives off a warm glow, and is lovely in person.
Just before the taping began, show staple Guillermo Rodriguez greeted the audience, and house band Cleto and the Cletones came out to warm up. When the show's announcer, Dicky Barrett (who is also the lead singer of The Mighty Mighty Bosstones), came out, the countdown began.
The cameras started rolling at 5 p.m., and Kimmel came out a man on a mission.
Back in May, he'd used his monologue to tell viewers about the ordeal his newborn son, Billy, went through after being born with a heart condition requiring surgery. The experience pushed a visibly emotional Kimmel to speak out against Republicans trying to take away the Affordable Care Act, leaving millions, including kids like Billy, without health insurance coverage. Last week, as efforts have been getting underway again to take away the coverage, Kimmel revisited the subject.
The previous night, he'd called out Louisiana Sen. Bill Cassidy for lying to him after he appeared on Kimmel's show and promised the Republicans' bill would not take coverage away. On the evening of the taping we went to, Kimmel clapped back at Cassidy's attempts to spin the story, and his passion, intensity, and commitment to using his platform to speak out about such an important issue was inspired. He also performed a clever skit demonstrating his main point:
The show's first guest was Kyra Sedgwick, starring in the upcoming ABC limited series Ten Days in the Valley. Sedgwick looked amazing in a dark navy blue strapless dress and sparkly silver heels, and she told a very funny story about how she and husband Kevin Bacon celebrate their anniversaries.
During one of the commercial breaks, Kimmel thanked the audience for attending and shared a hilarious conversation with a man in the front row who'd recently had surgery and had to wear a cumbersome leg brace. A brief clip of the exchange even made it to air when the show was broadcast!
The second guest of the night was Parks and Recreation vet Adam Scott, who is headlining the new Fox comedy Ghosted with Craig Robinson. Scott came out dressed still in costume from shooting the show as an undercover cop, in this case wearing a golf caddy uniform. Scott was very charming and talked about a recent experience he had with a tow truck:
Following Scott's appearance, it was time for the show's musical guest to perform. We were moved outside the studio to the front waiting area, where a stage is set up in the far corner. There's also a large bar area extending across the space, though it wasn't in use on that night. We didn't have great views where we ended up in the back, but I still enjoyed hearing Judah & the Lion perform two of their songs, "Suit and Jacket" and "Take It All Back." I wasn't familiar with the band prior to this, but I enjoyed their folk/hip-hop blend of music, and lead singer Judah Akers' wild dancing style was fun to see.
And with that, our Jimmy Kimmel Live! experience came to a rollicking conclusion, and it was back to the streets of Hollywood. Seeing a live television taping is exciting, and with a host as clever as Kimmel, a real treat.
If you're in the LA or New York areas, check out 1iota.com for a listing of shows offering free tickets!