But will there be a super amazing Casey Kasem-inspired dance-off?
Saved by the Max, a pop-up diner inspired by Saved by the Bell, is set to open in Los Angeles later this year. Fans of the cult '90s teen sitcom set at Bayside High (which starred Mark-Paul Gosselaar, Tiffani Thiessen, Mario Lopez, Elizabeth Berkley, Dustin Diamond, and Lark Voorhies) will be able to dine in a near-replica of the show's popular on-screen hangout, The Max, including the jarringly bright booths, neon jukebox, and pay phone near the entrance.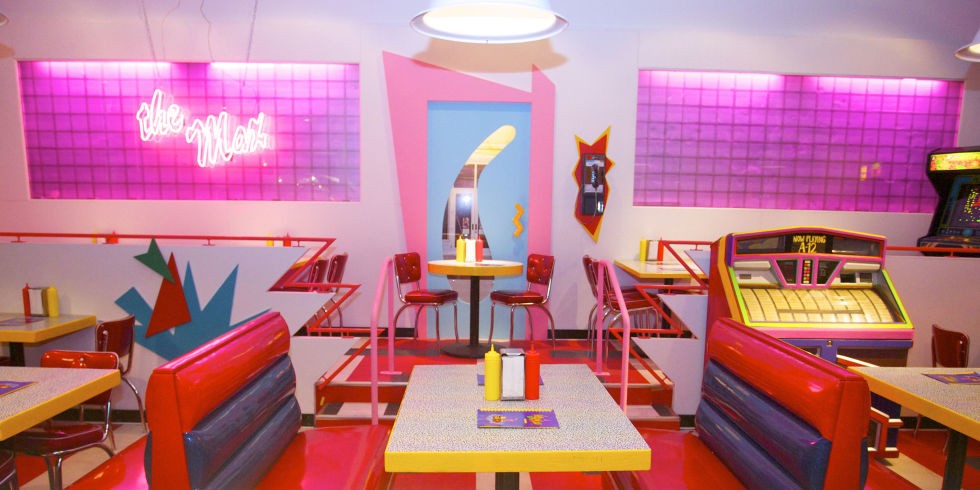 Saved by the Bell Pop-Up: Chicago
This SBTB-inspired pop-up is, in fact, a roving restaurant of sorts. The move to L.A. follows Saved by the Max's year-long residency in its first locale, Chicago. SBTB stars Lopez (A. C. Slater), Dennis Haskins (Mr. Belding), and Ed Alonzo (Max!) made appearances at the diner while it was in Chicago.
Saved by the Bell Pop-Up: Menu Highlights
Food selections are equally on point: A.C. Sliders, Spano's Seasonal Veggie, and Preppy BLTs are just some of the fitting items on the menu. And for cocktails? Fans will be able to choose from a variety of drinks named after many of the memorable moments and characters in the show, such as Tori Scott's Jacket, Stacey Carosi's Sofie Mimosie, and the I'm So Excited.
Saved by the Bell Pop-Up: L.A.
Saved By The Max isn't your typical pop-up. Tickets will need to be reserved in advance. Fans can sign up to join the waitlist at savedbythemax.com. While no date has been given for the opening in L.A., the owners are busy hyping their west coast move on Twitter:
In the wise words of Zack Morris,"It feels good to be back in Bayside"! LA, we ?? you! 2017 is going to be a good one! pic.twitter.com/H2gR2x1TWP

— Saved By The Max (@SavedByTheMax) June 8, 2017
So will the move to Hollywood result in a full cast reunion at the pop-up? Probably not. For now, fans will have to continue to savor Jimmy Fallon's almost-full-reunion on The Tonight Show in 2015. And delicious snippets like this: