If you're a fan of The Vamps, then you already know that these four adorable British boys are the perfect package--they can sing, they can play instruments, and they put on an amazing live show.
Okay, yeah, they are pretty easy on the eyes, too.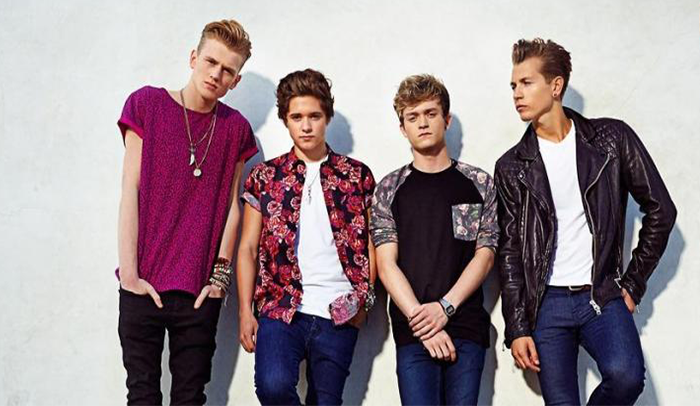 TwitCelebGossip.com
But anyway…
Brad, Connor, James, and Tristan have some great original music, but they also know their way around a cover or two. Some of them you may have even been lucky enough to hear live. Well, let's relive it, then, shall we?
Here are my top 10 favorite covers by The Vamps:
"Brokenhearted" by Lawson
I can't get enough of British men and their talent, really. I adore Lawson, and so when two worlds collided and I found out The Vamps had covered this song...there may have been squealing. Maybe.
https://www.youtube.com/watch?v=WBcW-5vereQ&feature=youtu.be
That ending. Is that not a room we'd all love to be in, ladies?
"Locked Out Of Heaven" by Bruno Mars
A Bruno song is no easy feat to tackle, and to put a rock spin on it? I think I actually died and went to heaven for two minutes. I have to give it to Tristan on the drums for this one; his skill really makes this cover what it is.
https://www.youtube.com/watch?v=eSPzrqakBvI
"Teenagers" by My Chemical Romance
This was such a wicked surprise for me, since The Vamps are generally a softer rock than MCR--but wow, did they kill this cover. I heard it live for the first time earlier this year, and it was the best adrenaline rush ever; they ROCKED it.
https://www.youtube.com/watch?v=tFyGf2RjspM
"Pumped Up Kicks" by Foster the People
Bone-melting harmonies, a guitar, and a cable car = magic.
https://www.youtube.com/watch?v=r0VeX3VZ-PE
"Everybody Talks"/"Animal" by Neon Trees
Can I just say how sorely underrated this band is in America? Get it together, U.S.A. These are two of my favorite songs, and they definitely do both justice.
https://www.youtube.com/watch?v=KusvgrJeH_g
"Let Her Go" by Passenger
Arguably one of the best love songs done within the last couple of years, and we know a ballad is right up The Vamps' alley. Nothing more than an acoustic guitar and those vocals. What else do we need?
https://www.youtube.com/watch?v=tGtXGM7HKHY
"Story Of My Life" by One Direction
I have to admit, this song is a treasured guilty pleasure of mine (seriously, don't tell anyone). They could easily have done the original. This cover is flawless.
https://www.youtube.com/watch?v=0BIDnQMg-Lk
"Sweater Weather" by The Neighbourhood
If you don't adore The Neighbourhood, then I don't know what to do with you. Th existence of this song, The Vamps covering this song and changing up the beat...all is just right with my world, honestly.
https://www.youtube.com/watch?v=SWyot0C7-SI
"I Knew You Were Trouble" by Taylor Swift
Did I expect them to nail a T. Swift song? No. Should I have? Yes.
https://www.youtube.com/watch?v=e79ZSLmUAo0
"Sorry" by Justin Bieber
You know that saying about saving the best for last? Well, here it is, ladies and gentlemen.
I thought they couldn't take me by surprise at this point, but they'd better be sorry for what they've done to my soul with this cover. Unbelievable.
https://www.youtube.com/watch?v=PeXUStC4x1U
Did I miss your favorite cover? Any songs you'd like them to cover? Comment below!
Check out my review of their new album, Wake Up.