Never heard of USA Network's hit summer-drama, Graceland? We forgive you. Luckily, Seasons 1 & 2 are being released May 26th on Netflix for your binge-watching pleasure, which gives you a month to get ready for the epic Season 3 premiere on June 25th at 10/9c!
Graceland centers around a diverse group of young undercover agents who all live together in a mansion on the beach in Southern California, which is lovingly referred to as "Graceland". And no, Elvis is not involved in the show whatsoever.
Not sure if you have time to add this to your binge schedule? Think again!
PopWrapped brings you the Top 10 reasons why you should become a Gracelander this season:
10) Be Transported To Southern California
If the California beach mansion isn't enough to get your attention, try adding surfing, bonfires, taco trucks and trendy dive bars to the mix. But seriously, the views from this mansion are flawless.
They once even fit an entire bounce house inside. I'm pretty sure there's also a legit stream that flows through the foyer… and wall art made up completely of cassette tapes. You know you're jealous.
9) Realistic Plot Situations / Background Actors
https://instagram.com/p/1ieEwjleRQ/?taken-by=serindaswan
Not many fans know this, but Graceland is based off a real house where federal agents lived to take down major organizations. The conflicts on the show are incredibly realistic and captivating.
And the agents you see in the background storming into warehouses for busts? Yeah, they're not pretending they know how to do that. The show uses actual local agents. Pretty incredible, right?
8) Diverse Cast Of Gorgeous People
Do I even need to explain? Just look at how beautiful these people are. Once you start watching this show, you will immediately raise the bar on your squad goals. Major props to USA for continuing to keep its cast diverse without the use of stereotypes.
7) Multi-Genre Episodes With Purpose
Each episode manages to balance comedy, romance, drama, suspense, and action. Don't think you'll be interested in another "cop show" or "trendy crime drama"? Neither is Graceland.
The subject matter continues to bring attention to pressing subjects (human trafficking, drug cartels, addiction) in a manner that encourages social action and change amongst its audience. A television show actually trying to teach its audience something valuable in a realistic, yet entertaining way? Yep, you've found it.
6) Interactive Cast On Social Media
Many of the actors (and writers) on the show WANT to interact with you. I was amazed last season at how some of these actors managed to keep up with every tweet during a live show.  Graceland is a family, and they do a fabulous job of incorporating fans into that family (looking at you, Erik Valdez, Brandon Jay McLaren, Manny Montana, Jamie Gray Hyder, Serinda Swan, and Daniel Sunjata)!
5) Unexpected Twists
Just when you think you have these characters figured out, the writers throw you such an epic curve-ball. The characterization is complex and the story-lines are beautifully woven together as the six main agents of Graceland push the boundaries on one of the show's central  themes: self-identity.
Think it's easy to figure out a story where the characters' job is to constantly lie? Trust me, they will always be at least one step ahead of you, and that's what makes this show so binge-worthy.
4) "Root-able Bad Guys"
I don't mean the times when our favorite agents pretend to play bad guys (although the undercover aliases are badass). You might be surprised to actually find yourself cheering on one or two of the antagonists each season. The enemies are humanized, and dare we say... sometimes root-able? (Sorry, not you Sid).   
3) AMAZING Female Characters 
We raise a toast to you, Charlie, Paige, Lucia, Amber and all of the other intense women of Graceland! These ladies are chameleons who pack a punch and aren't the least bit afraid to take on the most challenging tasks; they crave them.
Think I'm exaggerating? How about negotiating a drug-bust while being stabbed in the hand? Or flawlessly planning the take-down of a major bank? Or choosing to become an abused drug mule to save innocent victims from human trafficking? And don't even get me started on the physical strength, linguistics knowledge, and technical skills. You. Will. Love. Them. 
2) Epic Ensemble Cast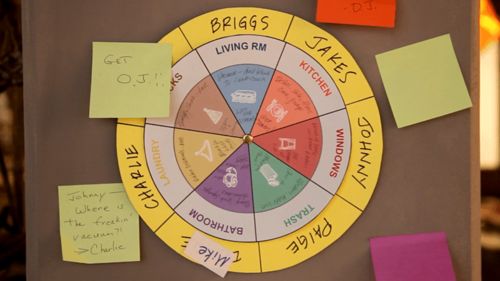 Graceland features an ensemble cast made up of juxtaposed characters, and let's face it, we all want to live in that house. The family-feel of the show and the camaraderie of the roommates hooks you in from the pilot. There's some innocent hazing, a chore wheel, pancake breakfasts, bonfires, family dinners, and even some karaoke. The relationships might get a "little" messy from time to time... but the house will always come first (I hope).
1) Season 3 Is Coming June 2015!
The single, most important reason you need to binge-watch?? Seasons 1 & 2 were just released on Netflix and Season 3 starts next month! If you aren't afraid of spoilers, check out this newly released trailer: 
https://www.youtube.com/watch?v=7AA1ZG4eS6o&h=500
Happy Binge-Watching, Gracelanders!!