10,000 Days is an award winning web series starring John Schneider, Riley Smith, and Lisa Pelikan. The series begins 10,000 days ago, when Comet 23 struck the Pacific Ocean with the magnitude of all the nuclear weapons in the world. The Beck Family was among the lucky few who survived the heat blast and fire storms, but then the freezing began. The comet had knocked Earth away from the sun, encasing the planet in snow and ice. For those who survived, life was violent and dangerous. The daily battle wasn't just against the punishing climate but against each other for the basic necessities that meant life or death. Still, the weather was growing colder and the ice was expanding. Villages were being crushed by violent tremors.. and then the Becks found an object from the past, buried deep in the ice. With it came a choice  - one that could either save them, or destroy them.
There is still much more story to share with these amazing characters, that's why show's creator is asking for your help. A Kickstarter campaign has been created to fund Season Two of the series. Fans, go support now! If you are not a fan yet, Eric Small, the shows creator, invites you to go watch all of Season One now. He has no doubt you will become a fan, and help support the cause.
Eric invites you to enjoy Season One of 10,000 Days here, but make sure to read our exclusive Q and A with him first: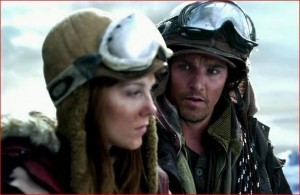 Courtesy of IMDB
PopWrapped: Where did the idea for 10,000 days originate?
Eric Small: 10K started as a feature film idea that blossomed into a web series during the Writers Guild Strike in 2007/2008. New Media was the bedrock of the strike, and we were all hamstrung UNLESS we wanted to sign the
New Media side letter and get to work. I was fortunate to have a brave and visionary investor willing to step into the void and take a chance on a web series. We signed the side letter and were in production by summertime.
PW: You have a Kickstarter campaign up for Season Two. What can fans look for when the story continues?
ES: We're going to open up the story and discover new clans. John Schneider's character will reconnect with a brother he gave up for dead nearly a decade ago. We're going to dig deep into these family relationships and learn more about our characters through their past, as well as what they're willing to do for each other, their clans, and ultimately the survival of the human race. It's messy, dangerous, and fraught territory that we can't wait to dive into.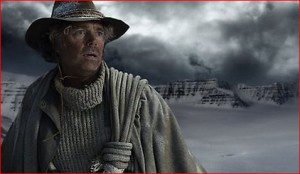 Courtesy of IMDB
PW: John Schneider has shared that this is a passion project for him, been quoted saying, "10K was and still is way ahead of its time. The most enjoyable experience of my internet endeavors."  As the creator of the show, how does that make you feel?
ES: John has been a force of nature for the show. And to have that kind of support is incredibly validating for a creator. John's got my back, and he continues to work tirelessly to promote the show.