Married ... with Children was an anti-sitcom revolving around oafish shoe salesman Al Bundy (Ed O'Neill), his lazy housewife Peggy (Katey Sagal), blond rocker-chick daughter Kelly (Christina Applegate), and sex-crazed son Bud (David Faustino). Al's arch-nemesis was his feminist neighbor, Marcy (Amanda Bearse), who went through two husbands: materialistic yuppie Steve Rhoades (David Garrison) and materialistic loafer Jefferson (Ted McGinley). Over eleven seasons from 1987-1997, the show lasted through two family dogs, one rusty Dodge, and a little boy from Wanker County who went to play at the D'Arcys and never came back.
Part-Archie Bunker, part-Ralph Cramden, Al deals with the misery at work and dysfunction at home through a never-ending stream of sarcasm and a preoccupation with beer, his high school football record, and Big' Uns magazines. He wasn't all caveman, though, and could also be sweet to his wife and kids, show insecurity and a need to be appreciated, and fiercely defend the Bundy name. It was the hilarious chemistry between O'Neill and Sagal, combined with the comic timing and sibling rivalry of Applegate and Faustino, that made this boorish family one of the classics of American television. Here are twenty episodes that stand out among countless laughs (and this was extremely challenging to narrow down). ***Some story lines extended over two or even three episodes (such as "The England Show"), so those were counted as one long episode.
01x06: "Sixteen Years and What Do You Get"
"I know that I love you." "Yeah, yeah, yeah." "I said that I love you." "I said yeah, yeah, yeah."
For all of Al's chauvinism and cantankerous attitude towards his family, there are regular episodes that showcase his commitment and occasional sweetness towards his wife. With Peggy and Al's sixteenth anniversary approaching, both agree to forego gifts, though Al is planning to buy Peggy an expensive watch. Once the kids spill the beans, Peg goes all out planning a lavish meal and buying a tool set for Al, charging everything to his credit card, which ultimately maxes out before he has a chance to go shopping for her. When he comes home empty-handed, his family makes him feel guilty until all the costs are tallied, and Al realizes he inadvertently paid for the entire evening. He isn't as mad at the charges as he is Peggy lacking faith that he would make an effort to do something nice for their anniversary, and the two make up in the garage while slow-dancing to their couple song: "War," by Edwin Starr.
01x11: "Nightmare on Al's Street"
"Al, I'm horny. What are you going to do about it?"
Al and Marcy enjoy a mutually derisive relationship throughout the series due to her feminism and his chauvinism, further agitated by her uptight yuppie demeanor versus his oafish buffoonery. When Steve goes on a business trip, Marcy finds a seemingly great deal to repave her driveway, against Al's warning that it probably is a scam. When she loses $500, she is loathe to admit Al was right for once, and her guilt and anxiety over telling Steve transfers to dreams of Al coming into her bedroom at night dressed and acting as Steve. Once Al hears about this, he naturally milks her embarrassment for all it's worth, but, once he discovers that it was her insecurity rather than his sex appeal that was causing the dreams, it is his turn to see Marcy in place of his spouse.
02x04: "Buck Can Do It"
"Are you happy now, Dr. Hack-em-off?"
Al's premium placed on virility is threatened when the family dog's overactive proclivities with the female dogs on the street cause a neighbor to threaten a lawsuit unless the Bundys neuter hapless Buck. The scene with Peggy chopping radishes and cucumbers while Steve and Al debate Buck's masculinity is subtly funny, but Al's growing protectiveness over his dog and his dream where Buck, played by a man in a giant dog suit, loses all zest for life are hysterical.
02x10: "The Razor's Edge"
"You can come home when your face is back to the baby's behind I fell in love with."
Every once in a while, there is a Rhoades-centric episode dealing with marital strife between newlyweds Steve and Marcy to the great amusement of their older neighbors. Steve returns from a rafting trip sporting a new beard, which Marcy insists he shave, and he refuses. In a battle of wills, Marcy withholds intimacy, and Steve moves in with the Bundys, soon becoming the perfect housekeeper and cook. Al is so delighted in his clean house and full belly that he won't let Steve go until Marcy comes up with a tempting solution for her husband's intensifying urges.
03x04: "The Camping Show"
"All three women at once? What did they do, give it to each other?"
Back in fall 1988, this episode, originally entitled "A Period Piece," revolved around such a controversial subject -- menstruation! -- that FOX delayed it until December rather than air it as the season premiere. Steve and Al take their wives, Bud, and Kelly to a cabin for a week's worth of fishing. Unfortunately, Kelly has just started her period on the first day they arrive, and Peggy and Marcy soon sync their cycles to hers. As the women experience every menstrual hassle from water retention to muscle aches to extreme irritability, the men are helplessly trapped until the local wildlife, supposedly attracted to the females, become hostile and territorial. In a last-ditch effort to escape, Al dons the "Suit of Many Hooks" and a homemade helmet to combat an aggressive bear, which veers inevitably towards disaster.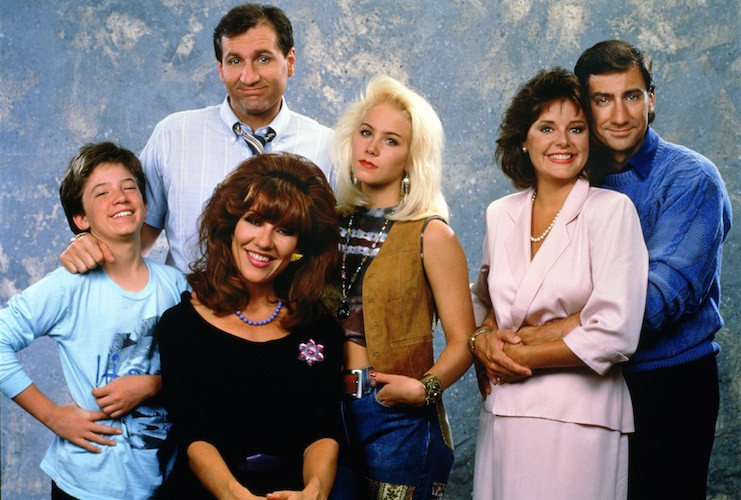 Sony Pictures Television
04x02: "Tooth or Consequences"
"Well, the green one looks pretty good, and some might be bothered by that black one, but the one that's actually bleeding could be a problem starting."
One of several episodes that plays to one of Al's fears -- namely, a trip to the dentist -- it begins with Al demanding that Peg cook him a real dinner, even though it is increasingly apparent that he won't be able to enjoy it, what with his teeth fizzing and all. After resorting to cold beer poured over white bread as a meal, he finally relents and goes to Marcy's dentist, Dr. Plierson (Joe Flaherty), whose rage against the excess spending of his mistress/dental assistant (Tracy Lords) and ex-wife is channeled through his drill meeting Al's teeth. Honestly, what is more endearing than seeing a grown man tiptoe into the examining room while clutching a balloon and a stuffed yellow ducky?
04x11-12: "It's a Bundyful Life" 
"A real dad would have held up a liquor store."
This two-parter is one of the more somber episodes and exposes the insecurity, self-doubt, and resignation that lie beneath Al Bundy's sarcastic exterior. On Christmas Eve, Al desperately tries to get some money to buy Christmas presents for Peg and the kids -- only the bank closes for a holiday party (and Marcy is too boozy to help), and different schemes to make quick cash go awry. Al can only think of his family's disappointment, as he eats crow at home and his family ditches him to eat at Denny's. It only takes a solitary working bulb on a strand of Christmas lights to give us a peek into Al's psyche, and the late, great Sam Kinison has the best guest appearance in the series as Al's guardian angel who bellows toward the Heavens -- many times over -- for giving him the task of showing Al what life would be like if he had never been born.
04x19: "Peggy Turns 300"
"I've been training for weeks, avoiding anything that would hurt me: red meat ... red wine ... redheads."
It's Peggy's birthday, but Al has only one candle to extinguish: the bowling record of his rival, Puggy (Michael McManus), who is moving away. He drags Peg in full evening dress to Jim's Bowl-o-Rama, and, out of sheer boredom, she picks up a ball and starts swinging. Al is allowed one brief moment of bliss and adoration when he (spoiler) beats the record of 256, only to look on in horror and disbelief as Peg soon surpasses it with strike after strike. In one of the funniest closing scenes of that season, Peggy returns home with a giant trophy, the kids have video footage of her victory, and Al, bereft of all sense of reality, watches a blank TV screen and hallucinates himself being interviewed by Roy Firestone, who describes him as "husband, father, football player, bull fighter, aviator, and inventor of the seven-day underwear." Fully clad in a blue football uniform, he responds to Roy's question of what describes his essence with one simple word: "Winner."
05x02: "Al ... with Kelly" and 05x10: "One Down, Two to Go"
"Dad: I guess this is au revoir. Mom: Adidas." 
I put two daddy-daughter episodes together because Ed O'Neill and Christina Applegate make such a classic pair: Al indulges his seemingly dimwitted "Pumpkin," who, in turn, looks to Daddy with puppy eyes in order to get what she wants. When Peggy drags Bud on a trip to her hometown in Wanker County, Al and Kelly fake being sick in order to stay home. Al is free to enjoy himself, which means sweet dreams about a mystery blonde in a negligee (Pamela Anderson) who keeps coming into his bedroom at night. Unfortunately, Kelly really does get the flu, so every time Al's dreams get extra steamy, she interrupts him by ringing a bell for help.
Later in the season, Kelly realizes that, since she is an adult, she shouldn't have to sneak boys up to her room, though Al says it's his house and his rules. Calling his bluff, Kelly moves out, leaving a despondent Peggy to infantilize Bud. Al appears unfazed until Marcy assures him that an independent Kelly on the streets will turn out exactly like her. Naturally, Al can't have that. After a flashback montage of Kelly growing up and repeatedly being escorted home by policemen, Al runs to convince her to come home.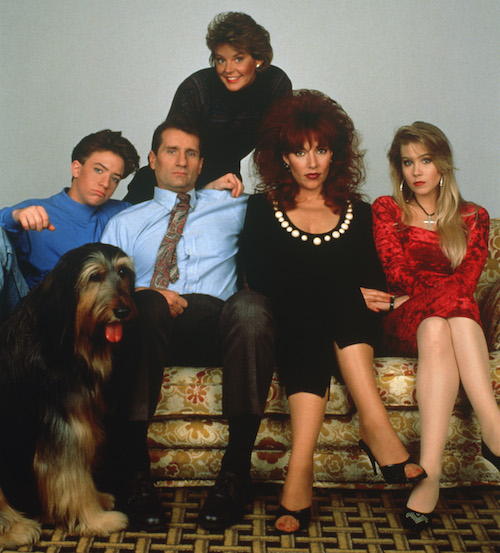 Sony Pictures Television
05x11: "And Baby Makes Money"
"If it takes a million tries and a million tears, that young'un shall be yours and that money shall be mine."
Al's bachelor Uncle Stymie dies and leaves a proviso in his will: whoever sires the first Bundy baby boy in wedlock after the reading gets the entire estate of $500,000. Al is ecstatic, but Peg has other plans that she confides to Marcy: she's taking birth-control pills to milk as much intimacy as possible out of her unwitting husband. In a hilarious montage, nine months fly by; as Al grows emaciated and his hair turns white while Peg is having all the fun ... until Al finds her pills. Not content to just confront her directly, Al fakes a positive pregnancy test and gives Peg a shock.
05x15: "A Man's Castle" and 07x16: "Mr. Empty Pants"
"Peg, you took [my wallet], didn't you? I thought we had an agreement. Ever since that time I got deported to Mexico, you promised to at least leave me with a picture ID."
Two episodes in particular showcase Peggy's creative talents which emerge once she gains a bit of initiative. First, she uses the grocery money to enroll in interior design classes and becomes a star student. Her assignment is to redo one room in the house, and she turns Al's fortress of solitude -- his garage bathroom -- into a pink palace complete with a bra rack, tampon carousel, and self-portrait that morphs into the Grim Reaper when he looks at it. After trying bathrooms all over town, Al realizes the only way he can exorcise his old room is with nachos, four burritos and a ton of Tabasco sauce.
Two seasons later, while lounging at the beauty salon, Marcy sees Peggy doodling a cartoon of Al that is surprisingly detailed, right down to "his socks killing all the flowers." Marcy convinces her to publish her drawings in a women's magazine under the heading, "Mr. Empty Pants." Soon, everyone in town is calling Al after his cartoon name, which goes over his head until he sees Peg's latest sketch. "Boy, life really kicked the hell out of him -- what a loser," he says, laughingly insisting that it must represent Bud before realizing the truth. Only after Playgirl wants Al for a sexy photoshoot do his spirits perk up, but Peg kills off his character before the spread can go to print.
06x01-02: "She's Having a Baby"
"Al, what should we name the baby?" "The Reaper?"
The sixth season began with a big surprise over two episodes: both Peggy and Marcy announced their pregnancies to the delight of Jefferson and near-death experience of Al. The look on Al's face when Peg tells him she's five months along is priceless, equaled only when he leaps over the couch to check his journal for his whereabouts when conception occurred (according to the entry, he "passed out," then dreamed he "fell in the washing machine and woke up feeling cheap"), or pulled out chunks of his hair. Bud and Kelly read their dad the riot act, as Peggy demands "cream cheese and coffee ground sandwiches," foot massages, and expensive baby gadgets, and Al daydreams that he is on a football field, defending his game ball against his wife, kids, and a 6'7" baby that immediately tackles him and steals all his money. Pretty soon, he snaps and heads to a bus station to leave town, only to run into Jefferson with the same game plan. He reconsiders, however, and returns home with a wave machine Peggy had wanted for the baby.
06x16: "Rites of Passage"
"Ah, eighteen years old. Son, there's so much I want to say to you, but there's a show coming on that I want to watch."
Bud Bundy's 18th birthday has arrived, and it's a milestone which everyone is celebrating in their own way. Kelly reminds Bud of the failure of his "Grandmaster B" persona, Peggy rents a pony and hires a psychotic clown named Sticky for her little man, and a proud Al continues a family tradition of a Bundy father taking his now-adult son to a strip club. While father teaches son how to stretch a dollar between dancers and start a bar fight to alleviate boredom, Peggy, Marcy, and Jefferson wait at home while Sticky beheads stuffed animals with a machete. After everyone is asleep, father and son come home sporting matching shiners, but a glowing Bud is still seeing stars and exclaims, "I feel great, Dad!"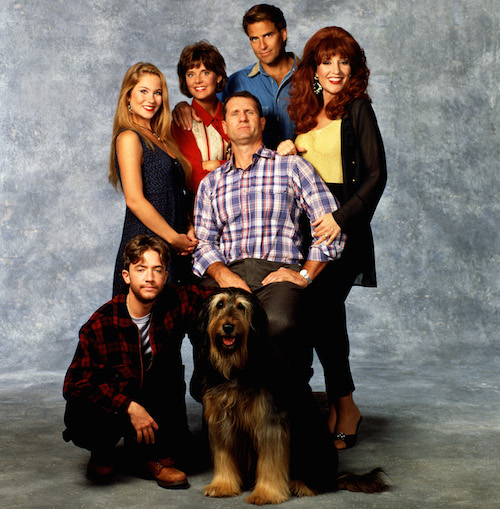 Sony Pictures Television
06x20: "High I.Q."
"Congratulations, Miss Bundy. Your IQ score has placed you square in the middle of an ashtray and a pickle jar."
As far as siblings go, Bud and Kelly are usually sniping at each other for either being a dweeb or a tramp, but, every once in a while, they put rivalry aside and work together, especially when the Bundy name is threatened. While Al and Jefferson try to assemble the Handyman's Workbench 5000, despite not having enough L-frames and too many 7s, Kelly gets invited to join Alpha, a society for geniuses. Bud knows something is up and follows her to the social mixer where he learns the members invited a bunch of dumb people as a joke. He convinces Kelly of the ruse, and the two lead a fool's rebellion on the party. Back home, Peggy and Marcy watch in awe as their husbands almost kill each other with nail guns, blowtorches, and faulty wiring trying to finish the bench.
06x24-26: "The England Show"
"Don't you sense there's something wrong here, and I'm not just talking about the ghosts who dance around in my room all night removing their heads and telling me to get out. Haven't you noticed it's daytime and yet there's no sun?"
Beginning with a flashback to 17th Century England where an ancestor of Al's named Seamus McBundy gets cursed by a witch, causing his feet to eternally smell and his town to be covered in darkness, "The England Show" was extended over three hilarious episodes. The only way to lift the dark curse on Lower Uncton is to kill every male Bundy in the world -- and only Al and Bud from Chicago are left. The town dispatches two men, Winston and Igor, to convince the Bundy family to cross the pond (under the guise of winning a contest), so Al and Bud can be killed within the town limits. Once Marcy and Jefferson find out about the fabulous, all-expenses-paid trip, they insist on coming along, but they quickly lose their luggage, money, and the whereabouts of Al, Peggy, Kelly, and Bud. While the D'Arcy's are dirty and hungry on the streets of London, the Bundys command a royal treatment of clothes, food, and fancy hotel rooms on their way to the countryside. Unfortunately, the residents of neighboring Upper Uncton also want Al and Bud dead, only the executions must be outside Lower Uncton so the curse can remain intact and the more upscale town can remain a tourist attraction. Featuring S&M clubs, multiple hit men, haunted castles, and a medieval jousting match, this triptych is a hilarious and worthy end to a terrific if bittersweet sixth season.
08x12: "A Little off the Top"
"We heard about your little loss / We know you'll make it through / 'cause thankfully the part they took was of no use to you."
When Al injures his back playing football with younger men, Peggy takes him to the cheapest hospital to undergo surgery. Unfortunately, instead of receiving a "circular incision," Al gets a circumcision. For one month, he has to wear muumuus and not become aroused at all, but everything about Peggy suddenly becomes titillating. After a while of no contact, Peg worries that maybe the muumuus are here to stay and that something might have gone wrong on the operating table.
09x17: "Get the Dodge Outta Hell"
"I know what you're doing, you know. Sitting there like some soulless, money-grubbing snob because you know it turns me on. Well, it's not going to work!"
The family is preparing to travel to Wanker County where Al will be Grand Marshal of a parade and stops to get the Dodge cleaned at a car wash where Marcy has made Jefferson start working. Steve Rhoades (David Garrison) makes a surprise appearance in an expensive suit and boasts about his Town Car to Marcy while she hides Jefferson in the ladies' room. When the Dodge disappears from the lot, Al is beside himself because there are important things in the trunk. As it turns out, washing all that dirt and grime off of it revealed its original red color, so no one had recognized it. When Al checks the trunk, his prized possession is still there: a photo of his family, safely hidden within the pages of a Big 'Uns.
10x04: "Reverend Al"
"Gentlemen, in the history of mankind there have been only a few truly good scams: the Loch Ness monster, Canada. Now, the tax-free Church of NO MA'AM!"
The rivalry between Al Bundy and Marcy D'Arcy kicks into overdrive when each form their own groups to protest the other. In the eighth season, after his bowling league night is overtaken by a women's team and then the beloved Jiggly Room is turned into a coffeehouse, Al forms NO MA'AM (National Organization of Men Against Amazonian Masterhood) and takes Jerry Springer, the "Masculine Feminist," hostage in exchange for a list of sexist demands that grow increasingly more oafish until Marcy hijacks their telecast and has Al and his fellow feebs arrested (except for Jefferson who gets grounded).
Later, Marcy forms her own coalition, FANG (Feminists Against Neanderthal Guys), to outwit NO MA'AM at every turn. My favorite of these episodes is Season Ten's "Reverend Al," where the men of NO MA'AM conspire to get tax-exempt status by becoming a church. Naturally, the men do themselves in by conning loyal congregants out of donations to, first, bolster their beer supply and, later, to buy fancy cars and shimmery tuxedos. Only Al's coworker Griff (Harold Sylvester) has reservations about the flagrant spending and dirty dealing, but the rest of NO MA'AM stage an evangelical showcase to be broadcast nationwide. Luckily, Marcy and her FANG sisters secretly taped Al and Peg on a romantic date and hijack the show to expose the chauvinist leader for what he really is: a softy.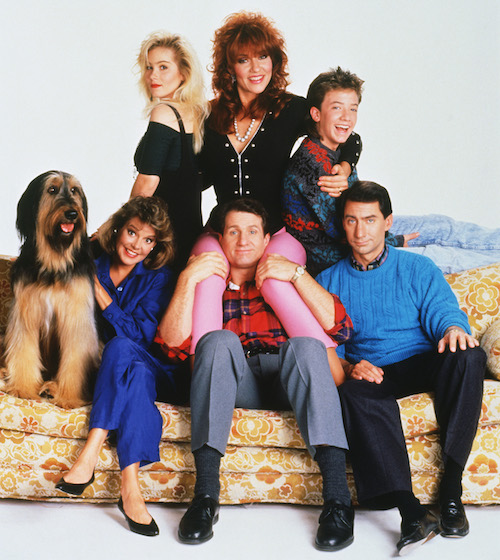 Sony Pictures Television