Twenty years ago, a 6-foot guard out of Georgetown played his first NBA game in Philadelphia, and Sixers basketball was never the same. Allen Iverson made his NBA debut on November 1, 1996 for the Philadelphia 76ers.
Nicknamed "The Answer," he was a prolific scorer known for his crossover as much as his infamous practice rant. Often a controversial figure, he changed the culture of the NBA by bringing hip hop to the forefront.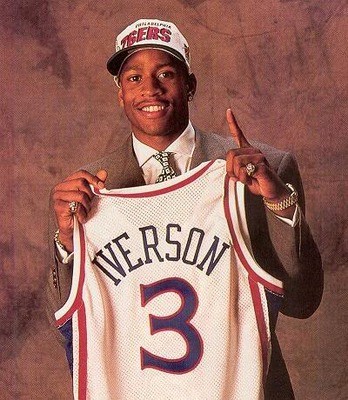 phillysportshistory.com
In addition to leading the Sixers to the 2001 NBA Finals during his MVP Season, Iverson racked up four scoring titles and was an 11-time All-Star over the course of his career. He played his last NBA game in 2010 and officially retired in 2013. The Sixers retired his jersey in 2014, and he was inducted into the Naismith Memorial Basketball Hall of Fame 2016 Class.
The Answer
Check out the video below and relive The Answer's spectacular first NBA game.
Iverson definitely played every game like it was his last. He finished his first game with 30 points, 6 assists and 1 steal, which is pretty close to his career average of 26.7 points, 6.2 assists and 2.2 steals. Iverson spent time with the Sixers, Nuggets, Pistons and Grizzlies, before finishing his career where he started. Philly loved Iverson, and it was fitting that he finished his career with the team that drafted him.
Anyone have a favorite AI moment? As much as I love his crossover on Jordan, I'll opt for his first game back in Philly as a Nugget. Call me sentimental, but I love seeing a city that once booed Santa Claus cheer for AI as if he were playing for the home team.