17 days ago the world was utterly shocked and deeply saddened with the horrifying news coming from Orlando. 49 beautiful souls left Earth after a horrible attack perpetuated at Pulse nightclub in Orlando, Florida took place.
We held our breaths and fought back tears as we learned of all the people who left us that night. It was not only the deadliest mass shooting in the history of the United States, but it was also a targeted LGBTQ assault, since Pulse nightclub was an LGBTQ nightclub.
At that moment many of us wanted to help in any way possible. People banded together to give blood, money, food… support. In a time of terrible atrocity came hope, unity and love. Today, we got another example of that.
49 celebrities joined producer and director Ryan Murphy and the Human Rights Campaign to make a video in which the Orlando victims are honored and celebrated, and through which they will undoubtedly live on.
Human Rights Campaign president, Chad Griffin, called Murphy and together they got the idea of putting together a small film with the support of philanthropic stars who would want to contribute their time and voices to this important cause. Ryan Murphy - who directs the short film alongside Ned Martel - contacted many people he had worked with on his previous productions, such as Lady Gaga, Matt Bomer, Kathy Bates, Sarah Paulson, Lea Michele, Darren Criss, Emma Roberts and Joe Mantello, to name just a few. Chad Griffin contacted other actors, like Rob Reiner, who has been Griffin's good friend for over 20 years.
The 49 celebrities who appear on the video are: Lady Gaga, Chris Pine, Cuba Gooding Jr., Connie Britton, Matt Bomer, Sarah Paulson, Angela Bassett, Lea Michele, Colton Haynes, Sophia Bush, Jane Fonda, Harry Shum Jr., Denis O'Hare, Rob Reiner, Melissa Benoist, Caitlyn Jenner, Édgar Ramírez, Max Greenfield, Chaz Bono, Cheyenne Jackson, Emma Roberts, Kerry Washington, George Lopez, Evan Rachel Wood, Sofia Vergara, Diego Boneta, Nina Jacobson, Demi Lovato, Tyler Oakley, Yeardley Smith, Kid Cudi, Kaitlin Olson, Kevin McHale, Jamie Lee Curtis, Lee Daniels, Chace Crawford, Evan Peters, Gerard Butler, Katey Sagal, John Stamos, Laverne Cox, Jordana Brewster, Wes Bentley, Finn Wittrock, Darren Criss, Kathy Bates, Anna Paquin, Guillermo Díaz and Joe Mantello.
They all briefly and beautifully eulogize the victims of the massacre, telling us about their day-to-day lives, their families, their futures; and making them more real, instead of solely names on a list.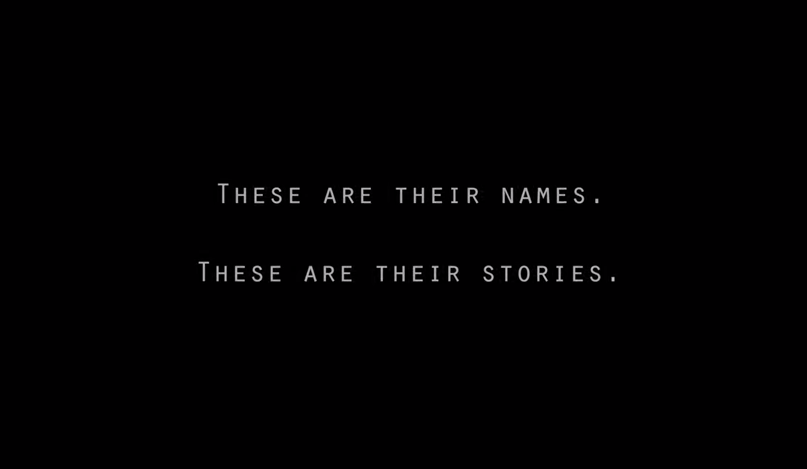 Human Rights Campaign
The memories of the 49 people killed that night in Orlando will also serve to make light of a pressing issue: gun control, or really, the lack thereof.
In this regard, the description of the video reads, "For too long, a toxic combination of anti-LGBTQ hate and easy access to guns has put LGBTQ people at disproportionate risk of violence and murder. On June 12, forty-nine innocent people -- most of them Latinx -- were killed at Pulse nightclub in Orlando simply because of who they were. It's on all of us to keep their memories alive, and to ensure part of their legacy becomes meaningful action to end hate violence."
The Hollywood Reporter was on set when production for the video was taking place.
Chad Griffin stated, "We want to ensure that what we do is effective. It's on all of us to know each and every one of them by name and for their legacies to, in part, spur change on important issues."

"I think the topic of gun control had become something that everybody was talking about, particularly in this community, but now I feel people are very mobilized," declared Ryan Murphy. "It's madness that 90 percent of our country wants stricter gun control laws and yet we're held hostage by this select group of Republicans. I think people are getting angry about it."
The video highlights the times Congress has voted down common sense gun control laws, even after the massacre took place; and the many times it has passed bills targeting the LGBTQ community.
"The NRA is one of the most powerful entities in the world today, and they truly hold many of our elected officials hostage. Many of the elected officials that are voting on behalf of the NRA are the same officials who are voting, time and time again, to roll back equal rights and protections for LGBTQ people," said Griffin.
The film was shot in two days at the 20th Century Fox Studios lot, where Ryan Murphy films many of his productions. Murphy's longtime friend and partner, Fox Television Group chairman, Dana Walden, lent the stage for the production of the video. In the same sense of altruism, the stars and crew donated their time and services. The celebrities also appeared without an entourage or handlers, were on time and extremely professional. Ryan Murphy himself paid the small bill that was left after the production.
The spirit of giving, love and camaraderie was palpably present.
You can watch the powerful video below and find out more about the Stop the Hate campaign and what you can do to help and demand action, here.