As most of you are aware, the eighth Harry Potter book was released on July 31st, and many Potterheads (including us) read it within 12 hours of purchasing it.  We already posted our review but wanted to dive deeper into the story without spoiling it for others.  Be warned: this post is filled with spoilers as we discuss what we think were the best parts of Harry Potter and the Cursed Child.  These are not in order of importance but merely a list to showcase the best moments in the new story.
5. Scorpius Malfoy is a delight in this tale as Albus's anchor, much like Sam is to Frodo in The Lord of the Rings.  Draco's son has a lot on his shoulders because of a rumor that he is Voldemort's son, but he perseveres and is inherently good which Draco attributes to his late wife.  Harry doesn't love that his son is best friends with his childhood enemy's son, but he learns that those two boys need each other.
4. Hermione and Ron as a couple is a delight to see in more detail.  We also see some times when they aren't a couple but even then it is very clear that they belong together.  They have a daughter who is a mixture of the two, though Rose is a giant nerd like Hermione, which is funny to see play out.
3. This story brought back the Time-Turners which means that we got to see some very exciting things.  Throughout the story, Albus and Scorpius go back in time to save Cedric Diggory, but each time things get worse when they get back to the correct time period.  It was a very nice way to tie all the mythology together and present some wonderful cameos.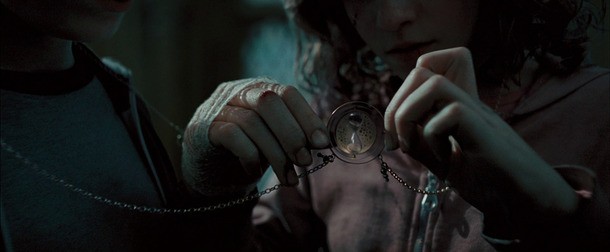 Favim
2. Delphi Diggory is a character we are lead to believe is Cedric's cousin who wants to bring her cousin back for his aging father, but we learn later that her intentions are not pure.  It turns out Delphia is the child Bellatrix Lestrange and Voldemort had before the battle of Hogwarts (this is the thing that has most readers upset). She desperately wants her father back and uses a prophecy to try to get her wish.  Luckily, as in the original books, prophecies can be undone.
1. The best part of the book was a cameo from a character we were very sure we would never see again: Severus Snape.  In one of the alternate realities, Scorpius and Albus tamper with time to a degree that causes Harry and Albus to no longer exist while also causing Voldemort to win the war.  Scorpius is on his own, and when he hears the name Professor Snape, he runs to him for help. At this point, we had to take a moment to clutch the book to our chest to handle the emotional repercussions of this moment. Snape did help, and he was as Snape-y as ever.  We could hear Alan Rickman's voice as we read every line which made the scenes that much harder to take.  What we gained was the knowledge that he was a true hero and was honored for Harry Potter to name his son after him.  Some readers online are demanding a movie be made, but we hope that never happens.
What were your favorite moments from the play/book?  Let us know in the comments!  We're going to get back to reading it again.