Halloween is the month in which to indulge in everything horrific and spooky. Ever since society declared I was too old to beg strangers for candy, having a horror movie marathon became my go-to method of celebration, because there is no better way to celebrate this holiday than by willingly watching films that will probably give you nightmares.
Instead of listing classic films most of you have probably already watched to death, I present to you my top 5 lesser-known horror choices for this year's Halloween. Each of these films brings something unique to the genre, and unless you watch horror on a regular basis, chances are you haven't seen at least a few of the following, making them perfect fodder for a night of terror.
IT FOLLOWS
It Follows is as new as it gets, having only been released on DVD a few months ago. I've only watched it once, but once was enough to cement it as one of my all-time favorites, as it kept me from sleeping for a few nights. It has a retro 80s horror film vibe to it but without the tired feel, and if gore is not your thing, then this is the perfect choice for you. It Follows focuses on a young girl who has been infected with a bizarre curse that causes a mysterious supernatural presence to doggedly follow her. The presence can look like anyone, from a stranger to a close friend, and if it catches up to her… well, you don't want to know. What makes this film so frightening and stressful is not just the way it is filmed, but also the way it keeps you on the edge of your seat as you're constantly on the lookout for a threat that isn't always obvious; the presence walks calmly and doesn't always look threatening. Is that person behind her merely an innocent girl going about her day, or is it the curse slowly catching up to her? Definitely add this to your marathon list if you want something scary, stressful, and thrilling all rolled into one.
THE STRANGERS
The Strangers gives a whole new meaning to the notion of home invasion. Led by Liv Tyler in a surprising casting choice, a young couple finds themselves randomly targeted by masked assailants after returning home from a wedding. While the premise doesn't scream ground breaking, the way it is approached allows it to become a stand-alone among its fellows in the genre. The assailants are creepy as hell, and the couple tries their best to avoid the pitfalls of horror-movie clichés. The film has some gore to it, but it focuses more on frightening you than disgusting you. At 86 minutes, it cuts to the chase and doesn't let up until the ending, which will take you by surprise. If home invasion horror movies are what really get under your skin, given that they hit closer to home in terms of reality, then The Strangers is one film you need to watch. What better time to watch this film than late at night, in the darkness of your own home?
THE HUMAN CENTIPEDE
The Human Centipede is that film everyone seems to know about, but that not many people have actually watched. Yes, the premise of it is weird and gross and makes you question modern horror films, but its plot is precisely why it is such a fun horror film. If you don't already know, the film focuses on a mad German scientist who kidnaps 3 people in order to build a human centipede through mouth-to-rectum stitching. It's messed up, but that's part of the appeal; it's so different from a lot of movies that it begs you to watch, even if you don't want to. The gore isn't over the top either, despite what you may be expecting. Horror movies are so often ruined by mediocre endings, and The Human Centipede actually boasts one of my favorite horror endings of all time (in relation to the movie as whole). So give it a shot if you're not totally mortified by the idea, as it provides a great creative spin on the "psycho tries to murder innocent people" angle.
DARK SKIES
I love the idea of aliens, but there aren't many solid horror films out there that do them justice. Dark Skies is a relatively new addition to the genre, and it is full of atmospheric tension. It's more low-key and less obvious than a lot of horror movies, but this is part of its appeal as it knows how to build tension. It focuses on a family in the throes of dealing with unemployment and financial problems when strange and inexplicable things begin to happen. The "strange things" in question are fun and take you by surprise, and this film, like The Human Centipede, is another that has an ending that won't disappoint you. If you're in the mood for something a little more out of this world, make Dark Skies part of your Halloween this year.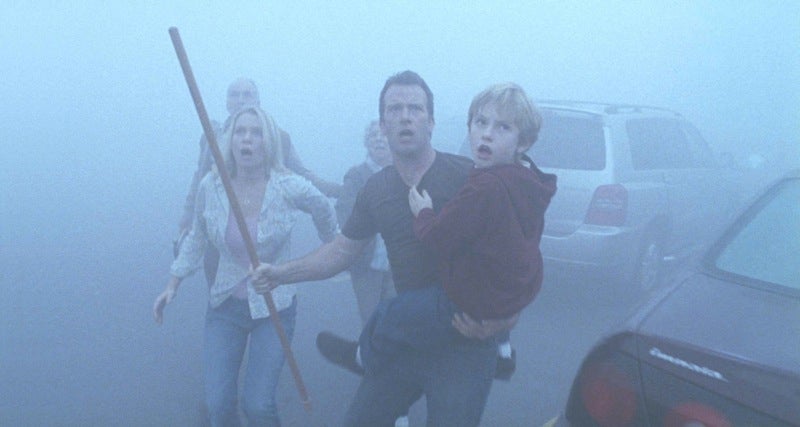 Image Courtesy of io9.com
THE MIST
If crazy killers, aliens, and weird faceless entities don't get you in the mood, then maybe heavy mists and hidden monsters will float your boat. The Mist might not come off as a traditional horror, as it has a fantasy edge to it, but that doesn't mean it isn't creepy and bloody. The Mist, a film adaptation of a Stephen King novel, focuses on a heavy mist that falls over a small town, completely obscuring it. In this mist hides an array of weird, scary monsters, and if you find yourself outside for too long, well… it isn't good. What's great about this film isn't just the monsters, but watching the way humans will react when faced with a crisis such as this. People's true colors will always come to the surface.
Is there a movie you think should be on this list? What are your favorite horror films? Sound off below!