It's that time of year when your family, your friends, your entire Facebook feed, your Twitter feed, your Instagram feed, and *insert just about anything or anyone who fits this description here* is declaring their I-Will-Only-Do-This-For-Like-A-Day-lol resolutions for the new year.
hercampus.com
Even though we're pretty sure that 99.9% of said people know and won't be able to keep the 'New Year, New Me' momentum going, they still don't mind rubbing it all over your face and social media because the world clearly pays attention to only said person.
theodysseyonline.com
Okay, I'm trying not to be sarcastic here, but your Facebook isn't a diary and neither is your Twitter. You don't want your future employer to be scarred for life, right?
Anyways, who says resolutions have to be as difficult and painful as waking up at 6 am (nope) or stop binge watching American Horror Story multiple times (double nope; who doesn't enjoy watching Evan Peters over and over again?). If you're looking at me, just letting you know that I'm violently shaking my head no. Let's be real here, change doesn't happen overnight unless you have a fairy godmother. Most of the time, change is gradual and can be extremely slow. However, there are two things you can instantly change right now: your attitude and your expectations. With this in mind, I've complied a relatively easy-to-follow to-do list that consists of just five things that you can start now and in the future.
1. Unfriend, unfollow, unfriend, unfollow, and unfriend some more
It doesn't matter if these people are IRL or over the internet. If someone is consistently pushing your buttons just because it's fun (this already is a huge warning that screams, "I hate you and I want to make your life miserable") or floods you with oceans of negativity, they need to go ASAP. You don't need people to tear at you constantly. Not anymore.
tumblr.com
This list includes: old flames, your ex, friends both new and old, frenemies, family, so-called best friends, those weird people you added on Facebook a long time ago, and just anyone who isn't important to you anymore.
moviepilot.com
Oh, and if anyone has the audacity to ask you why he or she isn't on your friend's list anymore, you can respond or you don't have to because, let me repeat, you do NOT need people like that. EVER.
danielejohnson.wordpress.com
2. Compliment yourself
It's easy to get something I like to call model angst after watching the Victoria Secret Fashion Show or seeing flawless people on magazines who look too ethereal to be real. Then, there's the perfect-looking guys and girls of Instragram you secretly want to be friends with.
With the excessive amount of fake perfection thrown at your face almost everyday, it can be difficult to love yourself. However, with celebrities like Zendaya and models like Chrissy Teigan who post photos of untouched pictures, Instagram models becoming more realer, so to speak, and just regular people like you and me who love their stretch marks and hairy underarms, society is turning it's focus to the nonperfect but perfect person, and in my opinion, it's about time.
Beginning today, look at the mirror and tell yourself something that you love about yourself. This could be anything -like how your eyebrows are on fleek today or that you love Harry Potter - because you, yes you, are an awesome human being.
imgur.com
Do this once or twice a day, and trust me, you'll see a difference.
imgur.com
3. Treat Yo Self
indianapolismonthly.com
Thanks to Donna and Tom from Parks and Recreation, this phrase can be associated with splurging all of the money you have in your bank account. You don't necessarily need to spend a whole lotta bank, nor do you have to buy a Batman suit, but if you want to, go ahead. No one's stopping you. Find your inner Ben.
theodysseyonline.com
On the other hand, taking a walk around your neighborhood park or spending time with a good friend are ways to treat yo self because of how therapeutic this can be. At times, school, work, and even life can bring about a destructive form of stress (i.e. exams, missing quotas, family drama) that you should take a break. Each individual is different, and perhaps taking a stroll isn't the best solution for you. If you like video games, play for an hour or two. If you prefer Netflix, watch your favorite movie. Love writing? Grab a notebook and write whatever you want. Point is, remember to treat yo self.
4. Take baby-steps
As previously mentioned, mostly everyone you know are making presumptuous goals. The reason why most people aren't able to go through with it is because of how daunting and unrealistic they are; these steps are simply too large. No one desires to take babysteps since we're a socitey of impatient people who want results now.
fashionmagazine.com
However, taking these little steps is what we should do. For example, let's say someone wants to lose a lot of weight this year. Admirable yes, but it's still not realistic if that person doesn't take the time to be specific and consider his schedule. After some time, this person decides to lose two pounds each week; this way he's able to maintain his set schedule while being able to lose weight. With any resolution, think about your daily, weekly, monthly, and maybe yearly responsibilities and be real with yourself; doing this allows you to make and plan a specific goal. From there, grab your planner and write it down.
hercampus.com
5. Save Money
Raise your hands if you tend to spend after receiving your paycheck. In fact, the average american spends $2,605 on entertainment, and that's only in 2012! Keeping the previous step in mind, you can start off by saving a penny or a dollar each day. If you're daring enough, double that amount each week or try the following: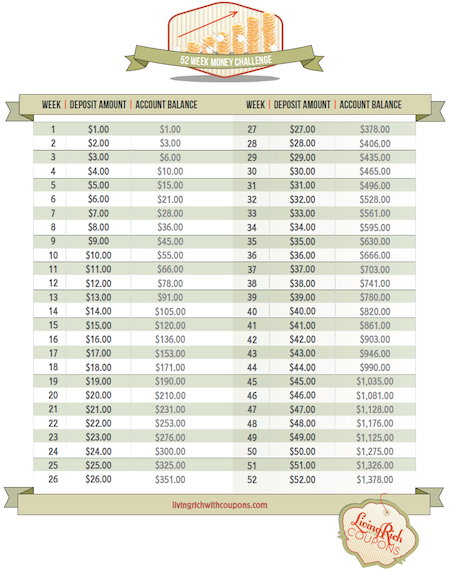 livingrichwithcoupons.com
Here's another one: if you get cash instead of a check, pick a random dollar. If you chose a $20 bill, save $20 each week.
With this list, I hope you will be able to take something from it even if you don't try any of these steps. If you do, don't be discouraged if you missed out on your exercise regimen for today. Don't punish yourself, and do it again.
commpro.biz
Happy New Year, Popwrappers!