The newest season of Top Chef is kicking off! With most shows, even competition shows, there's a rhythm to them, and Top Chef is no different. Here are some things we can expect from Season 14's cheftestants.
Tension among chefs
This season's competitors consist of eight rookie chefs plus eight returning chefs. There's bound to be some resentment from the rookies that so many are getting a second chance. Also, if two of the returning chefs didn't get along on their season, there's a good chance they won't get along now.
Restaurant Wars
Without fail, there's always a restaurant wars challenge. Last season, restaurant wars featured both a lunch and dinner service, and each person had to serve as front of the house or executive chef -- talk about pressure! We can count on one of the team's front of the house person being MIA, probably when the judges walk in.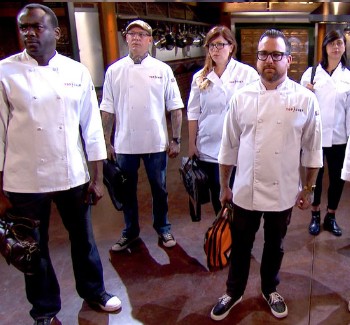 Bravo TV
Team Challenges
In addition to Restaurant Wars, there are always a few more team challenges. Sometimes, people work together beautifully, and sometimes they don't. Someone will be annoyed when they have to use the last available protein or gets stuck making a dessert.
Second Guessing
Someone will either sacrifice their culinary POV by being a good team player or will second guess themselves by trying to please the judges. Not cooking their style of food will be obvious and could get them sent home.
Too Many Ingredients
There's always that one cheftestant that wants to put anything and everything on the plate. Sometimes it works for them if they can make all the components work together (welcome back, Katsuji!). But if they're adding ingredients just make their dishes more interesting, it'll come off as disjointed.
Time will tell if the risotto curse strikes again! But, hey, if desserts stopped sending chefs home, maybe someone will make risotto and stay.
Probably not.
Meet the Top Chef Rookies Below
This season, Graham Elliot joins Gail Simmons, Tom Colicchio and Padma Lakshmi at judges table. Tune into the Top Chef premiere on Thursday, December 1st on Bravo at 10pm.