I like my coffee how I like my milkshakes...
This month the most popular cafe in the world celebrates the 20th anniversary of the beverage that changed coffee forever, the Frappuccino.
This amazing blend of coffee, cream, ice, and sweet [insert your favorite flavor here] goodness has built quite the fan club over the years. Seasonal flavors, limited time, and even a secret menu composed by fans--people love this ever evolving drink year round.
This summer, Starbucks will be letting their beloved fans pick the next Frappuccino to cuddle up with on their menu and stick around for good. SIX new flavors came out today, each inspired by delicious desserts and most requested "off menu" selections.
Once everyone has a fair chance to try all six, voting for the best of the bunch will start June 19th on Frappuccino.com. July 3rd, Starbucks will announce the winner and run a 3 day long promotion honoring it by allowing customers to buy the flavor in grande size for $3.
So what are these new flavors? Here is a quick list with a break down of what makes up each unique flavor: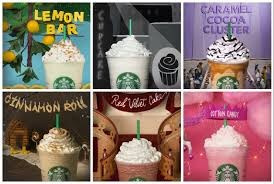 Courtesy of wric.com
Cotton Candy - Vanilla bean and raspberry syrup
Lemon Bar - Lemonade and vanilla syrup
Caramel Cocoa Cluster - Coffee, toffee nut syrup, mocha and caramel sauce
Cinnamon Roll - Coffee, cinnamon dolce syrup, white chocolate mocha sauce, and vanilla bean
Cupcake - Vanilla bean and hazelnut syrups
Red Velvet Cake - Mocha sauce, raspberry, and vanilla syrups
WELL! I say shut up and take my money, Starbucks, because those all sound amazing! The new flavors come just as summer starts heating up, so get out there, try them, and vote! And just be thankful we didn't end up with something too far out there... I'm looking at you chicken and waffle potato chips.