E3's PC Gaming Show was the first time PC gamers had their very own piece of the world-famous conference dedicated exclusively to them and it was... less than amazing. Sponsored by
PC Gamer
, AMD, Xbox and a slew of others, the show took place on Tuesday the 16th at the E3 Expo in Los Angeles. At the beginning of the show, host Sean [Day9] Plott pointed out, "We invited a huge number of guests today and none of them said no." The
PC Gaming Show

website
listed 28 scheduled guest speakers. Notice anything?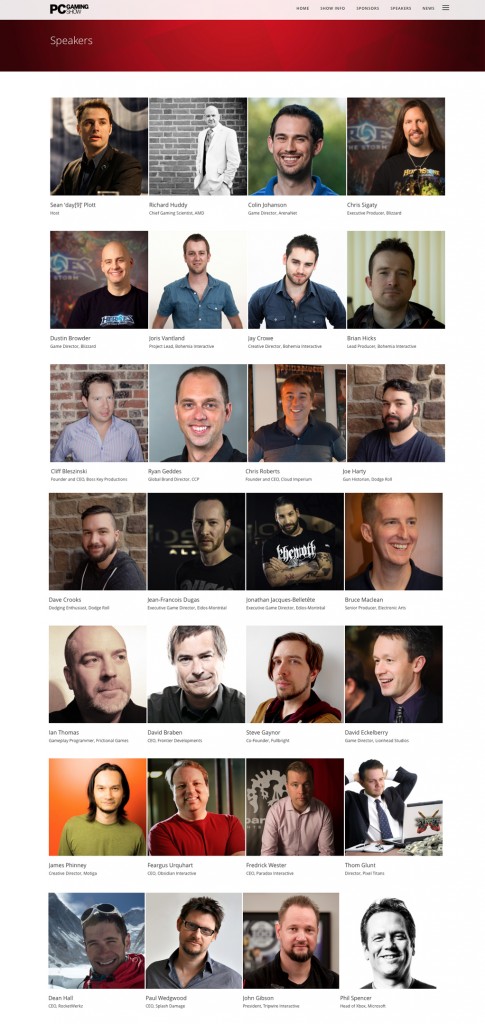 Courtesy PC Gaming Show
Yeah, that's a lot of guys... and not a lot of women. Well, there don't seem to be ANY women on this list. And watching the show, I didn't expect to see any. A little over halfway through, Lisa Su (CEO of AMD) took the stage to talk about some new Radeon graphics cards being released and I thought,
Okay. There's one. 
And that's when I realized AMD was one of the major sponsors of
The PC Gaming Show
. In fact, they were THE sponsor because their name was on the signage.  The only female game developer on hand was the brilliant Sherida Halatoe who is currently developing the game that had E3 buzzing over its gorgeous artwork,
Beyond Eyes
.
Courtesy BeyondEyes-game.com
The final guest tally for 
The PC Gaming Show
reached a whopping 34 game developers and executives. Only two of those were women and one of those women was a sponsor.
The PC Gaming Show
had a real opportunity to start a tradition of inclusion and diversity in their gaming panel and they failed miserably. Let me be clear, I am not accusing
PC Gamer
of being intentionally sexist or exclusive. But they very clearly could have put a little more thought into their guest speaker list. Some gamers will argue, "Why is gender or race important on a panel?" Because it IS important. Video games are for everyone and they are made by everyone. Gamers and game developers are not just white men. Women and other cultures deserve recognition and inclusion in the gaming community.
PC Gamer published an article
in October of 2014 stating researchers found female PC gamers actually outnumber male gamers. The percentage was small, only a little over 1%. But it demonstrated just how many women game. The study also showed women play more RPGs and men tend to lean more towards FPSs and MMOs. Tuesday's
PC Gaming Show
was very heavily in favor of male tastes with its parade of FPS and war games. Diversity in gaming is not something to fear; it's something to embrace. The more diverse game developers in the world, the better our games will be; they will get more exciting, more interesting, more dynamic! Just... more. So here is my suggestion to PC Gamer on how to make The
PC Gaming Show
better in the future: Be more inclusive. But keep [Day9]. I love that guy.
You can watch Tuesday's PC Gaming Show archived in its entirety on
PC Gamer's Twitch channel
.