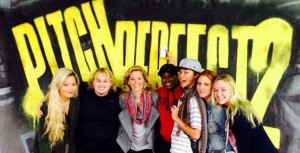 Courtesy of Hypable
Christa Tintelnot
Staff Writer
@christamarie123 It was already announced that Pitch Perfect 2 won't be hitting theaters until May 15, 2015, but that hasn't stopped fans, and media outlets for that matter, from getting excited! Today show anchor Natalie Morales took a tour of the Pitch Perfect 2 set and this morning, and then graciously she shared her findings with fans. In addition to telling us the second film in the series will have "more music and more fun." Morales also caught up with the stars of the film, Anna Kendrick and Rebel Wilson. She met with the stars and new addition, actress Hailee Steinfeld but they kept their lips tight about the plot and other details. Elizabeth Banks however, who is another star of the film as well as the director, was willing to share a bit more. When sharing information about the plot, Banks said:
"They've gotten too big for their britches — possibly literally and they've sort of forgotten about the music a little bit."
You can see the first look of the film, courtesy of Today, below:

Visit NBCNews.com for breaking news, world news, and news about the economy

Are you as aca-excited as we are!? Share your thoughts in the comments below. Keep Up With PopWrapped On The Web!