Abigail Breslin is set to star in the three hour live event of Dirty Dancing.  Why are they remaking this classic? Are they jumping on the live-musical bandwagon like NBC's The Wiz Live! from earlier this month and Fox's first live-musical, Grease Live!, set to air on January 31st?
So far, ABC has only announced a few skim details.  For one thing, the writers of the original screenplay, Allison Shearmur and Eleanor Bergstein, are on board.  So that's a positive.
Scream Queens' Jessica Sharzer will write the screenplay, and The Sapphires' Wayne Blair is set to direct. Two writers from Glee, Peer Astrom and Adam Anders, are taking care of the music --  also a plus. 
Does that mean there will be singing or brand new songs for the couple to dance to? Dirty Dancing was actually already turned into a musical for the stage and has been on tour around the world, and it will continue to tour through 2017 with possible extensions.
But how would this work for television??
My biggest question about this project: Who can possibly replace Patrick Swayze?! Right?!
And would the storyline even translate for audiences in 2015? 
ABC has not announced date for the airing, or even for when production will start.  
Will this be amazing?  Am I being overly harsh on the idea?
Keep up with us as more details unfold.
But most importantly, start practicing your "Time Of My Life" lifts!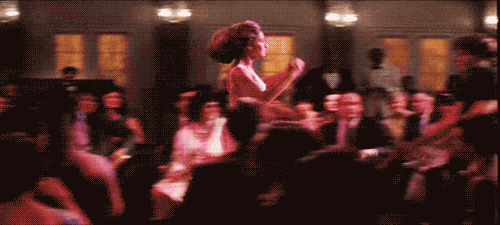 Tumblr